Is Pedro Sanchez the New Justin Trudeau? Spain's Handsome Prime Minister Sworn In With Majority Female Cabinet
Europe may now have its own Justin Trudeau.
When the Canadian Prime Minister was asked why he chose to appoint a cabinet that was exactly 50 percent female, the young and dashing new leader
In a Trudeau-like statement, Sanchez, who calls himself a feminist, said his government "shared the same vision of a progressive society that was both modernizing and pro-European."
"All are highly qualified and bring a vocation for public service and reflect the best of Spain," Sanchez told reporters about his new cabinet members. "[The new government] is pro-gender equality, cross-generational, open to the world but anchored in the European Union."
Women now occupy some of the most important positions in Spain's new government. Dolores Delgado, a former prosecutor who specializes in terrorism cases, has been named minister of justice. A member of Spain's Union of Progressive Attorneys, Delgado has been known during her 28-year career for defending the right to due process of terrorism suspects and for promoting universal justice. In 2011, She worked in The Hague investigating the crimes of Libyan dictator Muammar Gadhafi.
Margarita Robles, a close ally of Sanchez, will take over the Ministry of Defense. The 56-year-old Robles has been involved in politics since 1993, when she became the secretary of state for the justice department and later for the ministry of interior. In the 1990s, she was responsible for cutting funding to the GAL, a paramilitary death squad the Spanish government sponsored to wage what was known as a decades-long "dirty war" against the Basque terrorist group ETA.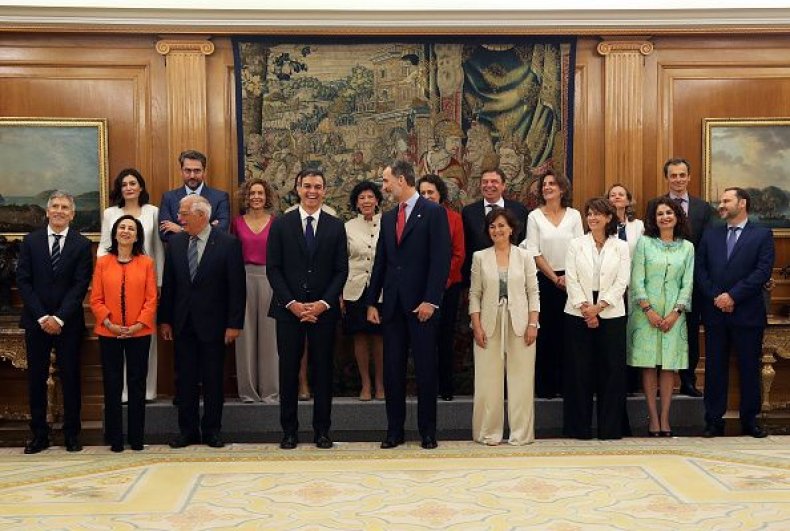 Women will also take over the cabinet positions for economy, finance, education, environment and science, among others.
This government stands in stark contrast to the previously male-dominated government of former Prime Minister Mariano Rajoy, who was ousted last week in the first successful vote of no confidence in Spain's history.
The new socialist government, however, only has 84 seats out of the 350 in Spain's parliament, meaning that it will need to cooperate with smaller parties in order to pass legislation.