Peek at 9 Intriguing New Pieces of Golf Gear for Spring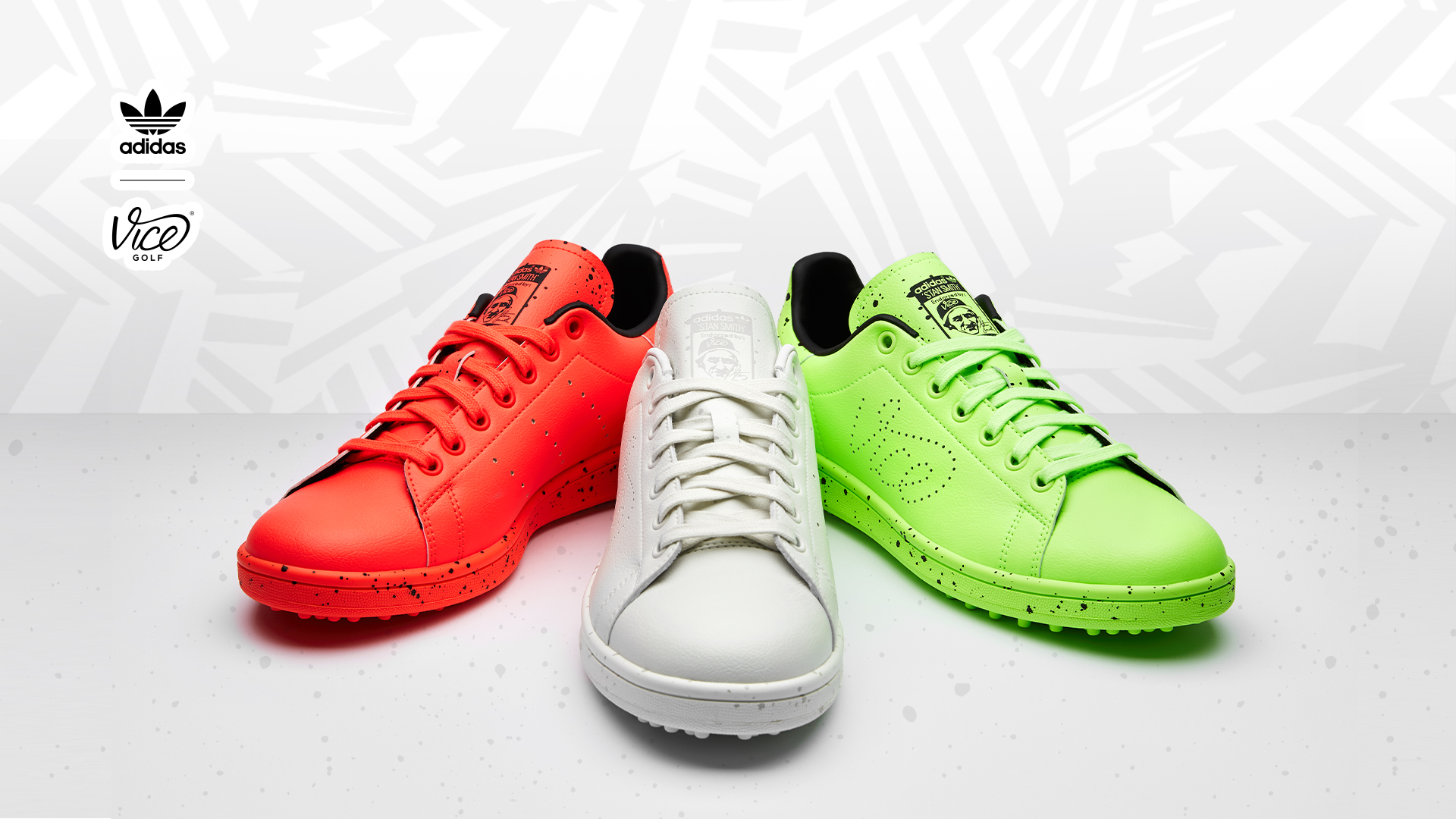 The smell of fresh-cut grass is in the air and your clubs are itching to be swung. It's invigorating to get out for your first round of golf in the spring after a chilly winter. There are plenty of new golfing products that are making their way to market just as the days are lengthening and the temperatures are rising.
Whether your golf shoes are wearing thin or you just want to give your course attire an updated look, there are new spikeless Adidas shoes that will give your game a bold appearance and your feet plenty of comfort. While there are plenty of golf clothes, there are also new golf balls, clubs and technology products worth considering, as well. Prices listed below may fluctuate due to seasonal sales.
Adidas Stan Smith X Vice Limited-Edition Golf Shoes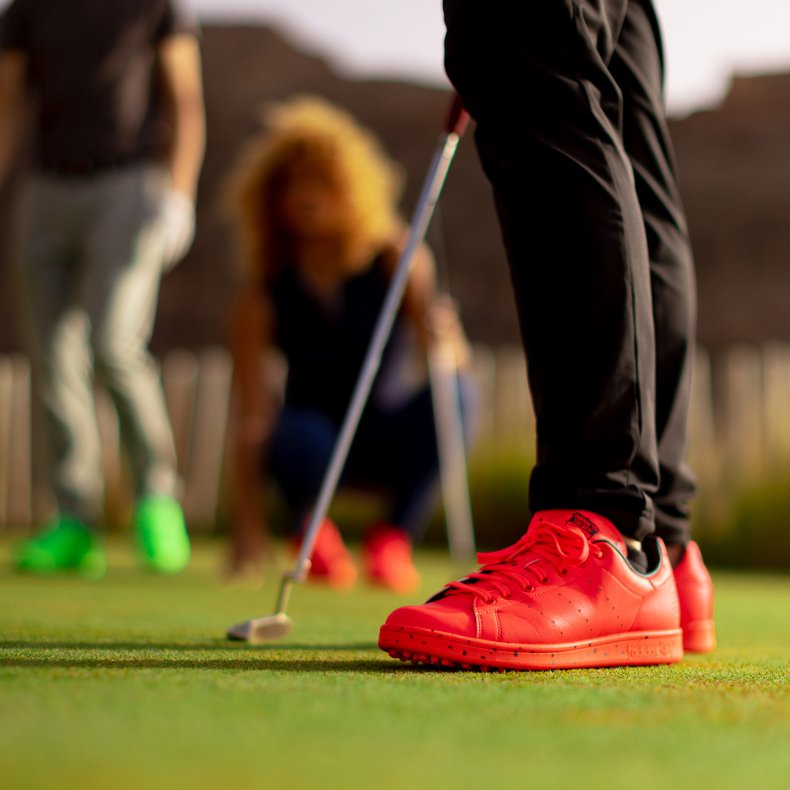 The new Stan Smith X Vice golf shoes from Adidas in the neon green and red colors are bold and striking, and yet they're also very familiar. First, it should be noted that these spikeless golf shoes with an Adiwear outsole are a limited edition, so if you're intrigued by this style you'll want to move on them quickly. Also, if you do like the simplified style, there's a white color option that's more subtle.
These shoes for the links include a microfiber leather upper, a midsole cushioning and high-abrasion rubber on the forefoot. Plus they're waterproof. I've had a chance to take these out for a test run, and I'm a big fan. I love the fit and feel, as it's just like wearing any other pair of Stan Smith shoes from Adidas, but with plenty of traction for the course. They handle the links like a champ.
Buy at Adidas for $120.
Linksoul Reverse Stripe Quarter-Zip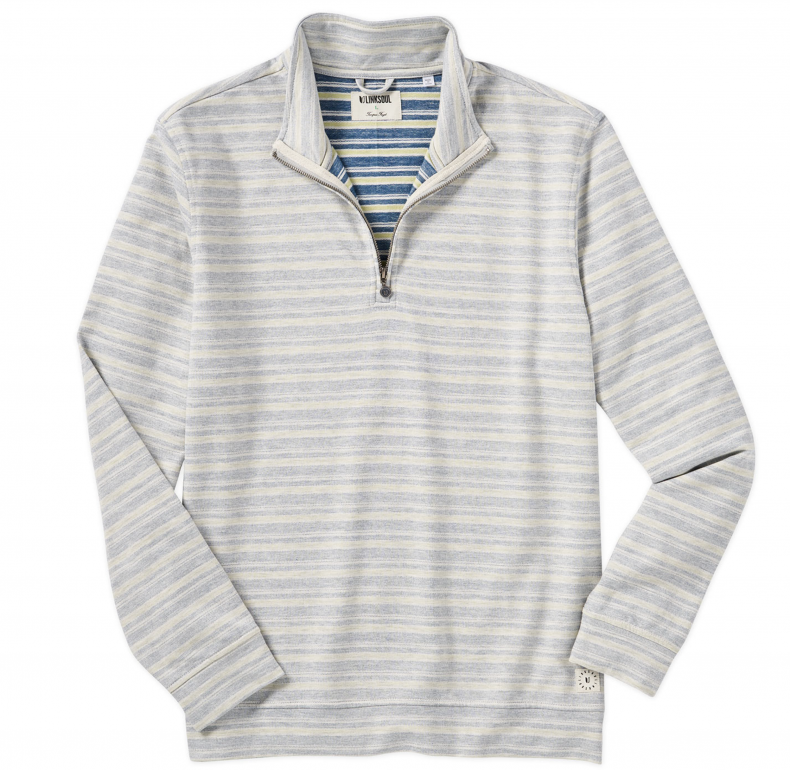 The weather might be warming, but early morning and into the evenings, you'll likely need some kind of sweater for the course. This Linksoul Reverse Stripe Quarter-Zip is a perfect addition to any golf bag. I love the muted, casual style in the Quarter-Zip that has been adapted from Linksoul's other garments. It's not stuffy, but it will keep the chilly air at bay.
Buy at Linksoul for $110.
Kenny Flowers Lei Up Golf Shirt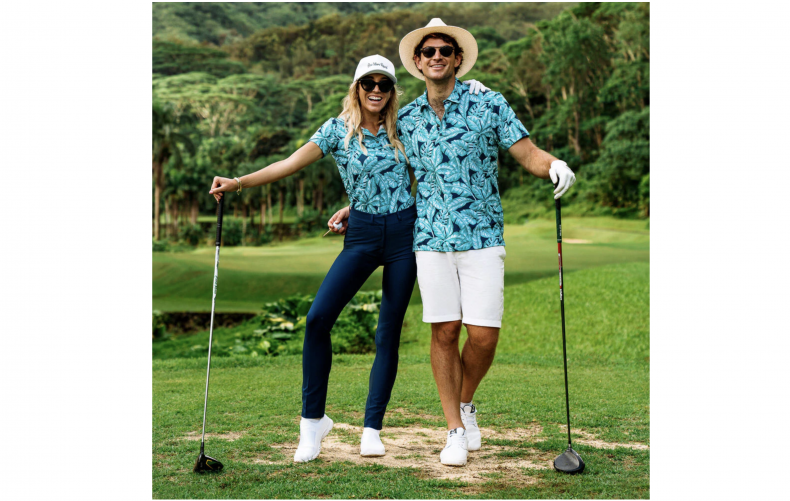 If you want to be loud on the golf course without getting kicked off, be loud with this Kenny Flowers Lei Up shirt. The shirt has a silky smooth feel and is extremely flexible to allow for any and all movement your backswing might take. It is anti-odor, moisture-wicking and wrinkle-resistant. Like most of Kenny Flowers' polos, this one has a holder just under the front buttons to keep the tees out of your pockets. Maybe best of all, this shirt is available in matching styles for men and women.
Buy at Kenny Flowers for $88.
TaylorMade Tour Response Stripe Golf Balls (12-Pack)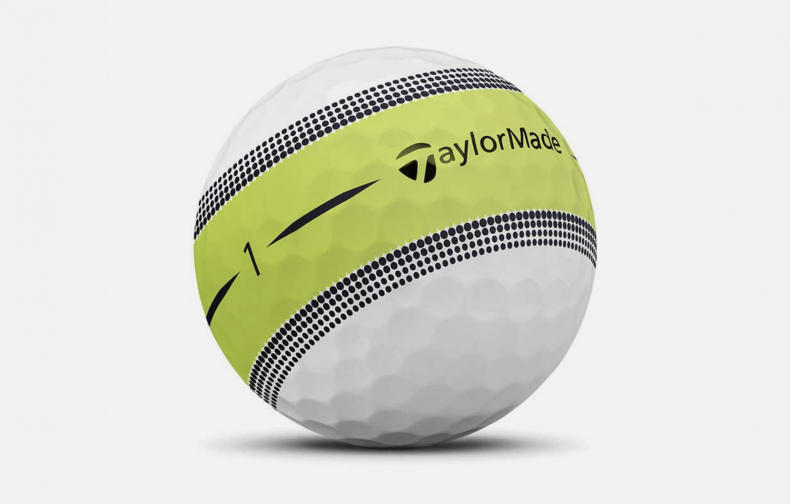 New for 2022, the TaylorMade Tour Response Stripe golf balls could be what your golf game has been missing. Sure, the type of golf balls you use won't completely change your long or short game, but they can give you an edge. These balls have a new tour-flight dimple pattern in use to promote maximum carry distance. One of the most noticeable aspects of this particular model from TaylorMade is the easy-to-see stripe for more precise alignment. No need to try to mark up your own golf balls with a Sharpie anymore.
Buy at Walmart for $39.97.
Tactile Turn Fairway Pen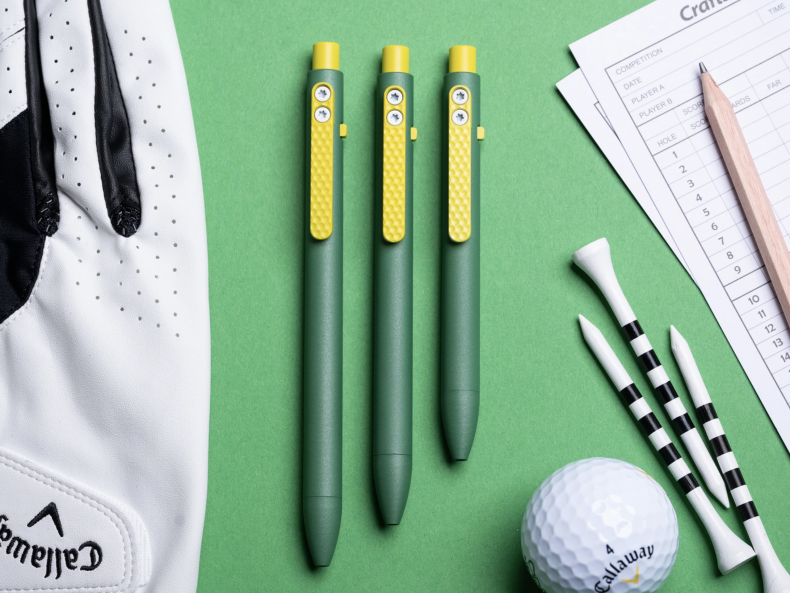 Why use a short wooden pencil when you can use this new titanium Tactile Turn Fairway golf pen to keep score? The yellow and green pen is stunning, with incredible attention paid to the details, including the dimples engraved on the clip. The exterior finish makes it abrasion-, chemical-, temperature- and scratch-resistant—though it can still be susceptible to those things with enough effort. The pen is available in three different sizes from a standard 5.8 inches down to the mini, at 4.6 inches.
Buy at Tactile Turn for $149.
Ping PLD Milled Anser Putter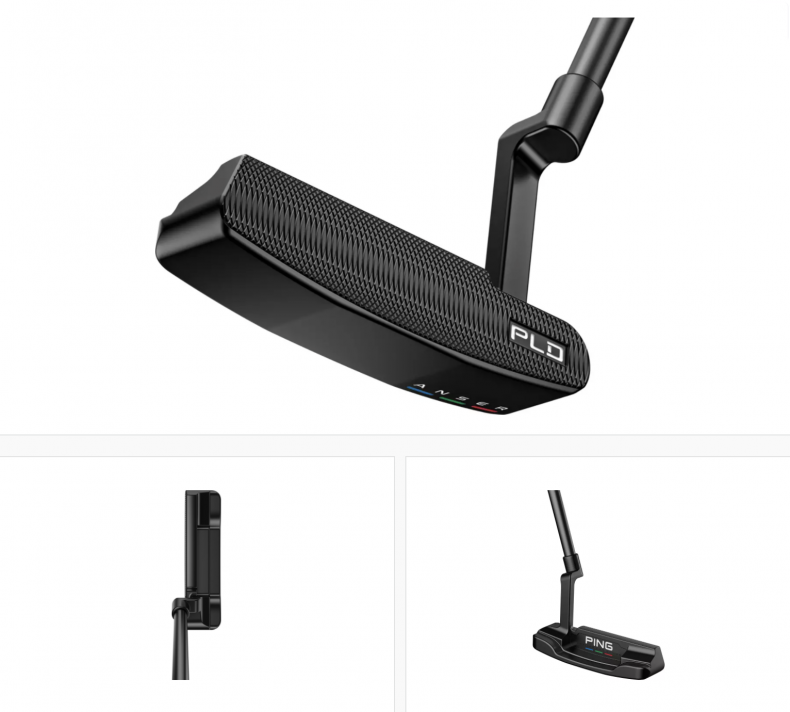 If nothing else, the matte black finish of this Ping PLD Milled Anser Putter is a sharp addition to your golf bag. This putter is much more than its looks, however, and is fully machined with a 303 stainless steel construction. The deep aggressive milling patter (AMP) face milling provides a soft feel, like the professionals are accustomed to. Most important, the putter adheres to great precision so that your equipment can assist your short game each and every time you make it to the green.
Buy at Golf Galaxy for $449.
Footjoy Pro SL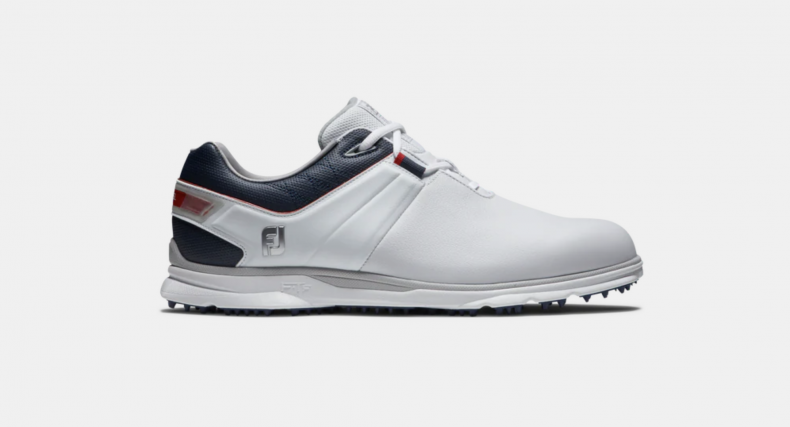 Golfers looking to upgrade their Footjoy golfing shoes should check out the Pro SL. The shoes use ChromoSkin leather, which is said to be a "lightweight, durable and 100-percent waterproof leather." The footbed has been re-engineered to provide even more comfort with Footjoy's Finely Tuned Foam. There are 189 points of traction incorporated into the outsole, so no slipping happens. This shoe is the full package to keep your feet dry, padded and in place.
Buy at Footjoy for $179.99.
TAG Heuer Connected Golf Calibre E4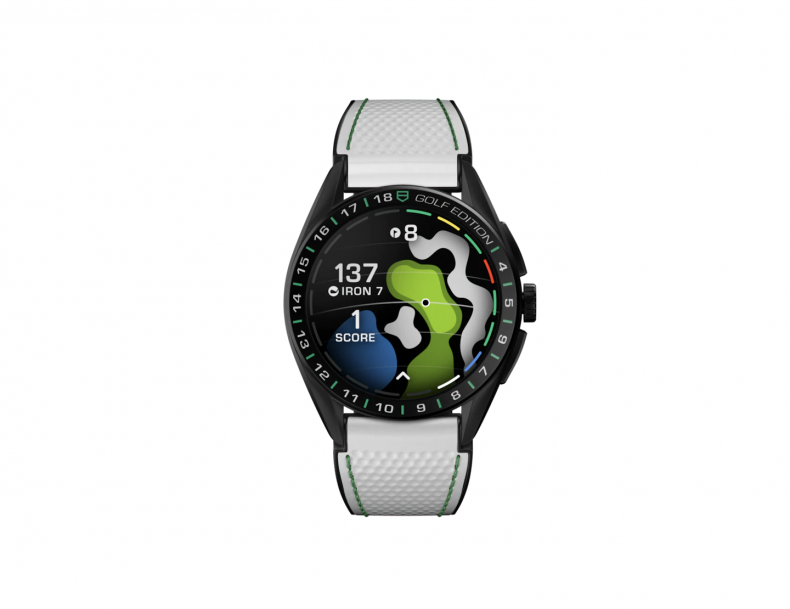 If you're looking for a luxury smartwatch, this special edition TAG Heuer Connected Golf Calibre E4 may be it. The watch has a 45 millimeter case size but comes rebranded with sporty golf touches. The most noticeable is the digital face and the white rubber strap, which has golf ball dimples across its surface. Most important, the watch includes an exclusive TAG Heuer golf app to track performance on more than 40,000 golf courses worldwide. It's not cheap, but what golf goods are inexpensive?
Buy at Ben Bridge for $2,650.
Sentinel Head Covers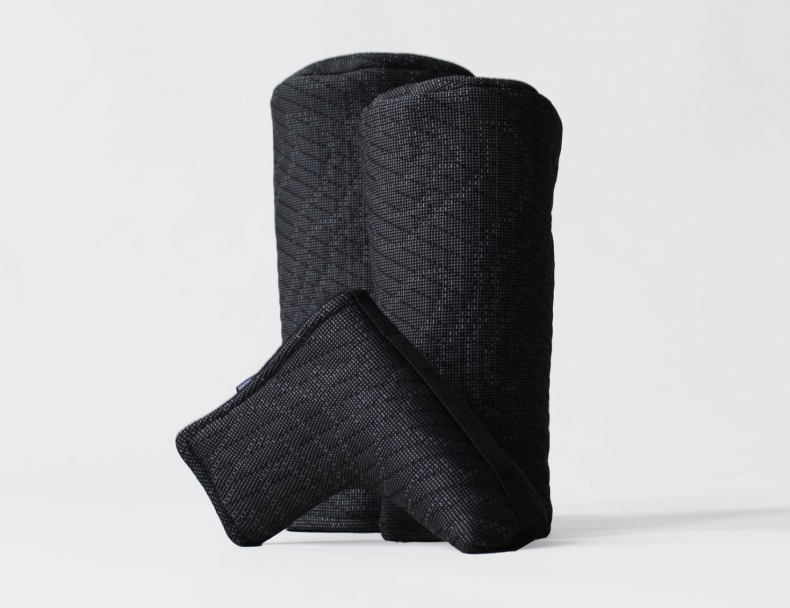 The Sentinel Head Covers use a responsible textile creation process developed by the Amsterdam-based Byborre.
Each piece of these golf head covers is cut and sewn by a single person in Wisconsin using a custom-built Byborre Create 3D Knit. The benefit here is that the exterior of the covers is durable and features a unique texture made out of completely recycled polyester. The inside features melton wool lining. There's also a magnetic closure on the putter cover. These can be bought together as a group or individually.
Buy at Sentinel from $98.
Newsweek may earn a commission from links on this page, but we only recommend products we back. We participate in various affiliate marketing programs, which means we may get paid commissions on editorially chosen products purchased through our links to retailer sites.