'Peep Show': Netflix Removes Blackface Scene From British Comedy
Netflix has been systematically cutting blackface from its service, with The Office, Community having episodes or scenes cut, while Little Britain was pulled in its entirety. In the UK, cult Channel 4 comedy Peep Show has become the latest show to have a scene featuring a white actor in race-changing makeup removed from Netflix.
In the original version of Peep Show Season 2, Episode 1, titled "Dance Class," Jez (played by Robert Webb) is experimenting with sexual taboos with girlfriend Nancy (Rachel Blanchard), one of which sees her painting him with dark brown face paint.
Jez says in the scene, "it just feels almost wrong" and "are you sure this isn't racist," to which Nancy replies, "we're breaking a taboo, of course, it feels wrong. We've got boundaries to smash, Jeremy. It's our duty to God, Shiva, NASDAQ, whatever you want to call him." She then says: "Jeremy, I come from America. I've seen the problems race brings up."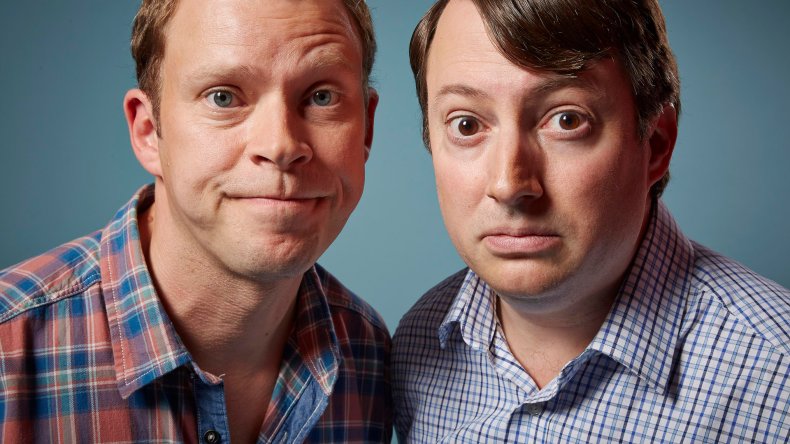 This scene was brought up in a 2015 oral history of Peep Show published by Vice. In that article, when asked about comedy taboos, Webb said: "The episode where I wear blackface is the first thing that comes to mind, but the whole comedy of that scene is that [Jez] is very, very worried about this, and it's Nancy's [his then-girlfriend] craziness and blithe... she's just a bit f****** stupid."
He added: "She's a self-conscious taboo breaker, so she's very aware of the taboo, whereas Jez is coming at it from a more sensible angle, that is, 'Let's not do this taboo.' With any kind of jokes in sensitive areas, you have to ask yourself, 'What is this joke doing? Whose side is this joke on? How is it going to be misinterpreted and will they have a point if they misinterpret it?' Those are the kind of things you have to ask."
Though this scene has been cut from the Netflix version of the show, Peep Show's original broadcaster Channel 4 is currently airing the episode unedited and has announced no plans to remove the scene yet.
Channel 4 told Newsweek: "All 4's archive contains over 10,000 hours of programming spanning over 30 years. Many shows reflect the time they were made and some contain content which could now be regarded as inappropriate. It is a complex issue particularly when it relates to programmes that satirised, commented on or challenged a specific moment in our culture that is no longer relevant to audiences today.
"We understand the strong feelings provoked by some of this content but we do not believe that erasing our creative history is a quick fix for the issues affecting our society today. Channel 4 is committed to inclusion and diversity and opposes discrimination in any form and therefore, having reflected deeply on this subject, we are undertaking a review of the principles governing how we handle historic programmes across our platforms."
The network, however, did recently remove comedy Bo' Selecta! From its All4 streaming service, which featured white comedian Leigh Francis play characters like Michael Jackson, Spice Girl Mel B, and British R&B star Craig David. Earlier in June, the network released a statement reading: "We support Leigh in his decision to reflect on Bo' Selecta! in light of recent events and we've agreed with him to remove the show from the All4 archive."
In June 2020, the network launched a panel that according to Broadcast will: "Establish principles to determine whether archive shows remain appropriate."
Newsweek has reached out to Netflix, Webb, and Peep Show writer Sam Bain for comment.