Peet's Coffee vs. Death Wish Coffee vs. Stumptown: 5 of the Most Popular Coffees, Taste Tested
Trying to decide on a selection of coffee is tough. It can be even more difficult seeing all the coffee choices lining the grocery store aisles, let alone the hundreds of choices online. To help cut through some of the questions surrounding taste, I did a coffee tasting roundup, including Peet's Coffee, Death Wish Coffee and Stumptown. These coffee options represent a wide variety of strong, artisanal and commonly available products. Some of the results may surprise you.
They should all be available online, and some even offer subscriptions to have their caffeinated aroma delivered to you automatically each month. (No more scrambling to find an old bag of beans in the cabinet.)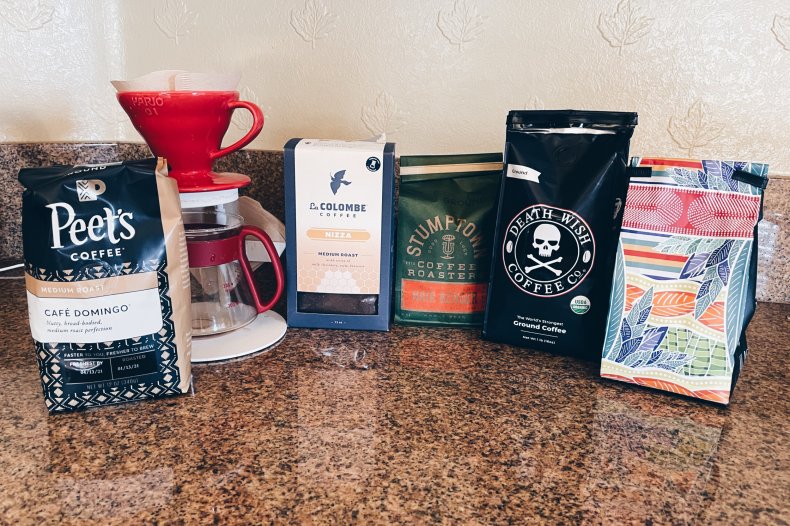 There are plenty of quality coffee roasters out there, so this list isn't exhaustive by any means, but it will provide a starting point. It may help you figure out whether you want a safer, less expensive option or are up for something more bold and daring.
To keep things fairly consistent in my tasting, I used a Hario V60 ceramic dripper and made a single cup of coffee at a time. I've been primarily brewing coffee this way for the last year and like how smooth it can make a cup of black coffee. It also tends to allow the unique flavors to shine.
The goal here is to give you some insight into the flavors. This includes what I enjoyed about each and some of the considerations about the different coffees. No coffee is perfect for everyone, but each has its unique aspects that may serve you well for different uses. In fact, there's also no need to stick to just one type of coffee. Pick something new and different to try. Each coffee is priced at 12 ounces, with the exception of Death Wish, which is per pound.
Kind: Dark roast ground
Initial impressions: On the first sip, I realized that Death Wish Coffee is much friendlier than the name suggests. It does have a strong, bold aroma, but its taste is smooth and inviting. Death Wish's scent is one that lingers, too. It's a great thing for people who love the smell of coffee. The rustic, earthy flavor matches the aroma for a very nice pairing of the senses. I was expecting something harsh based on the coffee's branding, but its non-bitter and addictive flavor is anything but.
The coffee and its immediate aftertaste are ones of substance and authenticity: something you would expect from a coffee that advertises itself as being "The World's Strongest." There's nothing weak or flashy about Death Wish—it's solid through and through. It will definitely wake you up.
Considerations: Interestingly, even if you don't like or typically choose dark roasts, this one may still be worth considering. It's bold, but it has a great flavor to match.
Buy at Amazon.
Kind: Light roast whole bean from Papua New Guinea
Initial impressions: The first flavor sent to me by Atlas Coffee Club was Papua New Guinea—a delicate, light roast. This particular selection of coffee piqued my interest right away with its subtle, fruity flavor, but it really grabbed hold with its delicious aftertaste. The card each bag comes with details its place of origin and tasting notes. In this case, the coffee is specifically from the country's Eastern Highlands province and has notes of green apple, honey and almond butter.
The green apple and honey were the most noticeable to me during my initial cup. It was crisp and refreshing, for sure. This particular bag of coffee would make a great addition to any morning routine. A slightly tart, nutty aroma lingered still after my first cup and naturally made me want a second one.
Considerations: The nature of Atlas Coffee Club is that the coffee selection will vary, so you may not get this same bag in the future. I was thoroughly impressed with the delivery, whole beans and taste.
Buy at Atlas Coffee Club.
Kind: Medium roast ground
Initial impressions: Stumptown says its Hair Bender coffee is sweet, complex and balanced. My first taste of the coffee mirrors that exact description. It has a sweet smell that became even more present as soon as it touched my lips.
The tasting notes listed for this coffee are citrus and dark chocolate. Beyond the noticeable sweetness, this coffee does feel very balanced. I had my first cup of it around noon, and it definitely feels like it could be worthy coffee for morning, afternoon or evening. The chocolaty notes linger in the aftertaste and successfully tempted me back over and over.
Considerations: Stumptown notes that it uses this original Hair Bender coffee for espresso in stores, but also mentions it works for all types of brews.
Buy at Amazon.
Kind: Medium roast ground
Initial impressions: Full-bodied coffee is right. There is nothing weak or thin about the taste of this Nizza coffee from La Colombe. The nuttiness was one of the first notes to jump out at me on my initial sips. The milk chocolate and brownie notes were more subtle, but definitely there.
Because this coffee has such a rich and full taste, it could serve as a great midmorning or afternoon brew. I prefer a more gentle wake-up cup of coffee personally, but if you want something that packs a punch to get you going, Nizza could do the trick.
There's no one way coffee is supposed to taste, but throughout my first cup, I kept thinking that this could be a great option to satisfy a wide range of people with different tastes. It should please a crowd.
Considerations: On the packaging, the company calls out that this is a great option to use with the pour-over method.
Buy at Amazon and La Colombe.
Kind: Medium roast ground
Initial impressions: I've had Peet's coffee before, but only at its store, usually in an airport and on-the-run. Brewing a cup at home, I wasn't quite sure what to expect. While the aroma was slightly sweet on opening the bag, the first taste was completely nutty. The Cafe Domingo medium roast leaned toward a darker roast but was thoroughly in between light and dark.
After half a cup, the novelty of scrutinizing the coffee wore off, and it blended into the background until it was finished. It's what you might expect from a national chain's coffee: solid, but a little boring. There were no surprises lingering between the first bit touching your tongue and the moments after a swallow. It tasted uniform, but that taste felt very pragmatic and finely tuned.
Considerations: Like Starbucks or Seattle's Best, Peet's is a common choice at many national retailers. It's a good choice when you're just not sure what to get or don't have many options available at a moment's notice.
Newsweek may earn a commission from links on this page, but we only recommend products we back. We participate in various affiliate marketing programs, which means we may get paid commissions on editorially chosen products purchased through our links to retailer sites.