What Is Pegan? Vegan, Paleo Combination Diet Could Increase Risk Of Eating Disorders, Dietitian Warns
From Atkins to keto, there are a myriad of diets out there all promising to keep our bodies in shape and at the peak of health. But "pegan" beats them all—at least according to a leading doctor and author.
As the name suggests, a pegan diet combines foods allowed in vegan and paleo regimes. The former is entirely plant-based, while the latter consists of foods that our paleolithic ancestors are believed to have eaten. In other words, no animal products—including meat and dairy—and no processed foods.
Mark Hyman, M.D., the director of Cleveland Clinic Center for Functional Medicine, said that research shows what we eat can "create healing or disease" by speaking to our genes and changing our hormones.
"Every single bite matters," he told CBS News.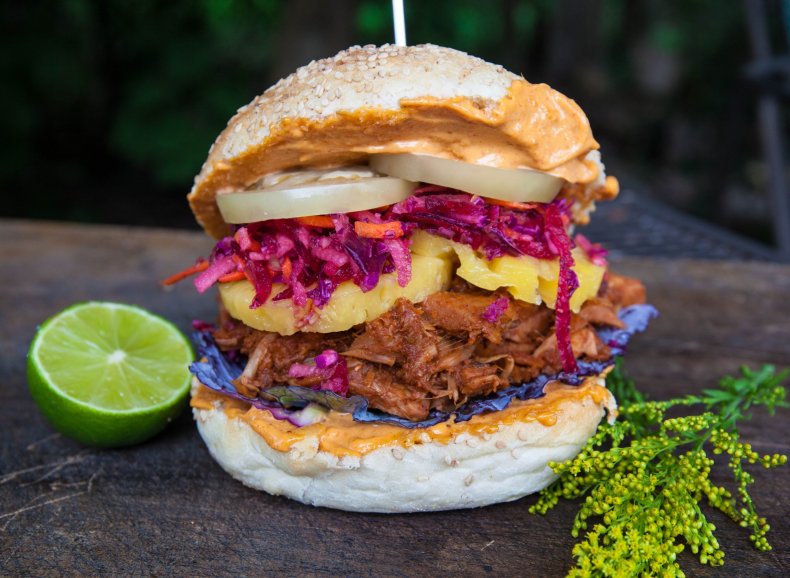 His comments come as the U.S. battles an obesity epidemic. According to the CDC, one-third of American adults are obese.
Hyman, the author of Food: What the Heck Should I Eat?, advised consuming meals that are low in sugar and starch, and filling our plates with fruit and vegetables.
"If you're going to eat animal foods, eat sustainably grown or harvested foods," he said, adding: "Have foods that have lots of good fat, like nuts and seeds, olive oil, avocados."
And if the meal you intend to tuck into contains an ingredient that doesn't sound like something you would use in your home kitchen—like butylated hydroxytoluene—it's best avoided, he said.
"If God made it, eat it. If man made it, leave it," he suggested.
But with so many rules, how safe is it for the average person to follow a pegan lifestyle?
Dr Frankie Phillips, a spokesperson for the British Dietetic Association who has researched plant-based lifestyles, told Newsweek she was concerned that terminology like "pegan" and "every bite matters" paints certain foods as "right" and others "wrong."
"I'm concerned that people become too worried and this then spills over into a real risk of eating disorders," she said.
Read more: What Is Keto? Trendy Diet Allows for Plenty of Cheese and Fat
"Having some meat and fish can ensure adequate amounts of high-quality protein, and vitamin B12 also," she added.
Those who remove dairy products from their diets must also be careful to replace calcium sources such as cow's milk with fortified products, even though they are processed. Starchy wholegrain foods like seeded bread and brown rice, meanwhile, are useful sources of fiber which promote gut health.
On the whole, however, a pegan diet is a healthy one if executed correctly. It would be higher in fiber than the average American diet, and features plenty of nutrient-rich fruits and vegetables, she said.
"This diet sounds very similar to the Mediterranean diet which has got a lot of good evidence showing that it is a great way to be eating," commented BDA-registered dietitian Priya Tew. Studies show that plant-based foods are associated with a lower risk of diseases including certain cancers and cardiovascular disease, she explained.
BDA Dietitian Aisling Pigott praised the pegan diet for "promoting a more relaxed approach towards some of the stricter principles of 'diets.'"
But she too warned against demonizing certain foods. "Ruling out certain products can make it difficult to make choices and feeds into the idea that food is 'good' and 'bad,'" she told Newsweek.
"Balance and enjoyment are the most important factors," she said.