Pelicans' Zion Williamson Joins Shaquille O'Neal and Allen Iverson in NBA Record Books After 32-Point Performance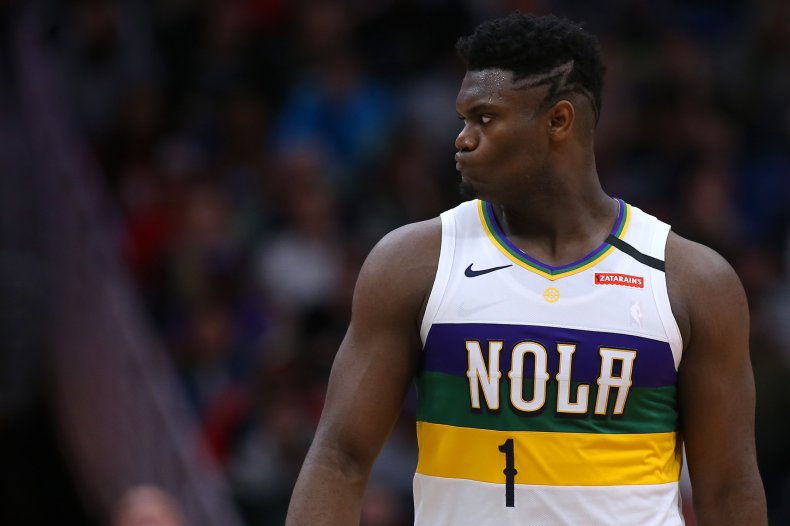 New Orleans Pelicans rookie sensation Zion Williamson has now joined the ranks of NBA legends Shaquille O'Neal and Allen Iverson.
Williamson's 32-point performance at Thursday's game against the Thunder gave him 221 total points through his first 10 games. According to ESPN Stats & Info, the only other former number one draft picks to accomplish a similar feat were O'Neal and Iverson.
After being selected as the number one pick in the 1992 draft by the Orlando Magic, O'Neal scored 238 points in his first 10 games. Iverson, who was the number one pick in the 1996 draft by the Philadelphia 76ers, scored 224 points in that same span. Both of them went on to win the NBA's Rookie of the Year award as well as being inducted into the Naismith Memorial Basketball Hall of Fame after retiring from the NBA.
Williamson finished Thursday's game with 32 points, 6 rebounds and 1 assist with a shooting percentage of 57.9. His most recent game helped improve his season averages to 22.1 points, 7.5 rebounds and 2.2 assists.
According to Elias Sports Bureau, Williamson also complied 75 rebounds in his first 10 games. The only player to have more points and rebounds during that same span was O'Neal, who had 158 rebounds on top of his 238 points.
Williamson's 32 points Thursday also marked the second straight game in which he recorded at least 30 points, after having 31 against the Portland Trail Blazers. With his back-to-back games of at least 30 points at 19-years old, he became the fourth teenager in NBA history to do this. Los Angeles Lakers star LeBron James had done something similar in 2003, as well as Phoenix Suns' Devin Booker in 2015.
Despite coming into the NBA at a height of 6'6", Williamson has continued to dominate in the low post, going up against players much taller than he is. He is currently averaging 15.1 points in the paint, the third most in the NBA. Out of his 221 total points, 158 have come in the paint, which, according to ESPN Stats & Info, is the most during a player's first 10 games over the past 20 seasons.
On top of his 15.1 points in the paint per game, he also averaged 5.3 second chance points. In addition to being the highest across the NBA, that number also placed Williamson's name next to O'Neal's again as the only two players in the past 20 seasons to average at least 5.0 second chance points and 15 points in the paint.
Meanwhile, Williamson is participating in the NBA's All-Star Weekend Rising Stars game at 9 p.m. ET Friday, in which the league's first- and second-year players are split into two rosters (U.S. and world), based on the player's nationalities.
He will look to continue his rookie dominance after the All-Star break when the Pelicans face the Portland Trail Blazers on February 21.