Pelosi Accuses McCarthy, GOP of 'Antics' Trying to Thwart 1/6 Commission
House Speaker Nancy Pelosi on Thursday accused GOP Leader Kevin McCarthy of trying to thwart an investigation into what led to a mob storming the United States Capitol on Jan. 6 as then-President Donald Trump continued to contest the election of President Joe Biden.
"We will proceed," Pelosi told reporters a day after McCarthy pulled his Republican appointees from the select committee's roster. "It's my responsibility as Speaker of the House to make sure we get to the truth on this and we will not let their antics stand in the way of that."
Pelosi had objected to two of McCarthy's chosen Republicans—Reps. Jim Jordan of Ohio and Jim Banks of Indiana, who both voted against the certification of the election results hours after the Capitol was attacked by Trump supporters.
"It was an assault on our democracy, an assault on our Congress and an assault on our Constitution, as rioters tried to prevent us from honoring our Constitutional responsibility to certify the Electoral College vote and officially name Joe Biden president of the United States," Pelosi, a California Democrat, said.
In a quickly called press conference on Wednesday, McCarthy, a California Republican, told reporters the commission had "lost all legitimacy and credibility," after Jordan and Banks were rejected.
"Pelosi has broken this institution," he said.
He claimed Republicans would hold a separate investigation into the January 6 riot and suggested Pelosi had neglected to fortify the Capitol, even though Pelosi, as House Speaker, doesn't control the Capitol security solely.
In addition to Democrats, Pelosi has appointed Rep. Liz Cheney, a Wyoming Republican who voted to impeach Trump over the January 6 mob attack, to serve on the panel, keeping its bipartisan make-up barely intact after McCarthy's move.
Republicans in the U.S. Senate blocked a proposal to create a broader bipartisan panel styled in the 9/11 investigation, with seven GOP senators siding with Democrats. The vote needed the support of 10 Republicans to meet the 60-vote threshold.
Pelosi then created the House select committee as an alternative, and the committee has been endorsed by Biden.
McCarthy though, told reporters Thursday that he thought the probe was, "politically driven" and cited Banks' and Jordan's military and law enforcement backgrounds.
"What the speaker has done, that puts a great deal of doubt—I mean, at no time in the history of a select committee in America," McCarthy told reporters Thursday. "Why were we so ill prepared?"
There had been widespread speculation as to whether Pelosi would move to reject the members McCarthy had named. Jordan is one of the most outspoken allies of Trump, and Banks is chairman of the Republican Study Committee.
"It was horrible, horrible thing—I'll never forget the trauma," Pelosi said of the day when she had to be whisked to a safe room as rioters chanted for her death. "We're there to get the truth—not to get Trump. Trump seems to be what the other side is obsessed with."
McCarthy was given five members to name to the bipartisan panel. Pelosi only objected to Jordan and Banks. Republican Reps. Rodney Davis of Illinois, Kelly Armstrong of North Dakota, and Troy Nehls of Texas also said Wednesday they won't take part in the investigation because of the Jordan and Banks denial.
But Pelosi defended her decision and vowed the investigation would continue and is weighing whether to appoint another Republican to the panel.
"This is deadly serious," Pelosi said. "This is about our Constitution—it's about our country there an assault on the capital that is being mischaracterized."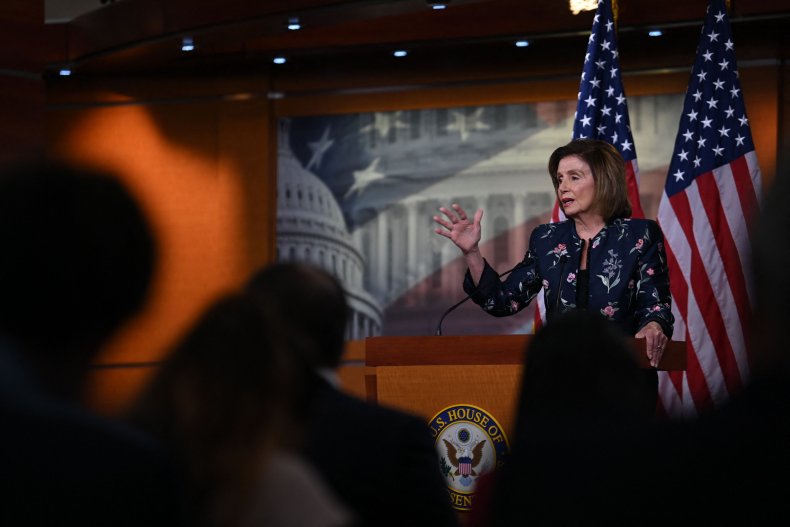 Updated 07/22/2021, 12:58 p.m. ET: This story has been updated with a statement from Rep. Kevin McCarthy.