Pelosi Asks Trump to Order Flags Flown at Half-Staff When U.S. Reaches 100,000 Coronavirus Deaths
House Speaker Nancy Pelosi and Senate Minority Leader Chuck Schumer sent a letter to President Donald Trump on Thursday, asking that flags be flown at half-staff when the nation's death toll from the new coronavirus reaches 100,000.
"It would serve as a national expression of grief so needed by everyone in our country," Pelosi and Schumer wrote.
There is no known record that the U.S. flag was lowered to half-staff to honor victims of a pandemic, including the Spanish Flu that ravaged the world from 1918 to 1920.
The last time Trump ordered flags lowered to half staff was to mourn the victims of the mass shootings in Dayton, Ohio, and El Paso, Texas last summer, records showed.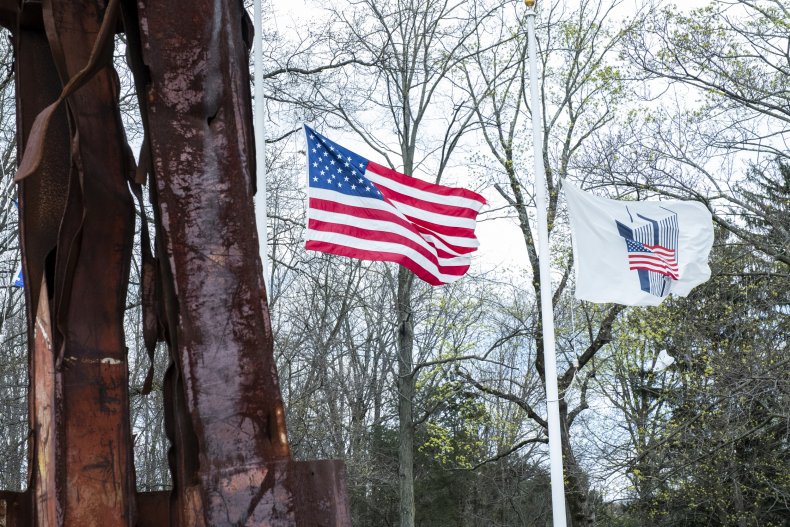 So far, Trump has not said publicly if he will follow through with Pelosi and Schumer's request to lower flags nationwide to mourn the first 100,000 who've died of the new coronavirus.
According to the Centers for Disease Control and Prevention, there are more than 1.5 million confirmed cases of COVID-19 and 91,664 people have died from it in the U.S.
Flags are typically lowered to half-staff during a time of national mourning, and in most cases is done to honor the death of a national official, first responders, or on Memorial Day, a day set aside to honor the military members killed in the defense of the country.
The U.S. flag can be ordered to half-staff by a sitting president who issues a presidential proclamation, or governors and local leaders honoring the death of a local leader or first responders.
On April 3, New Jersey Governor Tim Murphy became the first U.S. governor to issue an executive order lowering flags to half-staff to mourn the 650 New Jersey victims who died in the early days of the COVID-19 pandemic.
"This is one of the greatest tragedies to ever hit our state and our nation, indeed," Murphy said in a Washington Times report. "And we must have a constant and visible memorial of the tremendous personal toll COVID-19 is having on our communities. And since families at this time cannot even hold funerals for their lost loved ones, this is a way—a small way, but I think an important way—that we can make sure that their loss is not forgotten."
Murphy said the flags will remain at half-staff in New Jersey indefinitely.
Five days later, New York Governor Andrew Cuomo followed Murphy's lead and ordered flags statewide to be flown at half-staff.
"Every number is a face, and we have lost so many people, many of them front-line workers putting themselves at risk to do the essential functions that we all need for society to go on," Cuomo said in an April 8 WKTV report. "In honor of those we have lost to the virus, I am directing all flags to be flown at half-mast. And I continue to urge all New Yorkers to be responsible, adhere to all social distancing protocols and remember the life you are risking may not be your own."