Pelosi Is Blocking Second Skinny Stimulus Plan, This Time From Moderate Democrats
House Speaker Nancy Pelosi on Wednesday dismissed a new coronavirus relief framework introduced by a bipartisan group of about 50 centrist Democrats and Republican lawmakers as Congress remains deadlocked on another round of relief amid the pandemic.
The Problem Solvers Caucus, a group led by Democratic Josh Gottheimer of New Jersey and Republican Tom Reed of New York, proposed a slimmed-down $1.52 trillion package, which included a second round of $1,200 stimulus checks. The amount is still about one trillion short of Pelosi's latest demand of $2.5 trillion, however, it represents one trillion more than the latest Republican senate proposal of $500 billion.
Pelosi denied calls from her own party to vote on the moderate package and stood firm behind her decision to hold out for a larger price tag.
"What we want is to put something on the floor that will become law," the Democrat said on MSNBC. "We did come down."
"We can only go so far."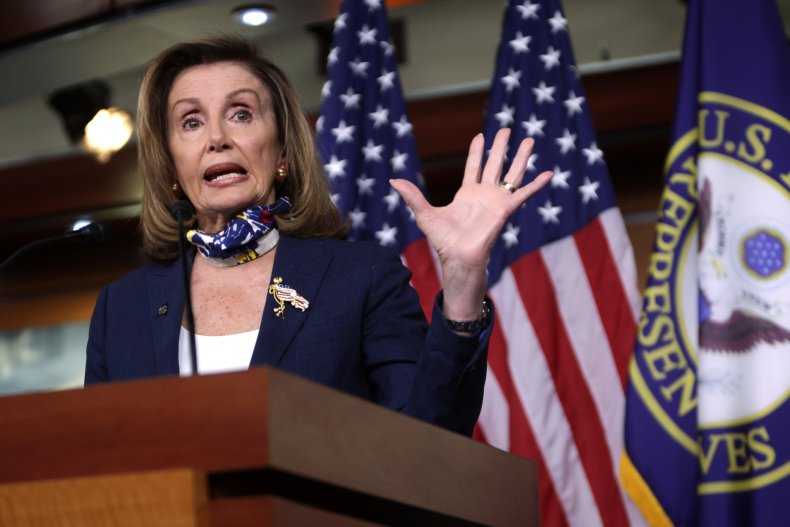 President Donald Trump and the Republican party have accused Pelosi of using the pandemic to further the Democratic political agenda as Americans grow impatient over the stimulus deadlock. Pelosi denied the allegation while maintaining that the GOP continues to fail in allocating sufficient relief funds to address the ongoing crisis.
"It isn't about finger pointing and it isn't about machinations. It is about meeting the needs of the American people," she said. "Right now, we need to do more that have Republicans check a box."
Millions of Americans have been left with no federal funding as the money provided in the Coronavirus Aid, Relief and Economic Security (CARES) Act has largely been used. The months-long partisan gridlock has left Republicans in Washington doubting that a deal will be passed.
Senate Majority Leader Mitch McConnell offered his most pessimistic assessment of a possible deal since negotiations kicked off a few months ago. "We have been in a challenging period. Regretfully, I can't tell you today we're going to get there," he said. "I wish I could tell you we were going to get another package, but it doesn't look that good right now."
The bipartisan package proposal would expand supplemental unemployment insurance. Under the CARES Act, $600 in benefits were allocated to those who lose their jobs due to the pandemic. The new "March to Common Ground" framework would pay out $450 for eight weeks, before increasing the figure to $600.
The Problem Solvers Caucus' offer also includes $25 billion to address the looming eviction crisis and $100 billion for health care programs.
Newsweek reached out to Rep. Josh Gottheimer for comment.