Pelosi Calls for 'Federal Standard' As States Reopen Without Meeting White House Coronavirus Guidelines
As dozens of states begin to reopen amid the coronavirus pandemic although they have not met benchmarks laid out by the Trump Administration, House Speaker Nancy Pelosi called for a set of federal standards that would regulate how the country gradually returns to business as usual.
"You really have to have a federal standard because as we know, viruses know no borders nationally. But they certainly don't know state borders," the California Democrat told reporters Thursday. "We want to open up, but not in a way that causes more deaths."
Her announcement came after the Associated Press reported Thursday that the White House rejected a detailed plan from the Centers for Disease Control and Prevention on how to reopen the country safely amid the pandemic.
And officials on the president's coronavirus task force, such as Drs. Anthony Fauci and Deborah Birx, have warned of the consequences if states lift restrictions prematurely. But the health experts and White House officials have stated the guidelines are designed to provide leeway and flexibility to states.
Even though the number of new cases at the national level has just begun to flatten the curve, many states are still seeing an increase in coronavirus cases. Despite this, governors are choosing to relax social distancing restrictions and ignore the recommended criteria from the Trump administration. Georgia, for example, began opening restaurants and other businesses as early as last week. Their average number of cases continues to increase.
Two dozen states have already partially reopened while another half dozen plan to in the coming weeks. Yet in more than half of these 30 states, new cases continue to climb.
The White House criteria give broad discretion to governors and includes four standards states should meet before health officials say it's safe to enter Phase 1 of reopening businesses: a decline in new cases for 14 days, enough resources to conduct contract tracing on all new cases, enough tests for residents with symptoms and the health care capacity to treat the infected. Many Democrats, health experts, some Republicans and even the White House guidelines suggest the U.S. lacks the testing capability to reopen.
"I think everything should be based on science and not state or local or whatever it is," Pelosi said.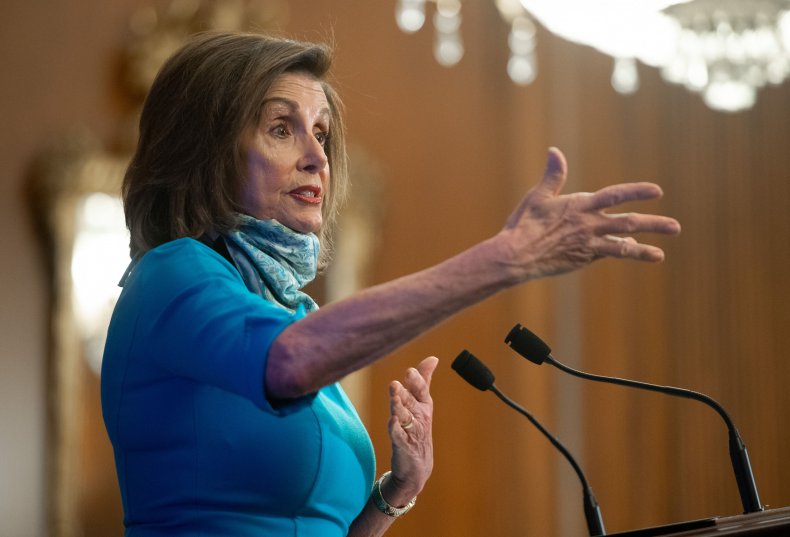 The decision of when and how to lift their restrictions has not been an easy one for some governors. The balance between the health and economic impacts can weigh heavily on an elected official, particularly as they face protests. More than 33 million Americans have lost their jobs since mid-March, the Labor Department revealed Thursday.
But President Donald Trump has relaxed his position on urging states to follow the White House guidelines. He acknowledged to ABC News this week that "it's possible there will be some" deaths due to premature reopenings. But, he added, "we have to get our country back. People are dying the other way, too."
White House Press Secretary Kayleigh McEnany told reporters Wednesday that the guidelines were recommendations, not mandates. She encouraged "every single governor to follow the guidelines that we've put forward to a phased reopening approach." But she declined to criticize those who do not.
"We have this beautiful concept called Federalism, which means that the states lead on this, and that's what we're doing," McEnany said. "It's a governor-led decision, but we encourage everyone to follow the expert-written guidelines that we've put forward."
Republicans on Capitol Hill have mirrored that position. They even take the argument one step further to say it should be local leaders like mayors—not governors—leading the charge to reopen on a regional basis. This method, they said, would lead to a safe but faster road to economic recovery.
"Probably you could make the argument—and you can argue both sides—that governmental policy may have had no effect on this thing. That it basically ran its course in New York," Sen. Rand Paul (R-Ky.), an eye doctor, told Newsweek. He labeled the expert opinions from U.S. health officials that shutting down states was necessary to flatten the curve and avoid overwhelming hospitals as "conjecture."