Speaker Nancy Pelosi teared up on Friday revisiting the Wednesday mob attack on the U.S. Capitol and how her staffers were forced to hide under tables in the dark for hours as supporters of President Donald Trump searched for her.
In an interview with CBS' 60 Minutes, which aired Sunday night, Pelosi described to host Lesley Stahl her experience on Wednesday, when a pro-Trump mob stormed the Capitol building. The Democrat explained that Capitol Police escorted her from the podium to an undisclosed location as the threat emerged. At first, she resisted and wanted to stand her ground, but soon relented and went to safety.
"What happened was a terrible, terrible violation of the first branch of government, the legislative branch by the President of the United States," Pelosi said as she teared up. "The mob was free to roam the halls, one group making it right up to Speaker Pelosi's suite of offices."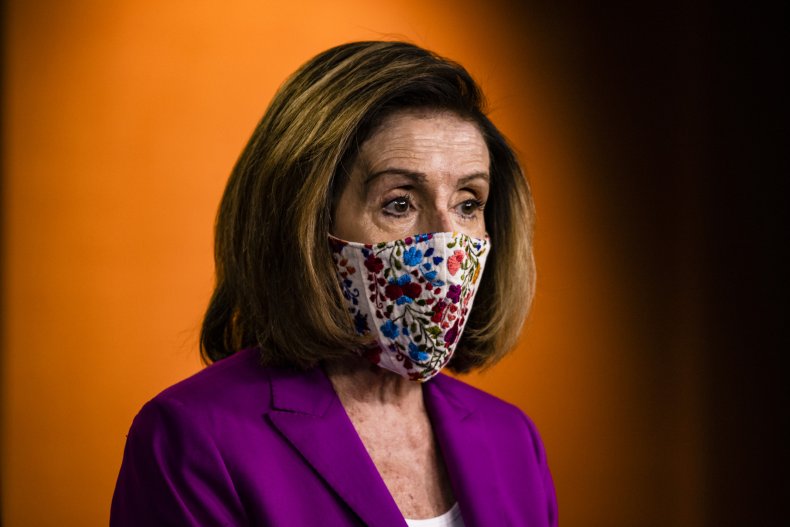 Pelosi described a scene where her staff had barricaded the door, hiding under tables with the lights turned off for two and a half hours. "You see what they did to the mirror there? The glass was all over the place," said she, gesturing at the mirror.
The House Speaker revealed that there's evidence to suggest that the mob was searching for her. "It was a well-planned, organized group with leadership and guidance and direction. And the direction was to go get people," she said. "They were vocally saying, 'Where's the speaker? We know she has staff. They're here someplace. We're gonna find them.'"
As protesters scoured the building, Pelsoi and incoming Senate Majority Leader Chuck Schumer, from their undisclosed hiding location, urged Trump to direct his followers to leave.
"The president said, 'Go home,' but the election was—you know, went on with his lies, his misrepresentations, his delusion that he won in a landslide in this election," she told Stahl.
Pelosi said top lawmakers, including Schumer and outgoing Senate Majority Leader Mitch McConnell, believed that returning to the Capitol to finish certifying President-elect Joe Biden's election win was the right thing to do.
"There was some suggestions that it may take too long, and we should do it at the undisclosed location," she said. "But there was a general belief that it—from the message of strength that we needed to send, we had to go back to the Capitol as soon as possible."
The violent storming of the Capitol left five people dead, including one Capitol police officer.
Hours after her interview with CBS on Friday, Pelosi warned Trump that lawmakers will begin impeachment proceedings if he does not resign before Biden's inauguration. Calls for the president's impeachment have grown over the past few days, with more than 200 members of Congress in support of removing him from office.
Newsweek reached out to the White House for comment.