Pelosi Says House Will Discuss Reproductive Rights After SCOTUS Upholds Texas Abortion Law
House Speaker Nancy Pelosi has vowed to bring a reproductive rights bill to the floor after the Supreme Court refused to block a Texas law banning most abortions.
The Democratic leader said Thursday that codifying Roe v. Wade, the landmark 1973 ruling that legalized abortion nationally, is a necessary step for Congress to take following this week's events.
"The Court's cowardly decision to uphold a flagrantly unconstitutional assault on women's rights and health is staggering," Pelosi wrote on Twitter. "The House will bring up Congresswoman Judy Chu's Women's Health Protection Act to enshrine into law reproductive health care for all women across America."
The Women's Health Protection Act (WHPA) would create federal protections against state laws that impose restrictions on abortion that make it more difficult for pregnant people to access care.
"Every woman has the constitutional right to basic health care," Pelosi said, calling Texas's new law the "most extreme, dangerous abortion ban in half a century."
The law, also known as SB 8, went into effect on Wednesday. It effectively prohibits abortion when a "fetal heartbeat"—a term that medical professionals and abortion rights activists argue is misleading—can be detected, which is usually around six weeks of pregnancy.
The ban even applies to cases where the woman was impregnated as a result of rape or incest, with the only possible exception being medical emergencies.
Abortion clinics and health care providers filed an emergency application urging the Supreme Court to intervene. But the court declined to block the law for now.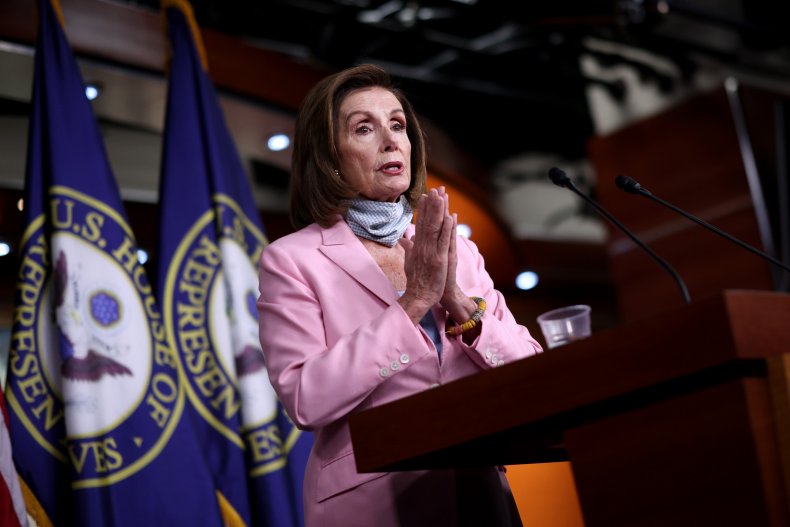 The court's vote was 5-4, with conservative Chief Justice John Roberts joining the three liberal justices in dissent.
"Without full briefing or argument, and after less than 72 hours' thought, this Court greenlights the operation of Texas's patently unconstitutional law banning most abortions," Justice Elena Kagan wrote in her dissent. "The Court thus rewards Texas's scheme to insulate its law from judicial review by deputizing private parties to carry out unconstitutional restrictions on the State's behalf."
The Texas ban will be enforced by private individuals, who can sue abortion providers or anyone involved in aiding or abetting the procedure. Those who are able to successfully sue someone over the matter will be able to collect a minimum of $10,000.
The majority of justices wrote in an unsigned opinion that while the clinics had raised "serious questions regarding the constitutionality of the Texas law," they didn't meet a burden that would allow the court to block it at this time due.
"In particular, this order is not based on any conclusion about the constitutionality of Texas's law, and in no way limits other procedurally proper challenges to the Texas law, including in Texas state courts," the majority wrote.
Update (9/2/21, 1:10 p.m. ET): This story has been updated with additional information about the Texas abortion law and the Supreme Court's decision.