Nancy Pelosi's Office Releases Help-Wanted Ad Mocking House GOP Push to Replace Liz Cheney
House Speaker Nancy Pelosi's website posted a faux "help-wanted ad" that makes light of Republicans who want to replace House Republican Conference Chair Liz Cheney.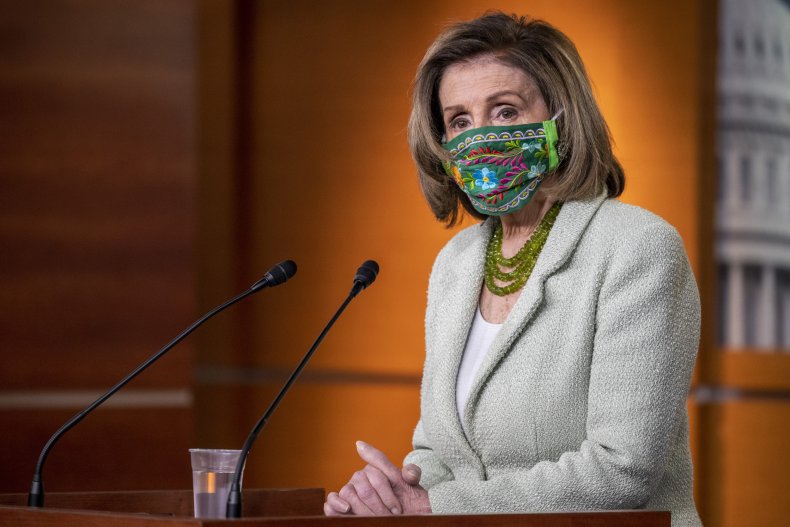 The "ad" begins with a headline: "Seeking Replacement for House Republican Conference Chair."
The body of the statement reads: "Word is out that House GOP Leaders are looking to push Rep. Liz Cheney from her post as House Republican Conference Chair—their most senior woman in GOP leadership—for a litany of very Republican reasons: she won't lie, she isn't humble enough, she's like a girlfriend rooting for the wrong team, and more. So what exactly are House GOP Leaders looking for in a #3? Punchbowl AM got the scoop and, well, it's not surprising...they want a woman who isn't a 'threat' to them."
The help-wanted ad then ends with a passage from an opinion piece by Michael Gerson, former speechwriter for President George W. Bush, that appeared in Monday's Washington Post. It reads: "Nothing about this is normal. The GOP is increasingly defined not by its shared beliefs, but by its shared delusions. To be a loyal Republican, one must be either a sucker or a liar.... Knowingly repeating a lie—an act of immorality—is now the evidence of Republican fidelity."
On Tuesday, Punchbowl News reported that House Minority Leader Kevin McCarthy and House Minority Whip Steve Scalise want Cheney's possible replacement to stick to the message of the party and to not be perceived as a "threat to them and their power."
The line in the ad about Cheney not being willing to lie may refer to the Wyoming congresswoman's refusal to downplay the riot at the U.S. Capitol. She recently told Politico, "If we minimize what happened on January 6th, and if we appease it, then we will be in a situation where every election cycle, you could potentially have another constitutional crisis."
Another possible reference to her not lying could be her criticism of former President Donald Trump's baseless claims that last November's presidential election was stolen. Instead, she has repeatedly asserted that the election was fair and has acknowledged that President Joe Biden fairly won.
Cheney also voted to impeach Trump for the Capitol riot. When she later refused to apologize for the vote, Representative Mike Kelly of Pennsylvania said, "You look up into the stands and see your girlfriend on the opposition's side—that's one hell of a tough thing to swallow."