Pelosi, Progressives Signal $3.5 Trillion Spending Bill Will Likely Be Slimmed
House Speaker Nancy Pelosi and Representative Pramila Jayapal, chair of the congressional progressive caucus, signaled Sunday that the $3.5 trillion spending package will likely be slimmed down, as Democrats struggle to reach an agreement over the size and scope of President Joe Biden's economic agenda.
It "seems self-evident" that the reconciliation bill will be smaller than $3.5 trillion, Pelosi said on ABC's This Week.
"Everybody overwhelmingly, and I think even those who want a smaller number, support the vision of the president," the California Democrat added. "Adding up what our priorities are should take us to a number where we find common ground."
With razor-thin majorities in both chambers and staunch GOP opposition, Democrats are struggling to advance the $1.2 trillion bipartisan infrastructure bill and $3.5 spending bill that will shape Biden's legacy.
A standoff between moderates and progressives over the size and scope of the larger package has threatened to delay the passage of the two bills.
Moderate Senators Joe Manchin and Kyrsten Sinema believe the $3.5 trillion price tag is too high, while progressives say they'll only support the bipartisan bill if it's passed in tandem with the spending bill.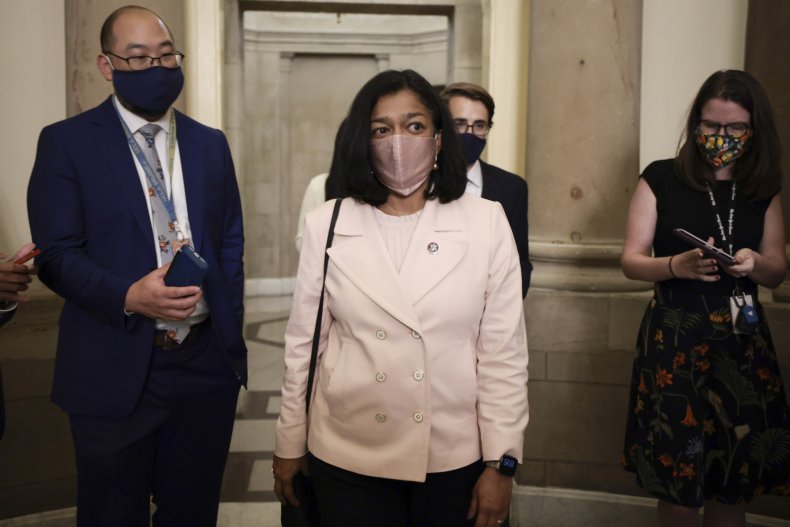 Jayapal indicated Sunday that members of the progressive caucus are open to slimming down the spending package but have yet to receive any proposals from Senate Democrats.
"What we've said is we are happy to hear what it is that somebody wants to cut. So far, we have not seen any negotiation back from the Senate. We understand, Margaret, that we have to get every Democrat onboard in the House and the Senate, we don't have the margins to do anything except that," the Washington Democrat said on CBS' Face the Nation.
"We've put out our vision and I think the key thing is not the top line number, it's what you actually want to fund."
Among the major investments, the "hard infrastructure" bill includes funding for roads and highways, bridges, broadband development, water support and airport projects. While the "human" spending bill provides funding to fight climate change, expand health care and deliver free community college.
Pelosi, who had self-imposed a Monday deadline to pass the bipartisan infrastructure bill, acknowledged that the vote could be delayed as Democrats continue to figure out how to "build consensus" on the spending bill.
"I'm never bringing a bill to the floor that doesn't have the votes," she said, adding that she's confident that it will pass by the end of the week. "You cannot choose the date. You have to go when you have the votes in a reasonable time."
Newsweek reached out to Manchin's office for a response.