Pelosi Promises House Will Pass Free Universal Coronavirus Testing, Paid Sick Leave Even Without GOP Support
House Speaker Nancy Pelosi promised to pass legislation Friday that would provide Americans with two weeks of paid sick leave and free coronavirus testing, with or without the blessing of President Donald Trump and Republicans.
"Today, we are passing a bill that... is focused directly on providing support for America's families who must be our first priority," the California Democrat said during a special televised announcement. "The three most important parts of this bill are testing, testing, testing."
UPDATE: Early Saturday morning, the House passed this legislation with bipartisan support.
The statement from the speaker comes amid intense talks and nearly two dozen phone conversations over the past two days with Treasury Secretary Steven Mnuchin. As of Friday evening, the situation remained in flux, even after President Donald Trump delivered a blow to the still-ongoing negotiations on the stimulus package meant to alleviate some of the stress that the coronavirus pandemic has inflicted on the economy.
"We don't think the Democrats are giving enough," the president said after a speech in the White House Rose Garden where he declared a national emergency. "We could have something, but we don't think they're giving enough."
However, after more calls between Pelosi and Mnuchin, the speaker announced she'd reached a deal with the administration. The revised package hasn't been released, but it's likely to include two weeks of paid family sick leave, up to three months of paid family and medical leave, free coronavirus testing, food aid, unemployment insurance, increased federal funds for Medicaid and increases protections for frontline workers.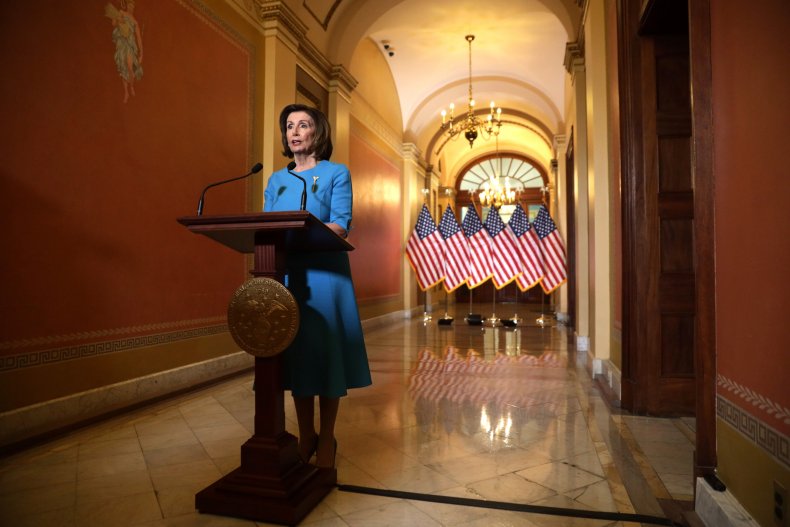 "We are proud to have reached an agreement with the Administration to resolve outstanding challenges," Pelosi said in a letter to colleagues.
Majority Leader Steny Hoyer (D-Md.) reiterated Pelosi's stance that the chamber is prepared to vote on their version if the two sides cannot reach an amicable solution.
"If we reach agreement, we'll vote on it," he told colleagues in a letter. "If not, we will vote today on our bill, which incorporates nearly all of what the Administration and Republicans have requested."
Not included in the bill, or even being considered at this time, are Trump's desired payroll tax cuts. Opposition from both sides of the aisle over such a proposal resulted in them being nixed from any congressional stimulus plan.
The House's package would be the second such legislation they passed since coronavirus made its way into the U.S. Last week, Congress passed and the president approved an $8.3 billion supplemental bill for testing and treatment research, as well as to help local health officials combat the virus.