Pelosi Refuses Responsibility for Losing House Seats While Taking Credit for 'Winning the Majority'
House Speaker Nancy Pelosi is rejecting any blame aimed at her for the Democrats' majority in the lower chamber shrinking—rather than expanding—as the party reflects on where it went wrong in last week's elections.
"I accept credit for winning the majority and holding the House," the California Democrat told reporters on Friday.
Pelosi was responding to a question about whether she takes any responsibility for the loss of House seats, which as of Friday amounted to 10 and counting. House Republicans so far have a net gain of seven, trimming down the Democrats' majority from 35 to 21 when the new Congress is sworn into office on January 3.
That majority could drop further, with some outstanding districts held by Democrats leaning toward Republican candidates in races that remain too close to call while ballots are still being tallied.
But on Election Day, Pelosi had predicted a far different outcome. "House Democrats are poised to further strengthen our majority—the biggest, most diverse, most dynamic women-led House majority in history," she told reporters.
Pelosi's remarks on Friday came amid a post-election, internal autopsy being conducted by House Democrats to determine why the party lost so many seats rather than gaining them, as so many, including the media, had predicted.
A debate has erupted between moderate House Democrats and their progressive colleagues about what the party could have done differently and what is the best path forward under President-elect Joe Biden's administration.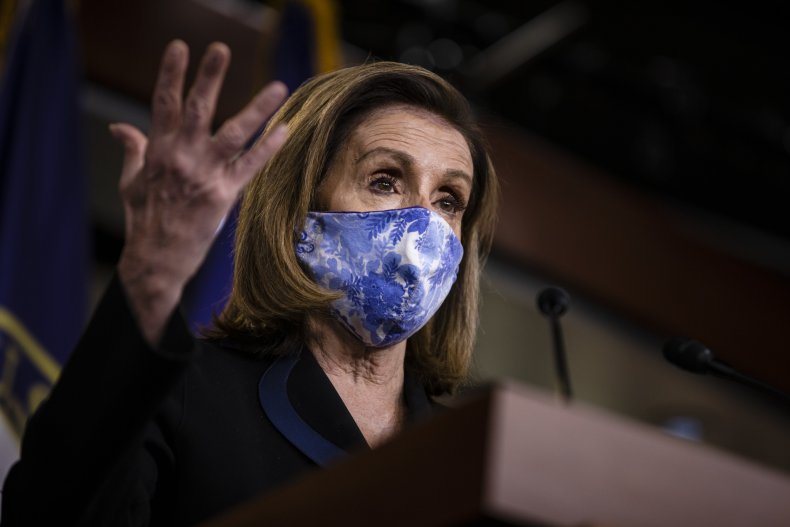 Moderates blame liberal messaging and positions that Republicans labeled as socialist, such as defunding the police, for alienating more centrist voters in Trump-leaning districts. Progressives say it was their causes that energized the Democratic base and brought out record voter turnout.
Pelosi said that several candidates who lost told her they plan to run again in 2022 and that as they prepare to "take a deep dive," she now has "books of notes" from those candidates about how they feel it is best to move ahead.
Pelosi also noted that many of the dozens of seats the Democrats flipped in 2018 to retake the House were Trump districts, and that the party always knew holding on to them when Trump was on the ballot this year would be difficult.
"We said, 'He's going to be on the ballot, that's a steeper climb in these districts,' and with the actions that were taken, we saved most of those seats. We're very proud of that," Pelosi said. "The fact is that President Trump, to his credit, turned out a big vote, and in some of these districts, which were—people wondered how we won them before, they were so Trumpian."
Still, as the dust settles and Democrats try to navigate their next steps in a post-Trump world, they will be faced with hurdles from Republicans. The Senate will stay under the control of Senate Majority Leader Mitch McConnell, unless Democrats can win both runoff Senate races in Georgia on January 5.
But even with the GOP running the upper chamber and a narrower majority in the House, Pelosi said her strategy will remain unchanged. She dismissed the notion that more compromise may be needed in the new Congress.
"Our leverage and our power is greatly enhanced by having a Democratic president in the White House," Pelosi said. "Whether you're in the minority or majority, if the president is of your party, you have more power. And I think that that's what Mitch McConnell is going to find out now—is that whether he's in the majority or the minority, not having Donald Trump in the White House is going to change his leverage and that dynamic."