Pelosi Says Biden Should Skip Debates with Trump: 'I Wouldn't Legitimize A Conversation with Him'
House Speaker Nancy Pelosi wants Joe Biden to do something no modern presidential candidate has ever done before: skip the general election debates.
The California Democrat told reporters Thursday she believes President Donald Trump would only "belittle what the debates are supposed to be about" and would "proudly act in a way that is beneath the dignity of the presidency."
"He does that every day," Pelosi said. "I wouldn't legitimize a conversation with him, nor a debate, in terms of the presidency of the United States."
Pelosi, who jokingly said in front of the cameras not to tell Biden or his campaign and acknowledged the former vice president disagrees with her view, added that she does not "think that there should be any debates. I do not think that the president of the United States has comported himself in a way that anybody who has any association with truth, evidence, data and facts."
Biden's campaign did not immediately respond to Newsweek's request for comment. Neither the former vice president nor Trump has shown any willingness to forgo the debates, the first of three of which is dated for September 29 in Cleveland, Ohio.
In an interview with MSNBC, Biden rejected the idea he should skip any debates.
"I'm gonna debate him," Biden said. "I'm gonna be a fact-checker on the floor while I'm debating him...I think everyone knows this man has a pathological tendency not to tell the truth."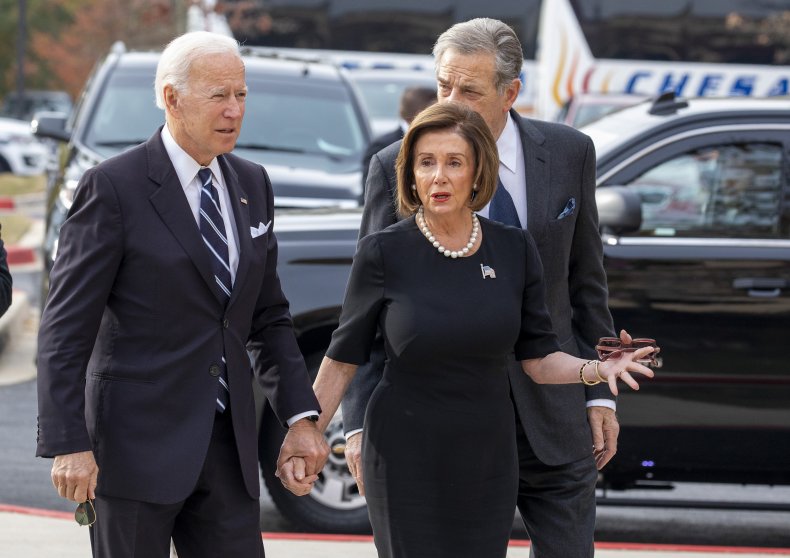 Pelosi lamented Trump's 2016 debate appearance with Democratic candidate Hillary Clinton. Trump at times appeared to be lurking behind Clinton while she spoke, prompting criticism that the president was attempting to inappropriately intimidate her. Pelosi described it Thursday as "disgraceful stalking."
Instead of debating, Pelosi suggested that Biden and Trump should answer questions on their own stages, completely separate from one another.
"[The debates] are not to be about skullduggery on the part of somebody who has no respect for the office he holds, much less the democratic process," Pelosi said.
Trump allies and aides were quick to publicly utilize Pelosi's debate-skipping suggestion as a sign that Biden is fearful of directly engaging with the president.
"What are they afraid of?" tweeted Trump campaign deputy national press secretary Ken Farnaso.
"There it is folks," tweeted Donald Trump, Jr., the president's eldest son and campaign adviser. "As I have said, the left will do anything to hide basement Biden because they know he can't function outside of the basement teleprompter environment he's been hiding in."
House Minority Leader Kevin McCarthy wrote on Twitter that "President Trump's passion, energy, and debate skills are unmatched."
"It's no surprise that Pelosi wants to keep Biden in the basement," the California Republican added.