Nancy Pelosi Says House Will Pass Major 'Families First' Coronavirus Response Bill With Free Testing For All
The House is expected to pass a major coronavirus response bill aimed at providing free testing and helping families steer through the growing crisis, House Speaker Nancy Pelosi has said.
In a statement published on Wednesday, Pelosi said the Families First Coronavirus Response Act will focus on providing "support for America's families, who must be our first priority in this emergency."
The legislation includes free coronavirus testing "for everyone who needs a test, including the uninsured."
It also seeks to give workers new protections, including paid emergency leave, with both 14 days of paid sick leave and up to three months of paid family and medical leave, as well as enhanced unemployment insurance, which will extend protections to furloughed workers.
The bill would further create new protections for frontline workers, such as healthcare workers and others who may have to come into contact with those who have been exposed to coronavirus or who are responsible for cleaning at-risk places.
In addition to supporting workers, the "Families First" bill would also seek to strengthen food security initiatives, including SNAP, food bank services, student meals and senior nutrition programs, while also increasing federal funds for Medicaid, as states across the country face increased costs.
While the costing of the bill has yet to be confirmed, according to Politico, it is expected to include more than $1 billion in food assistance alone, with $500 million expected to be dedicated to a family nutrition program, $400 million to dedicated emergency food assistance and $250 million for aging and disability programs.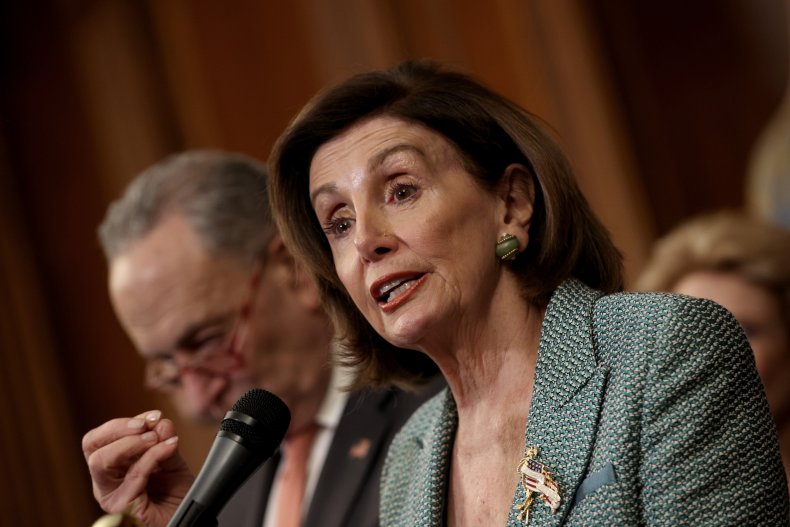 "We cannot fight coronavirus effectively unless everyone in our country who needs to be tested knows they can get their test free of charge," Pelosi said in her statement. "We cannot slow the coronavirus outbreak when workers are stuck with the terrible choice between staying home to avoid spreading illness and the paycheck their family can't afford to lose."
The House Speaker said the House would be moving to pass the Families First Coronavirus Response Act on Thursday, pushing the bill into the Republican-led Senate's hands.
Pelosi's statement came after she and Senate Minority Leader Chuck Schumer questioned why President Donald Trump had not said how his administration planned to "address the lack of coronavirus testing kits throughout the United States" in a Wednesday address he delivered on the outbreak.
"We have a public health crisis in this country and the best way to help keep the American people safe and ensure their economic security is for the president to focus on fighting the spread of the coronavirus itself," Pelosi and Schumer said in a joint statement.
"Alarmingly, the President did not say how the Administration will address the lack of coronavirus testing kits throughout the United States. Tomorrow, we urge Republicans in the House and Senate to help immediately pass the Families First Coronavirus Response Act," they said.