Pelosi Says 'Long Overdue' to Mandate Wearing Masks Nationwide as COVID-19 Surges
Speaker of the House Nancy Pelosi said that wearing masks should be mandated nationwide as the novel coronavirus pandemic continues to surge in multiple states across the country.
Pelosi, a Democrat from California, made the remarks during an interview with ABC News' This Week on Sunday. The lawmaker was asked by host George Stephanopoulos if it was "time to mandate the wearing of masks across the country?"
"Definitely long overdue for that," Pelosi responded. "[It's] my understanding that the Centers for Disease Control [and Prevention] (CDC) has recommended the use of masks but not demand– required it because they don't want to offend the president," she said.
"And the president should be an example," Pelosi continued. "You know, real men wear masks. Be an example to the country and wear the mask not only to protect – it's not only about protecting yourself. It's about protecting others," she said.
Newsweek reached out to the CDC and the Department of Health and Human Services for comment on Pelosi's remarks, but they did not respond by the time of publication.
Secretary of Health and Human Services Alex Azar urged the public to wear masks in an interview with NBC News Meet the Press on Sunday.
"We have to act and people as individuals have to act responsibly. We need to social distance, we need to wear our face coverings," Azar said. He also noted that this was a message of "public health" and that he was speaking on behalf of the Trump administration.
But President Donald Trump has been dismissive of mask wearing, although he has required staff in the White House to wear face coverings in an effort to avoid spreading the novel coronavirus. The CDC updated its guidance in early April to encourage all Americans to wear masks while in public.
"CDC is additionally advising the use of simple cloth face coverings to slow the spread of the virus and help people who may have the virus and do not know it from transmitting it to others," the agency recommended on April 3. "Cloth face coverings fashioned from household items or made at home from common materials at low cost can be used as an additional, voluntary public health measure."
Although Trump was part of the announcement, he said: "I'm choosing not to do it." The president's dismissal of masks stands at odds with other prominent Republicans.
"Protect yourself. Protect others. Help contain the spread of #COVID19. Wear a mask," GOP Arizona Governor Doug Ducey tweeted on June 17. Ducey included an image of a mask with the Arizona state flag and the hashtag "MaskUpAz."
Republican Senator Marco Rubio of Florida said that everyone should be covering their faces in public amid the pandemic in comments to reporters last Wednesday. "And then everyone should just wear a damn mask, like you guys are, like I am right now," Rubio said.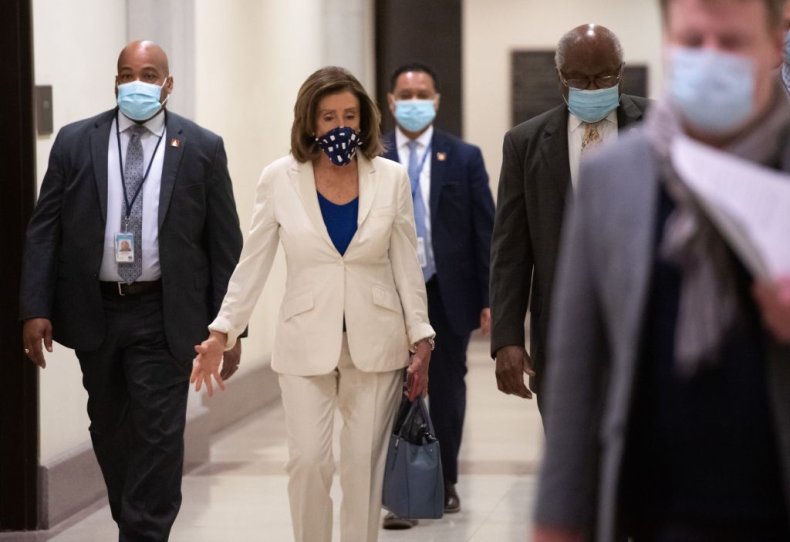 Some states and municipalities have mandated masks to be worn in public, while others have simply suggested that residents should wear them for their own health and that of their neighbors. At the same time, misinformation has spread on social media suggesting that wearing a mask could cause health problems.
Health experts have pushed back against these claims, noting that many professions have long required workers to wear masks on a regular basis and they do not present any serious risks. Conversely, a study by the University of Hong Kong published in May found that wearing surgical masks could reduce the rate of transmission of the novel virus from respiratory droplets by as much as 75 percent.
Meanwhile, the U.S. continues to have the highest number of infections and deaths from the novel coronavirus of any country in the world. As of Sunday morning, the country had confirmed more than 2.5 million cases and over 125,000 deaths, roughly a quarter of all reported global infections and deaths. The number of new cases of the novel virus have also been surging over the past couple weeks, with the U.S. seeing a new record high of 45,498 cases on Friday.