Pelosi Says Salon Owes Her An Apology for 'Setting Me Up' After Footage Leaks of Her Indoor Appointment
House Speaker Nancy Pelosi said Wednesday that a San Francisco salon she has visited many times owes her an apology for creating a "setup" that resulted in video footage of her most recent appointment drawing controversy online.
Fox News first reported on Pelosi's indoor appointment on Tuesday after the salon owner approached the network with security footage that showed Pelosi walking through the salon without a mask covering her nose or mouth.
The owner of the salon described Pelosi's appointment request to Fox News as a "slap in the face."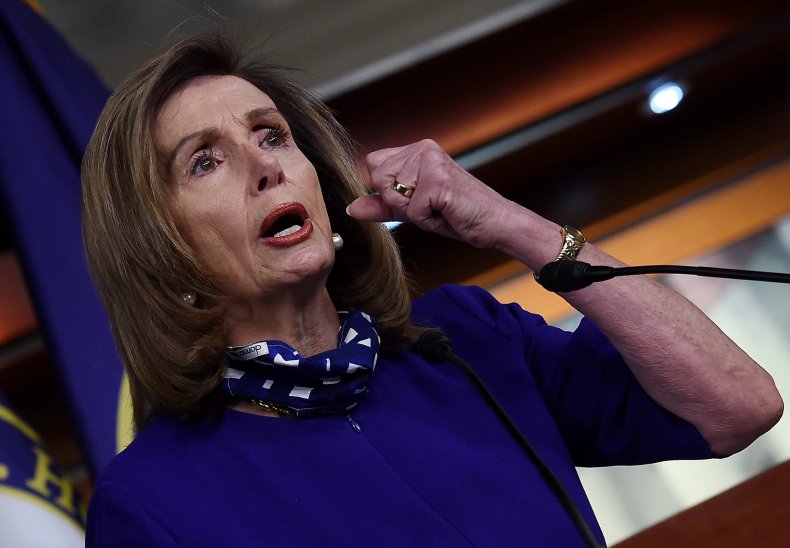 Pelosi's office referred Newsweek to comments the speaker made about the incident during a news conference with San Francisco Unified School District leaders on Wednesday.
"I take responsibility for trusting the word of a neighborhood salon that I've been to over the years many times," Pelosi said. "As it turns out, it was a setup. So I take responsibility for falling for that setup."
When a reporter asked Pelosi if she believed she owed the service industry an apology, Pelosi responded, "I don't."
"I think that this salon owes me an apology for setting me up," Pelosi said.
San Francisco did not permit hair stylists to work with customers indoors at the time of Pelosi's Monday appointment. According to new directives the San Francisco Department of Public Health instituted on Tuesday, hair stylists can tend to customers one at a time so long as the services are provided outdoors and customers wear masks. Hair salons are not currently allowed to provide shampooing services in San Francisco City or San Francisco County, according to the department's most recent regulations.
Pelosi's spokesman, Drew Hammill, told the Associated Press on Wednesday that Pelosi followed the rules the salon informed her about at the time she scheduled her appointment.
"This business offered for the Speaker to come in on Monday and told her they were allowed by the city to have one customer at a time in the business," Hammill said. "The Speaker complied with the rules as presented to her by this establishment."
Pelosi was later asked at the news conference why she was not seen wearing a mask in the salon's security footage. Pelosi said that she had her hair washed during the appointment and did not wear a face mask during the washing.
"I had just had my hair washed," Pelosi said. "I don't wear a mask when I'm washing my hair."
California is one of many states in which rules surrounding pandemic restrictions have changed over the summer and differ from one county to the next. San Francisco is one area that has retained stricter rules throughout the pandemic in an attempt to keep case counts under control. As of September 2, California remained the state with the greatest number of COVID-19 cases, with more than 712,000 total reported statewide. Health officials have reported more than 9,400 of those in San Francisco County, according to the California Department of Public Health.
Near the end of the news conference, Pelosi again referred to the rules that she said the salon provided her before she went to her Monday appointment. "If the salon is saying that they're able to do this and they're not, then they should not have said that, and they should not have been open for me to go there," she said. "But we trusted a neighborhood salon that I've been to for years."
This story has been updated with additional information and background.