Pelosi Says She Doesn't Listen to 'Most' of GOP's Speeches After McCarthy's 8-Hour Tirade
House Speaker Nancy Pelosi dismissed Minority Leader Kevin McCarthy's overnight speech to delay passage of the Build Back Better bill, saying, "I didn't even pay attention" to it.
Speaking to reporters Friday, the California Democrat said, "I don't even listen to most of the speeches on the other side because they're not fraught with meaning or fact. So I don't have my computer get bothered with that."
McCarthy, a California Republican, spent eight and a half hours speaking against the legislation, which the House passed on Friday morning. The remarks began at 8:38 p.m. on Thursday and lasted until just after 5 a.m. on Friday. The tirade broke the previous record for longest speech in the lower chamber, which was set by Pelosi in 2018.
"Personally, I didn't think I could go this long," McCarthy said just before yielding the floor.
At one point, around 3 a.m. Eastern Time, the Republican leader acknowledged, "I don't know that this speech is going to make a difference."
The $1.75 trillion social and climate spending package passed largely along partisan lines, 220-213. It now heads to the Senate, where it will face much tougher odds. Democrats need total support from their caucus to pass the bill through the reconciliation process in the 50-50 divided chamber.
If it passes there, federal benefits would be expanded for millions by providing funds for child care assistance, a one-year extension of the child tax credit, universal prekindergarten and a Medicare expansion to cover hearing services.
But Senate Minority Leader Mitch McConnell has predicted that the bill "will never become law."
Pelosi said that the legislation should be bipartisan and that it will likely be reshaped somewhat by the Senate committees. "At the end of the day, we will have a great bill," she said.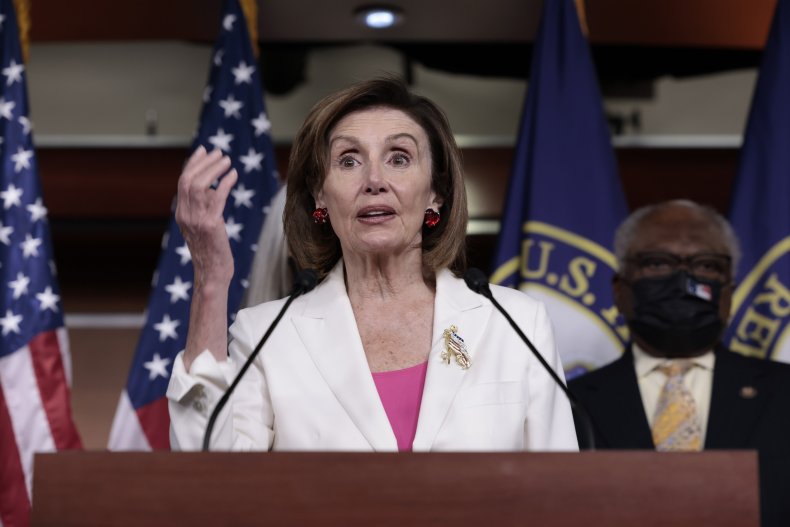 Democratic members roasted McCarthy on social media in real time and repeatedly responded to the speech on the floor with jeers.
Topics the Republican leader touched on included China, the U.S. military withdrawal from Afghanistan, Donald Trump and his friendship with Tesla CEO Elon Musk.
Representative Alexandria Ocasio-Cortez went live on Instagram to criticize McCarthy. The New York Democrat's video has been viewed hundreds of thousands of times on social media.
"Live, from the cloakroom of the U.S. House of Representatives, one of the worst, lowest-quality speeches I have ever had the absolute atrocious lack of privilege to witness," she said.
Representative Adam Schiff, a California Democrat, described McCarthy as the "worst orator in the world," while Pelosi sent out a press release asking if McCarthy was OK.
Newsweek reached out to McCarthy's office for comment but didn't receive a response before publication.