Pelosi, Schumer Say GOP Fails to See Scale of Problem as McConnell Rejects $3 Trillion Package
House Speaker Nancy Pelosi and Senate Minority Leader Chuck Schumer rebuked Republican leadership for failing to grasp the "gravity of the problem" facing the U.S. economy as Mitch McConnell said he would not back another $3 trillion bailout plan.
After meeting with Treasury Secretary Steve Mnuchin and White House Chief of Staff Mark Meadows to discuss further COVID-19 economic relief on Thursday, the Democratic leaders said the administration had "never" understood the size of the problems facing the U.S amid the coronavirus pandemic.
Speaker Pelosi also accused the Republican leadership of not wanting to "solve" the health and economic crises hitting the country.
Addressing reporters after the meeting, Schumer said: "Well, we had a long discussion and we just don't think they understand the gravity of the problem. The bottom line is this is the most serious health problem and economic problem we've had in a very – in a century and in 75 years. And it takes really good, strong, bold action. And they don't quite get that."
"I think they understand that we have to have a bill, but they just don't realize how big it has to be," Pelosi added.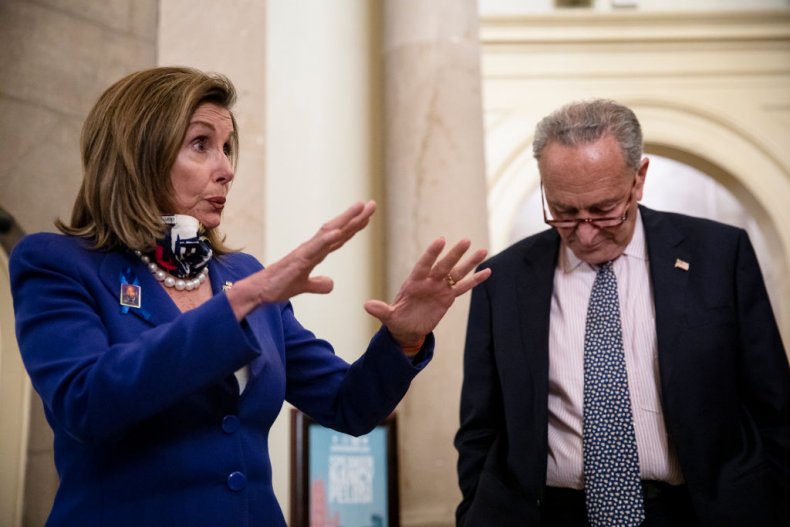 Newsweek has contacted the White House for comment. This article will be updated with any response.
As the top Democrats discussed the parameters of a second COVID-19 relief package with the administration, Senate Majority Leader McConnell continued to reject the $3 trillion HEROES Act passed by the House.
Speaking to the CBS-affiliate WYMT yesterday, McConnell said: "There are 15 or 20 of us who feel we've already added $3 trillion to the national debt, we now have a debt the size of our economy for the first time since World War II, and we're concerned about that. And I think that's a legitimate point of view.
"Even as outrageous one would argue it is to have that amount of accumulative debt, the economy simply needs another boost... what we're not prepared to do is add another $3 trillion on top of the $3 trillion we already added back in March and April."
Senate Republicans unveiled their own $1 trillion stimulus package earlier this week, offering a second round of $1,200 checks while threatening to cut the unemployment benefit enhancement from $600 to $200.
The proposed package was met with opposition from several members of the party, with Sen. Josh Hawley (R-Mo.) saying the plan was a "mess" that he was not willing to back.
Senator Lindsey Graham of South Carolina added that it would be "quite an accomplishment" for McConnell to win support from even half of Republican senators.
Data published on Thursday revealed the severity of the novel coronavirus pandemic's impact on the U.S. economy, with the Bureau of Economic Analysis saying second quarter GDP fell by 32.9 percent.
The Department of Labor also released figures showing more than 1.4 million Americans had made initial jobless claims in the week ending July 25.