Pelosi Slams Senate's 'Inadequate' Police Reform Proposal
A proposal for police reform the GOP-led Senate unveiled on Wednesday is "inadequate," and does not offer true reform, House Speaker Nancy Pelosi said in a scathing statement.
She derided the proposal that is expected to arrive on the Senate floor for debate next week. Introduced as the Just and Unifying Solutions to Invigorate Communities Everywhere (JUSTICE) Act, it is the Senate's first attempt to address the recent calls for police reform that have spread throughout the U.S. after George Floyd's death. Among its suggestions are the banning of law enforcement officials' use of chokeholds in most cases and increasing officers' use of body cameras.
"The Senate proposal of studies and reporting without transparency and accountability is inadequate," Pelosi, a Democrat, said in a news release. "The Senate's so-called Justice Act is not action."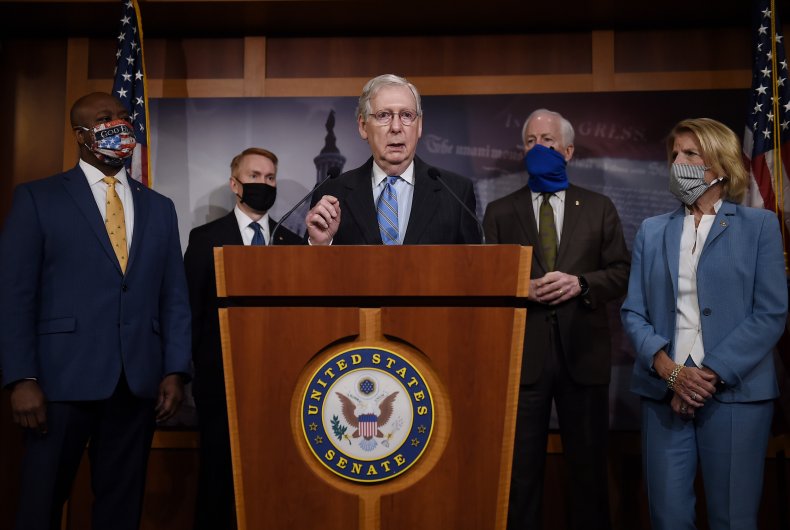 Pelosi drew comparisons between the Senate's proposal and that which was recently proposed by House Democrats, which she said "contains real, structural legal reforms."
"During this moment of national anguish, we must insist on bold change to save lives," she said in her statement.
While announcing the JUSTICE Act in the nation's capital Wednesday, Senate Majority Leader Mitch McConnell, a Republican, said Democrats were moving forward with legislation unlikely to be signed into law.
"Our Democratic friends, if they want to make a law, and not just try to make a point, I hope they will join us in getting on the bill and trying to move forward in the way the Senate does move forward when it's trying to actually get an outcome, rather than just sparring back and forth," McConnell said.
While both the House and Senate proposals agree on making lynching a federal crime, the Senate proposal in certain instances allows controversial policing procedures to continue, albeit within a more limited scope. In the case of chokeholds, the Senate proposal suggests a ban "except when deadly force is authorized." If passed, the bill says state and local governments that do not comply may not be eligible to receive some federal funding.
Another point of contention between the two chambers' proposals regards officer behavior. While the House bill recommends launching a national registry for reporting misconduct, the Senate bill would require all local governments to keep officers' disciplinary records on file. Those that don't could lose federal funding, according to the bill.
South Carolina Senator Tim Scott, who led a coalition of seven Republican colleagues in introducing the bill, described the legislation in a news release as taking "smart, commonsense steps" toward police reform.
"The murder of George Floyd and its aftermath made clear from sea to shining sea that action must be taken to rebuild lost trust between communities of color and law enforcement," he said in the release.
Scott did not respond to Newsweek's request for further comment by publication.
Since Floyd's death while in police custody on May 25, protesters across the country and around the world have rallied to call for an end to violence against black Americans and widespread reform of law enforcement policies. Several state and local government leaders have already announced plans to review their law enforcement policies, but calls for change at the national level have persisted.
Although President Donald Trump signed an executive order earlier this week that strived to address issues of officer misconduct, the order did not call for the kinds of systemic reform that many protesters have said they wanted.
Wednesday, June 7, 2:37 p.m. This story has been updated with additional information and background.