Nancy Pelosi on Roger Stone Indictment: 'Very Interesting' to See Who Trump Surrounds Himself With
House Speaker Nancy Pelosi responded to the arrest on Friday of Roger Stone, a longtime informal adviser to President Donald Trump, calling the development a "very interesting" indication of Trump's circle.
"It's very interesting to see the kinds of people that the president of the United States surrounds himself with," Pelosi told reporters.
Stone was arrested by FBI agents at his home in Fort Lauderdale, Florida, and charged with seven counts, including obstruction of an official proceeding, making false statements and witness tampering, in connection to special counsel Robert Mueller's investigation of Russian election meddling. The indictment alleges Stone sought to mislead investigators regarding his communication with the Trump campaign and WikiLeaks's release of stolen emails from then-candidate Hillary Clinton.
"This connection to the integrity of our elections is obviously something we have to get the truth about," Pelosi said.
On the heels of the July 22, 2016, release of stolen Democratic National Committee emails by "Organization 1," which is in reference to WikiLeaks, prosecutors say "a senior Trump Campaign official was directed to contact Stone about any additional releases and what other damaging information [WikiLeaks] had regarding the Clinton Campaign."
It is unclear who "directed" the "senior Trump Campaign official." Pressed by CNN, White House press secretary Sarah Huckabee Sanders avoided repeated questions about whether it was Trump.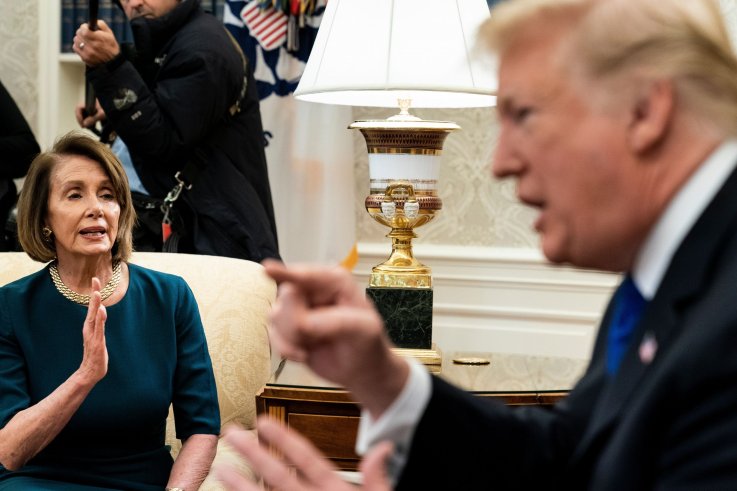 "What I can tell you is the specific charges that have been brought against Mr. Stone don't have anything to do with the president," Sanders said, refusing to provide a straight answer of yes or no when asked several times.
After Stone was directed by the "senior Trump Campaign official," the indictment says he then "told the Trump Campaign about potential future releases of damaging material by [WikiLeaks]. Stone also corresponded with associates about contacting [WikiLeaks] in order to obtain additional emails damaging to the Clinton Campaign."
Stone told senior Trump Campaign officials about what materials WikiLeaks possessed and when they would be publicly released on "multiple occasions," the indictment said. In October 2016, after WikiLeaks released the first batch of emails stolen from the Clinton campaign, an "associate of the high-ranking Trump Campaign official sent a text message to Stone that read 'well done.'"
The charges against Stone add to the laundry list of former Trump associates or officials who've been charged in connection with the Russia probe. Counting Stone, that list now includes six people: Paul Manafort, Trump's former campaign manager, who's been convicted on numerous financial crimes; Michael Flynn, the president's former national security adviser, who pleaded guilty for lying to the FBI; Rick Gates, a former Trump campaign aide, who pleaded guilty for lying and conspiracy to defraud the U.S.; George Papadopoulos, a foreign policy adviser for the Trump campaign, who pleaded guilty for lying to the FBI; and Michael Cohen, Trump's former personal attorney, who has pleaded guilty to lying to Congress, campaign finance violations and bank and tax fraud. Cohen has been sentenced to three years in prison.
"It's also bothersome to see his connections to Russia and the president's suggestions that we should question whether we should be in NATO," Pelosi added, "which is a dream come true for [Russian President] Vladimir Putin."
Nancy Pelosi on Roger Stone Indictment: 'Very Interesting' to See Who Trump Surrounds Himself With | U.S.