Pelosi and Trump Traded Insults at the White House One Year Ago—And They Haven't Spoken Since
President Donald Trump and House Speaker Nancy Pelosi have not spoken with each other for a year, with Pelosi signaling on Friday that she is not itching for another conversation soon.
Pelosi and Trump last spoke during a heated White House meeting that culminated in the pair trading insults with each other on October 16, 2019. In a Friday interview with MSNBC's Nicolle Wallace, Pelosi said "it would depend on what the purpose is" when asked whether she would be "open" to speaking directly with Trump in the future.
"Over the past year... without the two of us speaking person-to-person, but either through the airwaves or through the president's intermediaries, we were able in that period of time to pass a huge omnibus bill to keep government open," Pelosi said, before listing several other pieces of legislation that had been passed despite her not directly communicating with Trump.
"So, it isn't as if it has to be person-to-person between the speaker and the president," Pelosi continued. "It has to be knowledge-for-knowledge in terms of what our purpose is, what we know about the challenge we face and what the possible solutions are... the last thing it is about is whether the president speaks truth in any meeting in the White House worthy of attending."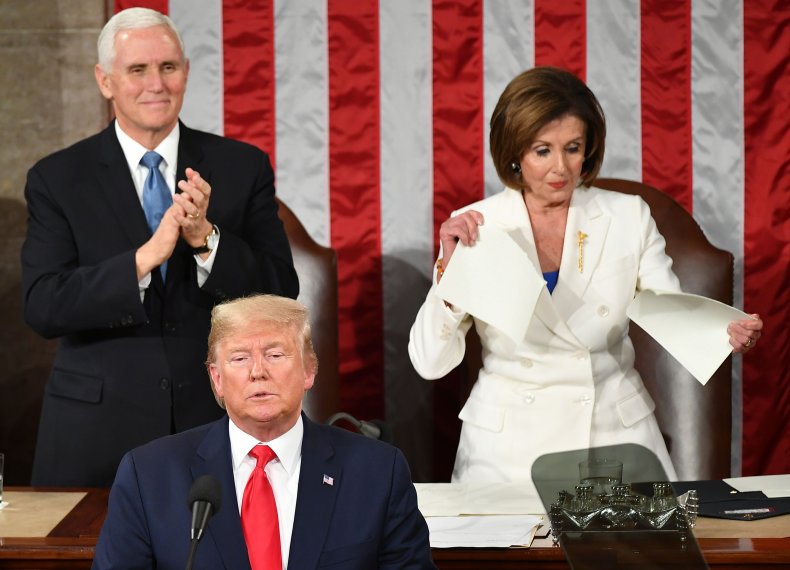 Pelosi said that although she and Trump had not directly communicated, discussions with Treasury Secretary Steven Mnuchin were "making progress" on a stalled COVID-19 relief bill, one of the recent issues she has locked horns with the president over.
Senate Minority Leader Chuck Schumer recalled that the 2019 White House meeting included the president calling Pelosi a "third-rate" politician, although Pelosi herself recalled that he said she was a "third-grade" politician, according to The New York Times.
After Trump reportedly dismissed Pelosi as "just a politician," the House speaker responded, "sometimes I wish you were." As the meeting ended, Pelosi stood up and forcefully gestured towards Trump, saying "all roads lead to [Russian President Vladimir] Putin" in relation to the president.
Trump tweeted a photo of the meeting on the same day, captioning it "Nervous Nancy's unhinged meltdown," which Pelosi says was taken while she was accusing him of being under Putin's influence.
The animosity between the pair ramped up considerably when Pelosi led the House's successful effort to impeach Trump, based on allegations related to his attempts to pressure Ukraine President Volodymyr Zelenskiy into launching an investigation aimed at his rival in the current election, Democratic presidential nominee Joe Biden.
Newsweek reached out to the White House for comment.