Pelosi's Deadlock Holds Up Intel Czar Nomination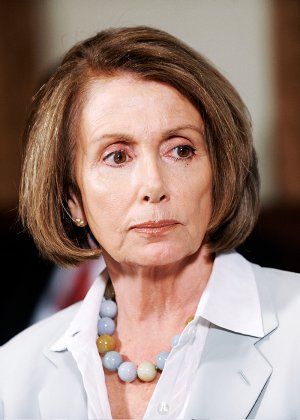 House Speaker Nancy Pelosi is blocking a House floor vote on an intelligence reform bill that, she says, doesn't go far enough to strengthen congressional oversight of sensitive spy operations. But congressional sources say that unless Pelosi allows the legislation to move forward, key senators are likely to stall confirmation hearings for James Clapper, the Obama administration's nominee to be director of national intelligence, potentially leaving that key job vacant indefinitely.
When President Obama earlier this month announced that he wanted Clapper, currently intelligence supremo at the Pentagon, to succeed the ousted Dennis Blair as his new intelligence czar, administration officials indicated they hoped the Senate could vote to confirm him before Congress adjourns for the July 4 holiday. But several congressional officials, who asked for anonymity when discussing politically sensitive issues, said that Pelosi's block on the intelligence authorization bill makes it unlikely that the Senate intelligence committee will schedule a confirmation hearing on Clapper before July 4, let alone move his nomination to the Senate floor for a vote. (A person familiar with the Senate committee's activities said, however, that the panel was gathering information in preparation for an eventual hearing on Clapper, and had sent the nominee a battery of written questions.)
According to congressional officials, Pelosi is refusing to schedule a House floor vote on a long-pending intelligence authorization bill because she is dismayed that under White House pressure, intelligence committee leaders watered down language that would have increased congressional oversight of some of the most secret U.S. spy programs. As originally drafted, said one official, the House version of the bill would have required the executive branch to inform all members of congressional intelligence committees about significant new intelligence programs, effectively abolishing a practice whereby the executive branch could limit briefings on what it believed were ultrasensitive new spy secrets to a small group of congressional and intelligence committee leaders, known informally as the "gang of eight." Critics accused the Bush administration of finessing effective congressional oversight of some of its most controversial intelligence activities—including "enhanced interrogation" of terrorists and warrantless electronic eavesdropping on Americans—by limiting thorough congressional briefings to the gang of eight.
"The speaker has made it clear that she believes the full intelligence committees should be briefed, not just chairs and ranking members," Brendan Daly, a spokesman for Pelosi, told Declassified. Other congressional officials said that the improved oversight provision that Pelosi wants in the intelligence bill was taken out of a current House-Senate conference draft of the bill after the White House signaled in this March 15 letter that the president would veto the bill if a gang of eight ban was included in it.
Congressional officials said that since the White House made its veto threat, representatives of the administration and House and Senate intelligence committees have negotiated a draft that all parties—the White House and leading Republican and Democratic members of House and Senate intelligence committees—find acceptable. But the House speaker, who has formidable personal power to block final votes, thinks the drafters of the compromise bill made one concession too many by giving way to the White House on the gang of eight issue.
However, supporters of the latest draft—which has not been made public—say that it contains several provisions that would significantly enhance congressional powers to oversee spy agencies' most secret activities. Officials familiar with the still-confidential compromise bill say that improved congressional oversight powers it would establish include:
* A requirement that Congress be notified in writing of major new intelligence programs or changes in existing programs. In the past—during the Bush administration, for example—the gang of eight was only briefed orally on some of the most sensitive and controversial new spy plans.
* A requirement that the White House will maintain a written record of who is briefed on what secret activities. This provision is an attempt to eliminate the kind of controversy that arose when the executive branch gave Congress charts purporting to chronicle which congressional leaders were briefed when on George W. Bush's "enhanced" interrogation program—charts that later turned out to contain inaccuracies.
* Definitions of what kind of significant intelligence activities must be briefed to Congress. This provision is an attempt to close loopholes in current intelligence authorizations that congressional experts believe enabled the Bush administration to avoid informing Congress about a scheme the CIA considered intermittently after 9/11 to set up Israeli-style hit teams to stalk and kill terrorist leaders and other international malefactors. Congress was not informed of the agency's involvement in such activities until after President Obama appointed Leon Panetta CIA director; Panetta's immediate predecessors felt they did not have to tell Congress about the "hit squad" proposal because discussions of such schemes never got much beyond the planning stage.
Also included in the compromise bill: what officials call a "flushing mechanism" intended to ensure, or at least pressure, intelligence chiefs to make sure that they tell Congress all relevant major intelligence secrets. This provision would work by requiring intelligence agency directors once a year to provide a written certification to Capitol Hill that Congress has been briefed on all significant intelligence activities. The bill would require these certifications to be made under oath, meaning that if it subsequently turns out that an agency has failed to brief Congress on significant activities that later become controversial, the relevant agency head could be prosecuted for lying under oath.
Supporters of the draft compromise bill containing these provisions say that while the measure may not go as far as Pelosi would like in tightening congressional oversight, it does make significant improvements; therefore supporters are puzzled as to why Pelosi is so adamant in blocking a final vote on the compromise. A congressional official says that Pelosi believes that historically, all Senate intelligence committee members have been more thoroughly briefed on sensitive operations than the full membership of the House intelligence committee, and Pelosi wants to ensure that House committee oversight powers are bolstered.
The official said that Pelosi believes Senate intelligence committee chair Dianne Feinstein, who controls the timetable for Clapper's confirmation hearings, should not link progress on the intelligence czar's confirmation to Pelosi's stalling of the intelligence authorization bill. But people familiar with the views of Feinstein and other key Senate intelligence committee members say that they are adamant that Congress must approve and the president must sign the reform legislation before confirmation hearings for Clapper will go forward.
UPDATE (published 6:24 p.m. ET): After this story was first posted, Senator Feinstein's office sent us a written statement in which she described passage of the intelligence authorization bill as "vital because it strengthens the ability of both the House and Senate Intelligence Committees to provide oversight of intelligence. There has not been an intelligence authorization bill for five years. To continue without a bill puts the committees at risk of becoming paper tigers. Oversight is weakened unless we have the ability to make law based on that oversight." She added that the administration had convinced her that President Obama "would make good on" his threat to veto a bill which contained the kind of "notification requirements" that Pelosi has been insisting on.