Pelosi's Drug Prices Bill Clears House with Just Two Republican Backers
Speaker Nancy Pelosi's drug pricing bill passed the U.S. House today with 230 votes for and 192 against. Just two Republicans voted in favor of the measure.
The package survived pushback from progressives yesterday with the addition of more price controls, but faces an uphill battle in the Senate with nearly nonexistent support in the GOP.
It seemed to begin as a bipartisan effort. As recently as October, President Donald Trump was on board with the plan and promised "we are going to get it done" at an event in South Carolina, adding: "If we can get support from the other side, we are going to get those prices so far below where they are now, you wouldn't believe it," Bloomberg News reported.
Now, he's threatened to veto the bill if it ever makes it to his desk—though it probably won't. Since September, Senate Majority Leader Mitch McConnell, a self-proclaimed "grim reaper" to Democrats' progressive legislation this cycle, has repeated the measure is "dead on arrival" in the Republican-controlled Senate, regardless of its popularity among American voters.
Health care has been top of mind for voters heading into 2020. In key states like Michigan, Minnesota, Pennsylvania and Wisconsin, an overall majority say that lowering prescription drug costs "for as many people as possible" should be a top priority for Congress in 2020, according to periodic polling in those states by the Kaiser Family Foundation.
Democrats may be banking on that sentiment in their reelection efforts, should the GOP sit on their efforts to get health care prices under control.
"This is where the politics comes into play," said Anand Parekh, chief medical adviser at the Bipartisan Policy Center, in an interview with Newsweek ."They're going to want to tell the American public their version of the story."
Still, getting H.R. 3 passed in the House isn't just a matter of optics.
"Passing legislation in a chamber is still an important marker. And oftentimes these kinds of things need to be done on a gradual, incremental basis," Parekh continued. For instance, if Democrats take the Senate and presidency next year, this bill stands a good chance of becoming law, he said.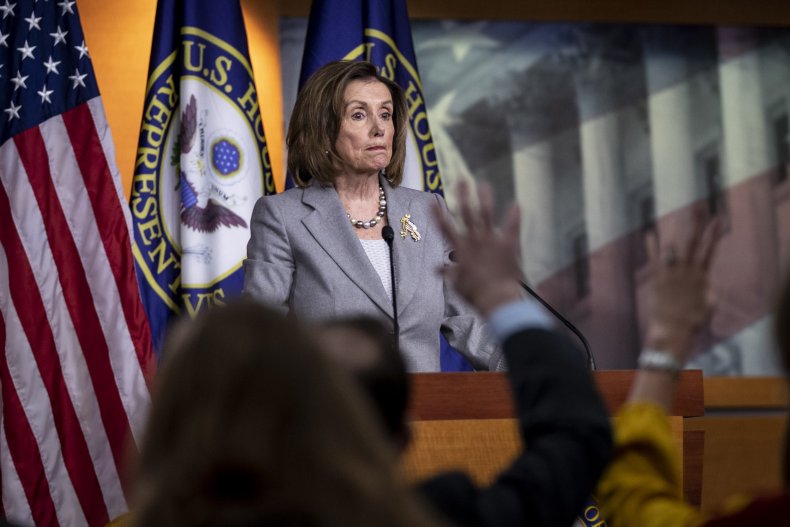 Before the House during Thursday's vote, Rep. Ron Wright, a Republican from Texas and cancer patient, said Pelosi's measures were "socialist." In response, Rep. Kim Schrier, a Democrat from Washington state and diabetic, said she was glad that Wright could afford his treatment, but others cannot.
Pelosi's bill gives the government more control in negotiating prices each year with manufacturers for insulin and dozens of other drugs, reducing government spending by $345 billion between 2023 and 2029, according to an early analysis by the Congressional Budget Office. It also implements price controls based on inflation and limits out-of-pocket costs for Medicare patients.
Aside from usual partisan disagreements and tension over the impeachment inquiry, Republican backlash to Pelosi's initiative involves separate health care proposals by the GOP. On Monday, Senior House Republicans released a legislative package they see as a bipartisan alternative to Pelosi's plan, H.R. 19.
The Republicans' alternative shares Pelosi's out-of-pocket caps and creates new pathways at the Food and Drug Administration (FDA) for lower-cost drugs, but stays far away from price controls, which some party members say are heavy-handed.
Other health care measures include S.2543, a bipartisan package from the Senate Finance Committee that's similar to Monday's proposal and a compromise between various health care committees that should protect patients from surprise medical bills by introducing independent arbiters when bills surpass $750.
Other key bills slowly making their way through Congress this cycle: a long-term solution to fund the government, the U.S.-Mexico-Canada Agreement (USMCA), which Democrats signed off on Tuesday, and legislation that could legalize marijuana at the federal level.