Pelosi's Final Impeachment Act: A Diverse Group of Managers Will Now Take on Senate Republicans
The case for why President Donald Trump should be found guilty during a Senate trial for abuse of power and obstruction of Congress—and subsequently removed from office—now sits in the hands of seven House Democrats.
Those lawmakers, now impeachment managers, are starkly different from the 13 white men selected to handle the impeachment case against former President Bill Clinton: four of them are women, two are African-American and one is Latina.
"We've got some good, experienced people to present the case and, hopefully, in a good way to show the diversity of our caucus, the diversity of America a little differently than in the past," Rep. Mark Pocan (D-WI), co-chair of the Progressive Caucus, told Newsweek.
The House passed a resolution Wednesday by naming the managers and will finally transmit the articles to the Senate, officially concluding Speaker Nancy Pelosi's (D-CA) role in the impeachment process.
Appointing the diverse group of Democratic lawmakers to represent their case at trial was Pelosi's final strategic act, the last bit of power she wielded to convince their colleagues from across the aisle in the Senate—and the American people watching at home—why additional witnesses need to be summoned and why the president has committed such grievous acts worthy of removal from office.
"We hope that our persuasive pile of evidence will lead them to that conclusion," Rep. Zoe Lofgren (D-CA) told reporters after being appointed a manager. "We'll be a team."
The managers, whose ages span more than three decades and who are all relatively reserved members of Congress, are: Lofgren and Adam Schiff of California, Val Demings of Florida, Jerrold Nadler and Hakeem Jeffries of New York, Jason Crow of Colorado and Sylvia Garcia of Texas.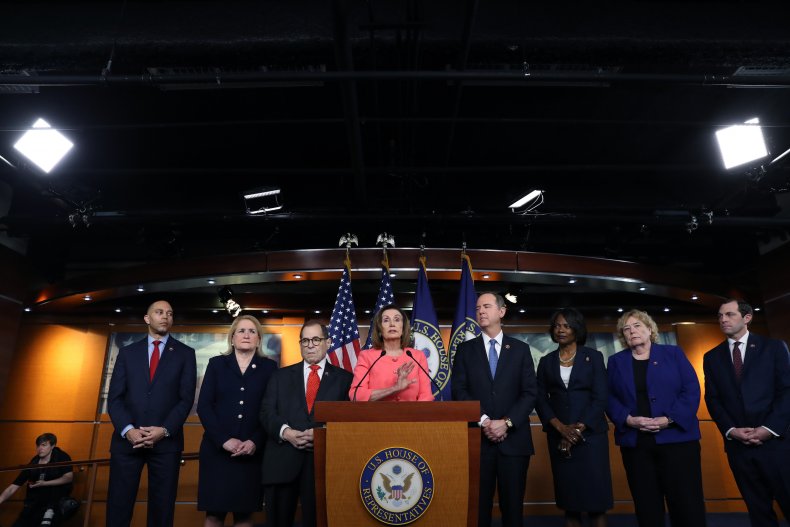 Their home states that represent communities from sea to shining sea helps Democrats rebuff the GOP talking point used throughout the impeachment inquiry that only members of coastal states are involved in efforts to remove Trump.
Schiff is chairman of the Intelligence Committee while Nadler leads Judiciary. Demings sits on both panels while Jeffries, Garcia and Lofgren have seats on Judiciary.
Unlike her colleagues, Demings does not have a legal background. Rather, she was the former police chief of Orlando.
Demings and Crow are both Washington newcomers, part of the freshmen class that helped Democrats take back a commanding House majority in 2018.
A swing-district member and one of the dozens of vulnerable House Democrats, Crow turned a red district blue. He also lacks a seat on the Intelligence and Judiciary Committees, meaning he did not play a role in the inquiry that Republicans have said broke rules and have accused of being a partisan witch hunt.
Four of the managers—Nadler, Jeffries, Lofgren and Garcia—are members of the Progressive Caucus, making them the most liberal lawmakers of the bunch.
Lofgren carries the most impeachment experience among the group. Her role as a manager means she's worked on every impeachment proceeding in modern U.S. history, from being a staffer under President Richard Nixon to a lawmaker on the Judiciary Committee under Clinton.
"I've never done this before. I think [Schiff] will take a lead role, but we will all play an appropriate role," Lofgren said. "I think the misuse of the impeachment clause in the Clinton matter was a huge mistake. To think that lying about a sexual affair is a misuse of presidential power was always absurd."
Now, House managers again face the uphill battle to convince a Senate controlled but the opposing party that a sitting president should be found guilty of impeachable offenses. But make no mistake about it, Pelosi suggested as she revealed to reporters who her managers were, that Trump's presidency will always bear an asterisk next to his name.
"I'm very proud and honored that these seven distinguished members have accepted this serious responsibility to protect and defend, for the people, our democracy," she said. "The president has been impeached forever. They can never erase that."