Peloton Actor Monica Ruiz Suggests Her Face Contributed to Ad's Viral Reaction
The actor who starred in Peloton's heavily-criticized holiday commercial suggested in a televised interview that the widespread negative response to the ad may have had something to do with her facial expression.
"Honestly, I think it was just my face," Monica Ruiz said on the Today show Thursday. "My eyebrows looked worried, I guess. People were like, 'You look scared.' I'm telling you, it was my face. That was the problem, and it just exploded it from there. 'She looks worried.'"
In the 30-second commercial, Ruiz plays a woman launching a year-long fitness journey after receiving a Peloton stationary bike for Christmas. At the start of the commercial, Ruiz appeared to be shocked when her on-screen husband gifts her with the bike, but she goes on to start documenting her fitness journey on YouTube. As the seasons change, she becomes increasingly comfortable riding the bike and the shrill expression of anxiety she wore on her face in the beginning of the commercial fades away.
Not long after the ad's release in early December, social media was flooded with posts from angry viewers who felt the commercial was sexist and classist. People questioned why the husband in the ad purchased an exercise bike for the wife, suggesting that it was unclear if the wife wanted the bike or if her husband was pressuring her to lose weight with the seemingly unprompted gift.
Ruiz was surprised by the backlash over the commercial and initially planned to remain silent about her participation in it. However, she had a change of heart and decided to share her thoughts on the ad after seeing all the media coverage. "I'll just let everyone know I'm fine, I'm OK," the mother-of-two said of her reason to speak out publicly.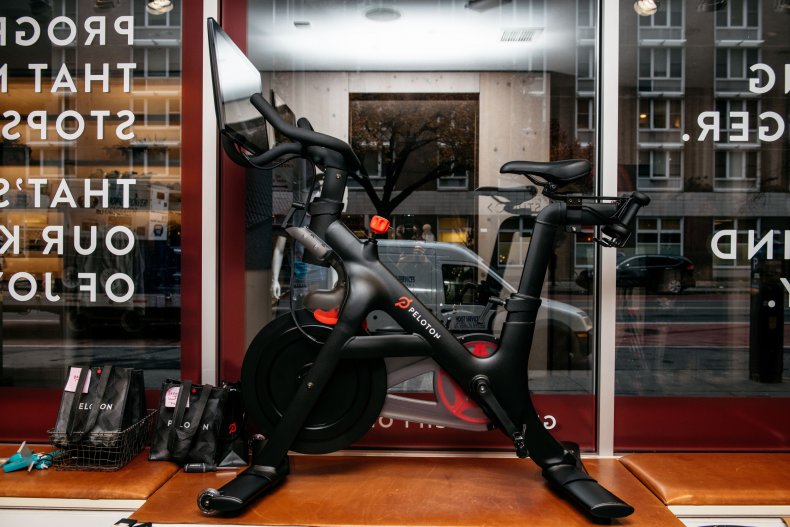 At the height of the controversy, Peloton released a statement expressing the company's disappointment with how the ad was being perceived.
"We constantly hear from our members how their lives have been meaningfully and positively impacted after purchasing or being gifted a Peloton Bike or Tread, often in ways that surprise them. Our holiday spot was created to celebrate that fitness and wellness journey. While we're disappointed in how some have misinterpreted this commercial, we are encouraged by—and grateful for—the outpouring of support we've received from those who understand what we were trying to communicate."
Shortly after the broadcast of the Peloton ad, Ruiz was featured in a commercial for actor Ryan Reynolds' gin company Aviation, which appeared to be a humorous reaction to the controversy. Coincidentally, Reynolds dropped in during Ruiz's interview segment on Today Thursday and gave her a hug. It was the first time the two had met.
"We love acknowledging and playing with the cultural landscape," Reynolds explained about his ad. "Everything is sort of divisive these days. We had this thought we could do this ad without contributing to that divide. For us it seemed like a no-brainer and it was fun to do."