That viral Peloton commercial is unfolding in real life. Sean Hunter, the actor who played the now-infamous Peloton husband, got his real girlfriend a Peloton workout bike for Christmas.
Hunter, whose Instagram name is @pelotonhusband, shared the Christmas gift on his Instagram account Wednesday. He captioned the post with a joke about the public reaction to the original commercial. "Here's hoping this goes over better the second time.... Merry Christmas to my actual girlfriend (pls don't leave me)," he wrote.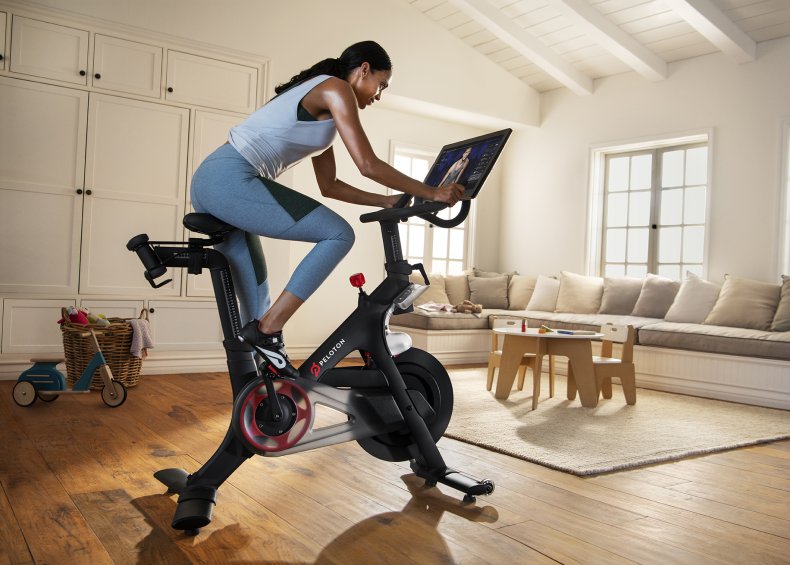 The actor told Newsweek that his girlfriend thought a Peloton bike would be a great gift, despite the public backlash against the ad. "My girlfriend was mentioning through the whole controversy how happy she would be to receive one, so there was my answer right there!" he said. "She's already done a few classes, as have I, and we both love the bike."
Hunter admitted he did expect the conversation surrounding his gift to point to the viral ad. "I totally expect a few jokes from the public, and that's absolutely OK! I'm curious to know how people will react, but looking at the comments on the post so far, it's been extremely positive," he said. "People are saying they're happy for us, and I am too!"
Commenters on the photo seemed thrilled with the humor behind Hunter's gift. The decision to gift a workout bike comes after the company's Christmas commercial was slammed by some viewers for being sexist. The ad showed a man (Hunter) gifting his wife a Peloton workout bike for Christmas. For the next year, the woman creates video blogs of her fitness journey. The result was a caring message to her husband that thanks him and the bike for changing her life.
Not all viewers were convinced, though. Many commented that a workout bike can be considered an offensive gift because it implies the receiver needs to lose weight. Thousands of tweets took this side, including a handful of hilarious re-enactments.
One video, which also went viral, shows comedian and writer Eva Victor re-creating the ad, but with some blunt honesty. "My husband got me a Peloton for Christmas! Nothing weird about that," she says. "I'm a little bit nervous and rightly so because my husband got me a f****** workout bike for Christmas and that's rude."
Victor's video follows the same format as the real commercial but ends with a video message asking her imaginary husband for a divorce.
After the public backlash, Hunter came forward in a Psychology Today post about the effects of the negative response. "As my face continues to be screen shot online, I wonder what repercussions will come back to me. I pride myself on being a great teacher and developing actor, and I can only hope that this affects neither. I'm grappling with the negative opinions as none of them have been constructively helpful," he wrote.
Hunter also mentioned his day job as an elementary school teacher. "After all, this commercial has nothing to do with my ability to teach or who I am," he wrote. "Unfortunately, the problem is that viewers can mistake an actor as that person after they've seen them on television instead of a person given a script with no opinion on what they are being told to portray."
Newsweek contacted Peloton to ask if Hunter's Christmas gift was a sponsored brand deal with the exercise equipment company, but did not hear back before publication.
This story has been updated to include Sean Hunter's comment.