Who Is Pen Farthing? From Kabul Campaign for Small Animals to the Voicemail Saga
Paul "Pen" Farthing is a former U.K. Royal Marine who founded Nowzad, a shelter for animals in Afghanistan.
The U.K.'s Sky News reported Farthing arrived at London's Heathrow Airport on August 29 around 7:30 a.m. on a privately funded charter flight as part of Operation Ark, his campaign to evacuate rescue animals and staff at Nowzad in Kabul, the capital of Afghanistan.
His latest operation has faced criticism for evacuating around 170 dogs and cats from Kabul before British nationals and Afghan workers.
Scores of Afghans have been desperate to flee the country in fear of what the future holds for Afghanistan following the latest takeover by the Taliban.
Who Is Pen Farthing?
Farthing, 52, is a former Royal Marines commando officer who was deployed in Afghanistan in 2006 during the Operation Herrick 5 with K Coy, 42 Commando Royal Marines, according to the i, a U.K. national newspaper.
According to a 2013 report by the U.K.'s Mirror, Farthing was inspired to launch his animal charity after he was befriended by an injured dog there, which he named Nowzad, after a nearby village of the same name.
After other strays in search of food and shelter joined him and his commando team, Farthing realized these dogs and cats would need a place to go after the troops leave, so he launched his charity to help rehome these animals, the Mirror reported at the time.
According to the i newspaper, his Nowzad charity has assisted and rehomed over 1,700 animals and trained over 500 veterinary students in Kabul through the years. Many of the animals were reported to have been reunited with the troops they'd formed bonds with during their deployment in Afghanistan.
He was named the 2014 Hero of the Year by CNN for his work through the charity and was previously nominated for a Lifetime Achievement Award in the Daily Mirror and RSPCA (Royal Society for the Prevention of Cruelty to Animals) Animal Hero Awards.
The i reported on August 27 that Farthing and his wife have been traveling between Afghanistan and their home in Exeter, England, and were stuck in Afghanistan from early 2020 following the onset of the COVID-19 pandemic.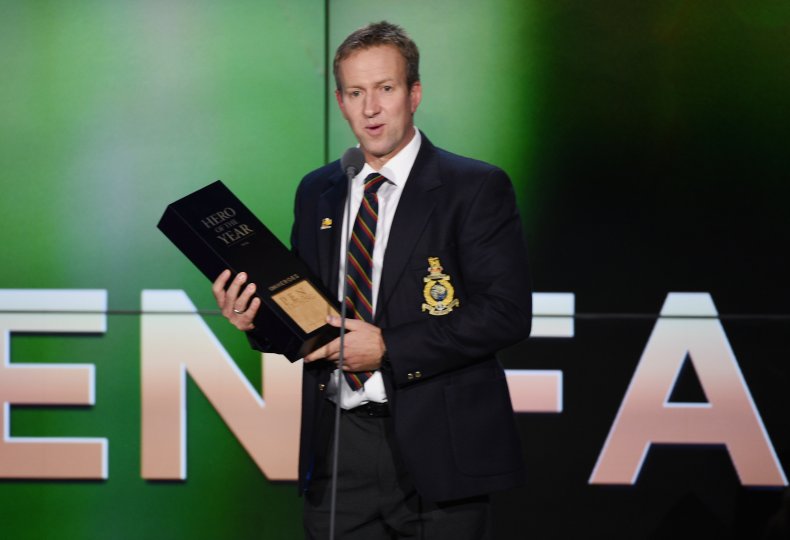 Timeline of Events Around Kabul Flight and Voicemail Saga
August 23
The Guardian reported that according to a leaked audio recording obtained by the U.K.'s Times, Farthing allegedly left a message on August 23 for Peter Quentin, a special adviser to the British Defense Secretary Ben Wallace, accusing him of "blocking" the efforts for the Kabul evacuation flight.
According to The Guardian, Farthing allegedly said in the message: "I just found out that it is you blocking me getting this flight out of Afghanistan for my staff and the animals.
"So here's the deal buddy. You either get me that f***ing Isaf number and you get me permission to get on to that f***ing airfield, or tomorrow morning I'm going to turn on you and the whole f***ing country, and everybody else who's invested in this rescue, is going to know it's you, you, blocking this f***ing move. Alright?" Farthing allegedly said in the message.
According to The Guardian, Farthing at the time refused to leave Afghanistan without the 200 or so dogs and cats, even though visas for 24 staff members and their dependents had been approved.
In a tweet on August 23, animal rights campaigner Dominic Dyer accused the British Ministry of Defense of sabotaging the evacuation.
Dyer tweeted at the time: "Growing crisis for Prime Minister [Boris Johnson] tonight as MoD [U.K. Ministry of Defence] sabotage operation over Operation Ark is exposed & Pen Farthing his team & animals are left at the mercy of the Taliban in Kabul @BorisJohnson @ZacGoldsmith @pritipatel @DominicRaab @PenFarthing @Nowzad #AfghanistanCrisis."
August 24
In a tweet, Dyer called for the British prime minister to provide Operation Ark with "his tax payer funded plane to rescue Pen Fathing & his team & animals from Kabul @BorisJohnson @carrielbjohnson @ZacGoldsmith @PenFarthing @Nowzad #OperationArk."
In an interview with Sky News, Farthing said: "Mr. Wallace, I never asked you to prioritize pets over people, at no point have I ever said that whatsoever...I'm not leaving here without my staff."
August 26
Farthing tweeted on August 26: "We have been here for 10 hours after being assured that we would have safe passage. Truly would like to go home now. Let's prove the IEA [Islamic Emirate of Afghanistan] are taking a different path."
"Dear Sir; my team & my animals are stuck at airport circle. We have a flight waiting. Can you please facilitate safe passage into the airport for our convoy? @suhailshaheen1 [a spokesperson for the IEA] We are an NGO who will come back to Afghanistan but right now I want to get everyone out safely," Farthing tweeted at the time.
In a series of tweets on August 26, Wallace clarified the Ministry of Defence's measures relating to the Kabul evacuation flight.
He tweeted: "Let's get some facts out there: 1. No one , at any stage has blocked a flight. This is a total myth and is being peddled around as if that is why the pet evacuation hasn't taken place. 2. I never said I would not facilitate. I said no one would get to queue jump.
"3. The issue, as those desperate people waiting outside the gates know too well, has always been getting processed through the entrances. It can take over 24hrs. There is no point turning up with a plane until the passengers / pets are airside.
"4. As people were processed ARAP, LOTR etc they were called forward. Once processed and on the airfield they are marshalled on to a plane. As I have said we will facilitate at all stages but the priority will be people not pets," Wallace tweeted at the time.
August 27
In a tweet, the U.K. Ministry of Defence Press Office said: "On the direction of the Defence Secretary, clearance for their charter flight has been sponsored by the UK Government."
The office said: "Pen Farthing and his pets were assisted through the system at Kabul airport by the UK Armed Forces. They are currently being supported while he awaits transportation," in a subsequent tweet.
Farthing tweeted on August 27: "The whole team & dogs/cats were safely 300m inside the airport perimeter. We were turned away as @JoeBiden @POTUS had changed paperwork rules just 2 hours earlier. Went through hell to get there & we were turned away into the chaos of those devastating explosions. #OperationArk."
August 29
In a tweet, Farthing said he "arrived Heathrow with partial success of #OpArk Mixed emotions & true deep feeling of sadness for Afghan today. Heathrow Ops centre, Border Force, HARC & Air Pets were all bloody amazing. Witnessed 1st hand the compassion Heathrow is showing Afghan refugees. #AboveAndBeyond."
August 30
On the Good Morning Britain program on the U.K.'s ITV television channel, Farthing apologized for his expletive message to Quentin.
He said: "I'm incredibly embarrassed about my language, I do apologize to everybody who's listened to that. I was at the lowest point I could possibly be.
"I understand how the world works but emotions got the better of me, so for all those who had to listen to that I do apologize for my language.
"I should not have said it like that, but the sentiment, yes, I was just incredibly upset, angry, frustrated, it was the lowest point," Farthing claimed.
Explaining that having to leave 68 Afghan staff members and their families behind was "totally heartbreaking," Farthing said he could no bring them on the flight due to a change in rules, even though they were permitted to go to Britain.
The Guardian reported on August 30 that Dyer alleged the British prime minister and his wife Carrie Johnson, who is reportedly an animal rights advocate, had encouraged Wallace to give Farthing the green light for the Kabul evacuation flight.
"Ben Wallace did it because he was forced to do it when the prime minister came back [from a G7 summit last week] and I have no doubt that Carrie was in on this as well, saying this was turning into a disaster," Dyer said, according to the Guardian.
The Guardian reported a spokesperson from the prime minister's office strongly denied Dyer's allegation and said: "This claim is untrue. This was an operational decision. Neither the PM nor Mrs Johnson were involved."
Newsweek has contacted Farthing, Dyer, Wallace and the British prime minister's office comment.