PenAir Plane Crashes Off Runway in Alaska: 'It Wasn't Stopping'
A commuter plane carrying 42 people crashed off an airport runway while landing in Alaska, leaving two people critically injured.
The Peninsula Airways, or PenAir, flight departed Anchorage for Dutch Harbor at 3.15 p.m. on Thursday carrying 38 passengers and three crew members, the airline said.
PenAir flight 3286 went off the end of the runway at the airport in Unalaska, which is in the Aleutian Islands off the coast of Alaska, upon landing at 5.40 p.m. Two people were critically injured and 10 others received medical care after the incident, according to PenAir.
Pictures posted on social media showed the aircraft's nose dangling over an embankment near the water.
A high school swim team from Cordova, Alaska, and their chaperones were traveling on the flight, but they all avoided injury, the Cordova School District confirmed.
City Manager Erin Reinders told KUCB she watched as the plane repeatedly tried to make a safe landing.
She said the plane was "going with the wind" on its first landing attempt, but the same thing happened on a second attempt.
"It went with the wind again. It did land, so all the wheels were on the ground," she told KUCB. "And then it wasn't stopping. It was slowing down, and it was apparent that it was slowing down, but it wasn't stopping."
She had been at the airport to welcome the swim team as well as Heath Day, a speaker who will be leading a church workshop for teens at Unalaska. Reinders is an Unalaska swim team coach and a Methodist church leader, according to the outlet.
In a statement on the Cordova School District website, Cordova Superintendent Alex Russin said he was informed that the flight had "experienced difficulty stopping on the airport runway."
But he said Unalaska City School District Superintendent John P. Conwell had assured him that all the students were safe and eating pizza.
"At present, all students and chaperones are accounted for and are OK, albeit a bit shaken up," Russin said. "Moments ago, I spoke again with Superintendent Conwell who stated that the team was together, seemed fine, and were eating pizza. Mr. Conwell assured me repeatedly that the students would be well looked after and taken care of."
The SAAB-Scania 2000 aircraft went off the runway in unknown circumstances, a spokesman for the Federal Aviation Administration told the Associated Press.
The Alaska Department of Transportation and Public Facilities confirmed on Facebook that it had been notified at that a commercial aircraft was off the runway at approximately 6 p.m. The department said the airport has been closed as rescue and fire personnel work at the scene.
Clint Johnson, head of the Alaska region of the National Transportation Safety Board, told KTUU that he couldn't immediately confirm if anyone had died.
"We've got a major investigation going here and there's all sorts of rumors going around," he told the television station. "We're trying to get an investigator down, and the rest of the team will be coming from Washington, D.C."
PenAir, which is owned by Ravn Air Group, said it is fully cooperating with the NTSB's investigation.
The airline added that it has established a family assistance line.
"Our thoughts and prayers go out to all of our passengers and crew, and the family members of everyone with loves ones on this flight," PenAir CEO Dave Pflieger said in a statement to Newsweek.
PenAir operates the route from Anchorage to Dutch Harbor, which is home to one of the country's biggest fishing ports, in a codeshare agreement with partner airline Alaska Airlines.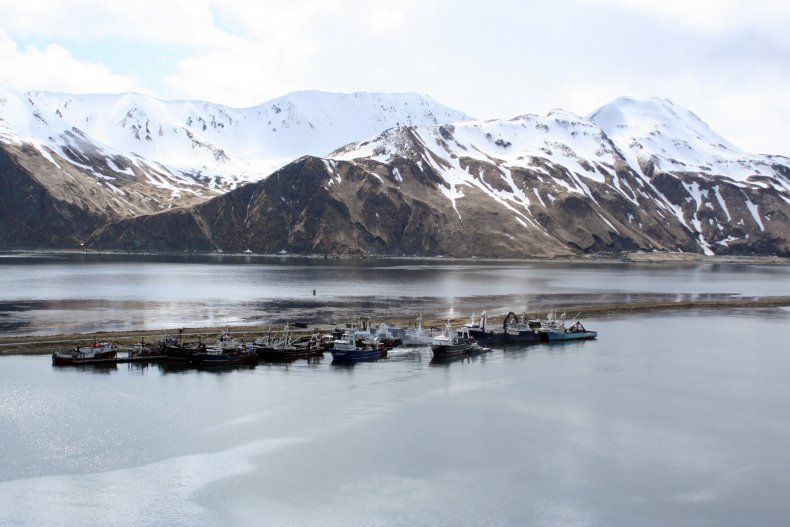 PenAir Plane Crashes Off Runway in Alaska: 'It Wasn't Stopping' | U.S.