Pence Aide Says Trump Call to Ukraine Seemed for the President's 'Personal Political Agenda'
An aide for Vice President Mike Pence, who listened to and took notes of President Donald Trump's controversial July 25 call to Ukraine's president requesting an investigation on 2020 Democratic candidate Joe Biden, said it seemed for Trump's "personal political agenda."
Jennifer Williams, a special adviser on Europe and Russia issues to Pence, shared her take in a closed-door deposition last week before the House Intelligence Committee, House Oversight and Reform Committee, and House Foreign Affairs Committee, released on Saturday.
Williams told congressional members she "found the specific references to be more specific to the President in nature, to his personal political agenda," than to "foreign policy objective of the United States."
"I would say that it struck me as unusual and inappropriate," Williams said.
Williams said she took notes of Trump's conversation with Ukrainian President Volodomyr Zelensky due to concerns that it was improper.
Trump asked Zelensky to begin a probe on matters including if Biden as vice president sought to protect his son Hunter Biden, who was working with a Ukrainian gas company, and if the younger Biden participated in any criminal behavior. Trump's request came as the U.S. withheld military aid to Ukraine, which faces aggression from Russia, creating the appearance of a quid pro quo. Trump has denied any wrongdoing, but the call—which was exposed by a whistleblower complaint—led to an impeachment inquiry on him. Impeachment hearings began last week.
In the event that Trump is removed from office, Pence would be next in line for the presidency. However, it remains to be seen if Pence himself will be pulled into Trump's impeachment inquiry.
Along with the transcript of Williams' testimony, the House of Representatives released a transcript of the closed-door deposition of former White House aide Tim Morrison, who also heard Trump's call. Morrison, who worked with the National Security Council and specifically on Russian and European issues, also said he was concerned about the call.
"I was not comfortable with any idea that President Zelenskiy should allow himself to be involved in our politics," Morrison said.
Williams and Morrison are set to testify publicly next week.
Late last month, Pence defended Trump from allegations of a quid pro quo in an interview with PBS NewsHour.
"Well, let's be clear first that I don't take it as a foregone conclusion that the House will — will vote to impeach President Donald Trump," Pence said.
The vice president continued that once Americans read the call transcript, they would see "despite the reckless allegations of many in the media," that "Zelensky himself said there was no pressure, that it was a perfectly good phone call."
"The president did nothing wrong," Pence concluded.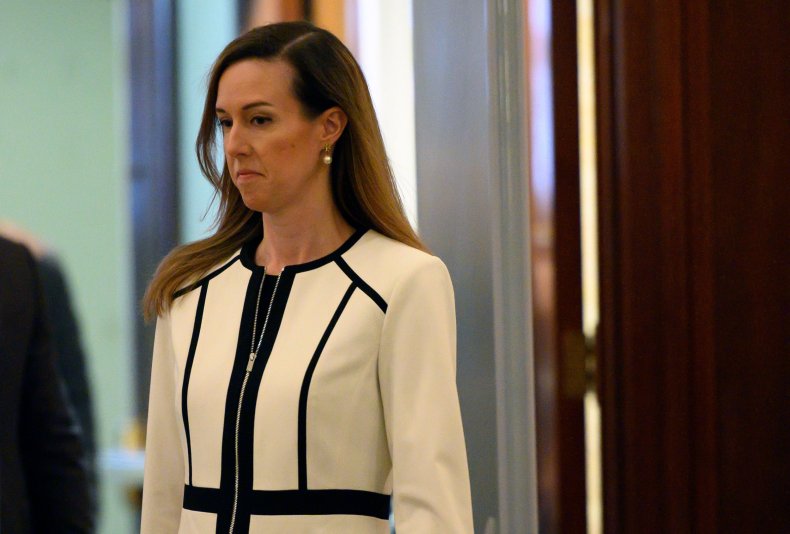 Pence Aide Says Trump Call to Ukraine Seemed for the President's 'Personal Political Agenda' | Politics