Pence Angers Jews With Christian Holocaust Tweet Following Holy Land Visit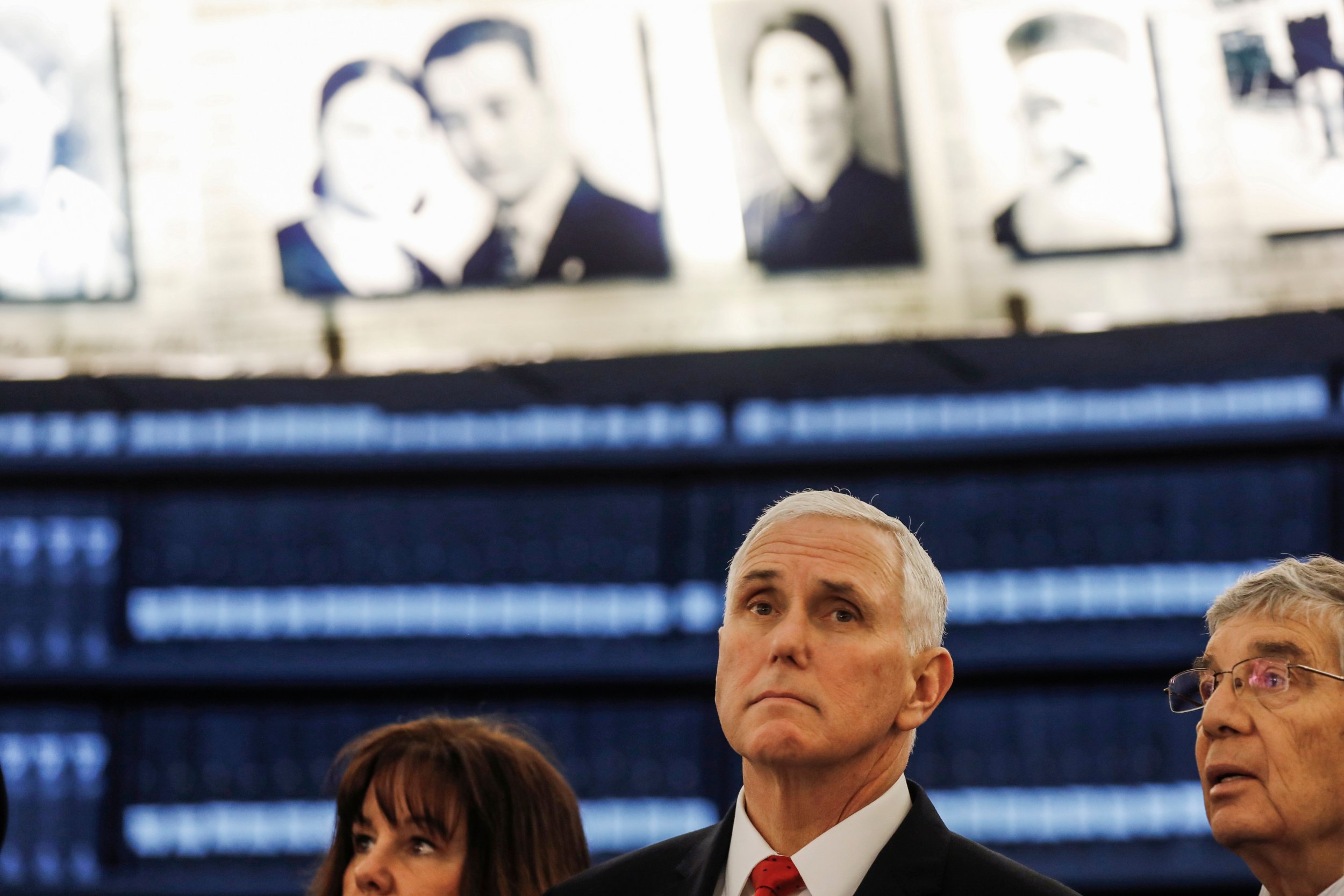 Vice President Mike Pence has reaped the whirlwind on Twitter after offending Jews on Holocaust Memorial Day for what critics have called his use of Christian imagery.
Pence, an evangelical Christian, has been lambasted on the social media platform over a video he tweeted on January 27 following his visit to the Yad Vashem World Holocaust Remembrance Center. He visited the Jerusalem-based memorial as part of a visit to the Holy Land last week, Haaretz reported.
Related: Trump's Jerusalem embassy move 'did a great service for peace,' Israeli prime minister says
Jewish Twitter users took exception to Pence's use of the Christian resurrection narrative of Jesus to frame the struggle of Jews following the Nazi Holocaust.
"A few days ago, Karen & I paid our respects at Yad Vashem to honor the 6 million Jewish martyrs of the Holocaust who 3 years after walking beneath the shadow of death, rose up from the ashes to resurrect themselves to reclaim a Jewish future," Pence tweeted alongside a video of a wreath laying.
The tweet prompted a backlash. "'Resurrect themselves?' Pence dishonors the memories of the 6 million by coopting [sic] them for the political agenda of his evangelical base," Harvard Law professor Laurence Tribe tweeted.
"Mike Pence Jesused all of us Jews without our consent. What a smug, condescending fraud," the Washington-based editor of crooked.com wrote.
It is not the first time Pence has faced a backlash over his handling of sensitivities in the Holy Land. The vice president had to postpone his trip, originally slated for December, because of fallout over the U.S. decision to recognize Jerusalem as the capital of Israel.
Christian leaders with whom Pence had specifically said he hoped to meet snubbed the vice president, saying his visit came at an inopportune moment.
President Donald Trump's December announcement that the U.S. would move its embassy in Israel to Jerusalem dominated Pence's trip. His speech to Israel's Knesset was interrupted by Arab lawmakers protesting the embassy's relocation.
Since the Trump administration's repositioning on Jerusalem, breaking with decades of U.S. foreign policy on the issue, the Palestinian leadership has said it no longer believes the United States can act as a fair arbiter to mediate peace.
Pence has since returned to the U.S. following his trip. CNN reported the vice president had been involved in meetings with the president and senior advisers in the buildup to tonight's State of the Union address.