Mike Pence Agrees With Joe Biden That 2020 is 'Battle for the Soul' of America but Claims It's Between 'Freedom and Socialism'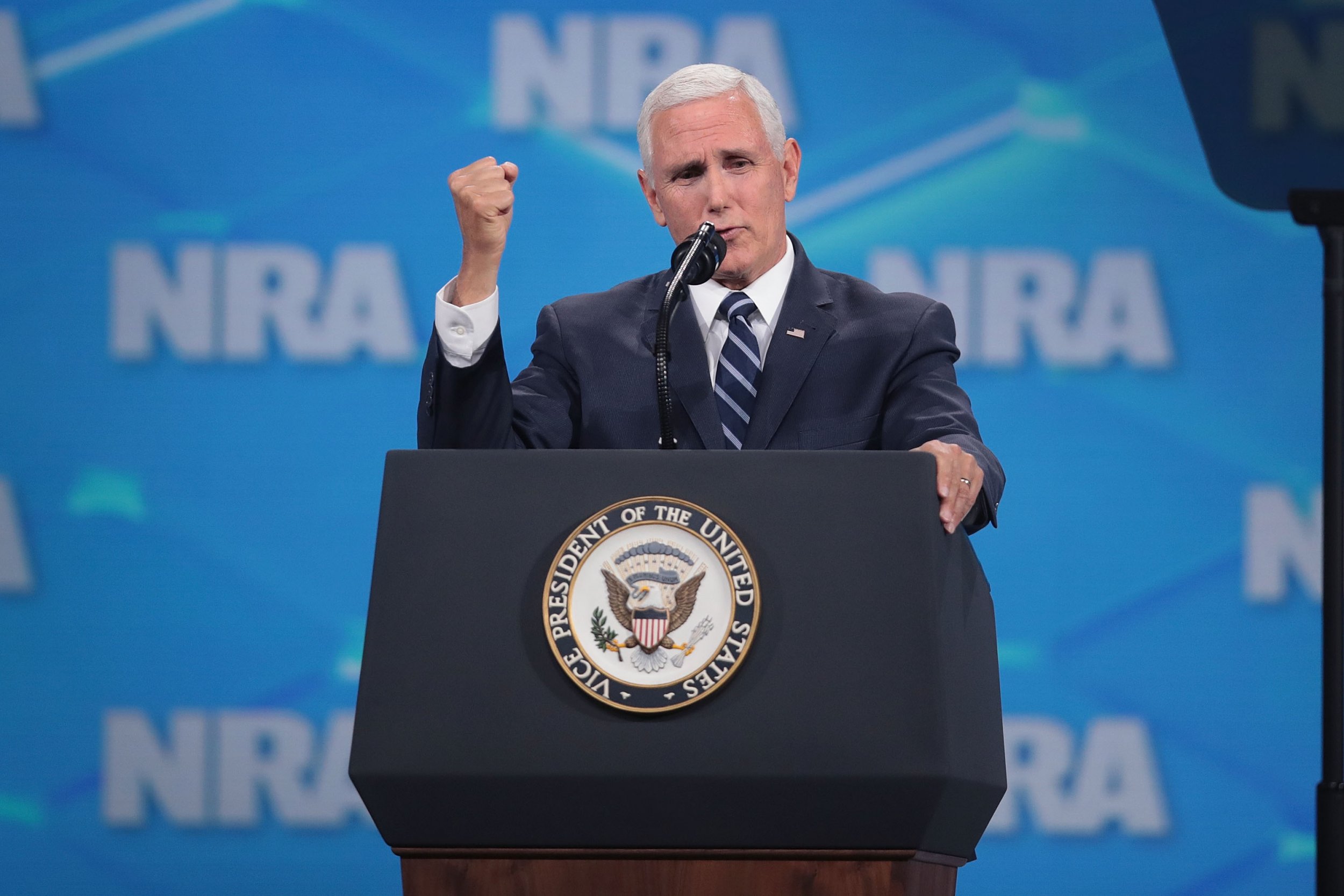 Vice President Mike Pence said he agrees with Joe Biden that the country is in a "battle for the soul," but they thought the country was facing vastly different threats, the vice president said on Friday. He was among the featured speakers at the annual Leadership Forum for the National Rifle Association's lobbying arm, the Institute for Legislative Action (NRA-ILA), in Indianapolis.
"I heard the other day that another vice president actually said that we're in a battle for the soul of our nation. And for once I agree with him. But not for the reason he thinks," Pence said, referring to Biden's remarks that "we are in a battle for the soul of this nation," which were made in a video released as Biden announced his campaign for president.
"We are in a battle," Pence continued. "We are in a battle for the soul of America, but it's a battle between liberty and tyranny. As the president has said before, it's a battle between independence and government control. And ultimately, it's a battle between freedom and socialism."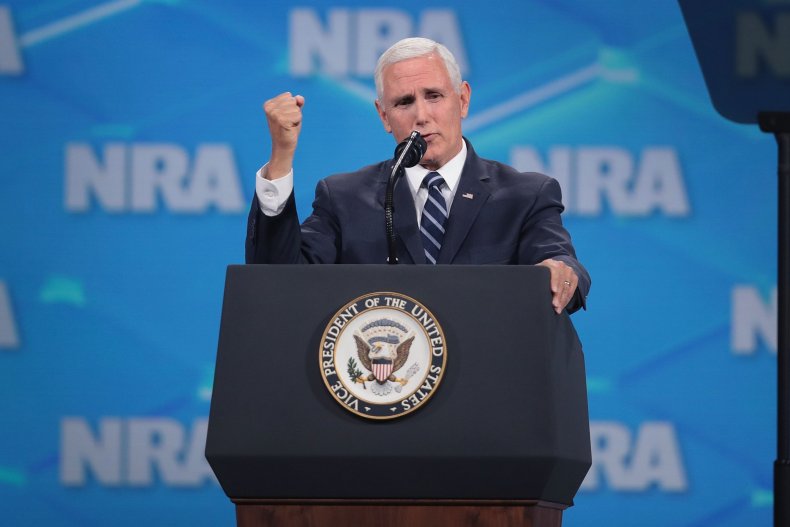 The vice president said, "Under this president and this vice president, no one is taking your guns."
During Obama's presidency, gun rights activists regularly stoked fears that Democrats wanted to take away Americans' firearms. The rhetoric led to increased gun sales. With Trump in office, and gun owners less worried, firearm sales have dropped considerably.
Pence claimed that "we live in a time when freedom is under assault" and that "the freedom to live, to work, and to worship God are all being threatened by the radical left every day."
He said that the left advocates for infanticide, a claim that has previously been disproved.
Addressing the crowd before keynote speaker President Donald Trump at the NRA convention, Pence focused on socialism, an attack that Republicans have been heavily invoking in recent months.
He said that "the moment America becomes a socialist country is the moment America ceases to be America," and reiterated remarks that previously drew scrutiny, saying that freedom, not socialism, had ended slavery and won two world wars.
The speeches by Trump and Pence seemed to carry the atmosphere of a campaign rally, with both touting the accomplishments of the administration and attacking Democrats and their policies.
Pence criticized Senator Bernie Sanders, who has advocated for felons to be able to vote. Sanders' remarks, which were made during a Monday night town hall, have spurred debate around his statement that convicted Boston Marathon bomber Dzhokhar Tsarnaev should be permitted to vote.
The Sentencing Project estimates that, as of 2016, six million voters were impacted by felony disenfranchisement laws.
"I got news for you Bernie. Not on our watch," Pence said, receiving cheers from the crowd.
The vice president took aim at the Green New Deal and Medicare for All and said that Trump has faced "unprecedented opposition, obstruction, and resistance."