Pence Calls Recent U.S. Violence a 'Preview of Joe Biden's Agenda'
Vice President Mike Pence said on Thursday that increasing crime rates in the U.S. were a "preview" of how presumptive Democratic presidential candidate Joe Biden would run the country.
Pence made the comments at a law enforcement support town hall meeting presented by Heritage Action for America, a conservative advocacy group that, according to the group's website, "combines inside-the-Beltway lobbying with outside-the-Beltway grassroots pressure." While Pence repeatedly referred to police officers as heroes, he took the opportunity to criticize Biden by claiming Biden was in favor of defunding the police. Biden has denied that claim.
"Atlanta saw a 19 percent rise in shootings and a 9 percent rise in murders," Pence told the crowd. "New York City actually just reached its one-thousandth victim with more shootings this year already than in the last two years combined. And 21 people were shot in our nation's capital last weekend."
"These are heartbreaking numbers," Pence continued, "but I must tell all of you that these are just a preview of Joe Biden's agenda for America. The truth is you won't be safe in Joe Biden's America."
Pence cited Biden's description of "police officers that could become 'the enemy' to civilians" and a statement by California Senator Kamala Harris, Biden's running mate, that it was time to 'reimagine police.'
"The truth is these efforts of blaming law enforcement for violence in our streets, blaming law enforcement for unrest across America, have got to end," Pence added.
Newsweek reached out to the Biden campaign for comment.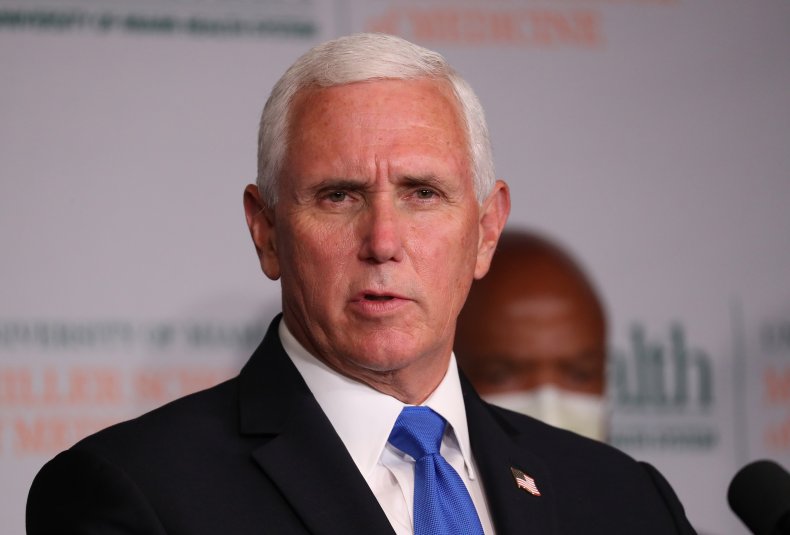 President Donald Trump has been a staunch supporter of law enforcement, despite calls to defund police departments nationwide in the aftermath of protests against police brutality after the May death of George Floyd. Advocacy group Black Lives Matter has made defunding the police part of their national platform with the funds going towards underserved communities. Trump, who referred to himself in June as "your president of law and order," squashed any notion of his administration agreeing to defunding local law enforcement agencies.
"There won't be defunding, there won't be dismantling of our police and there is not going to be any disbanding of our police," Trump said at a June roundtable meeting with members of the law enforcement community.
Trump's reelection campaign has attempted to tie Biden to the movement to defund the police. "You won't be safe in Joe Biden's America," read a July advertisement which also claimed that Biden's "supporters are fighting to defund police departments."
Biden has distanced himself from the idea, saying during an August fundraiser that he wants to increase police funding.
"I don't want to defund police," Biden said. "I want to get police more money in order to deal with the things they badly need from making sure they have access to community policing, that they have also in the departments social workers, psychologists, people who in fact can those god awful problems that has to have four degrees to handle."
Some cities have already made moves to pull funding away from law enforcement. In New York City, the New York Police Department's yearly budget was cut by $1 billion in July. The reduction in funds, approved by the City Council, is expected to reduce the number of uniformed officers by 1,163 and cut overtime spending by $352 million.
New York City Mayor Bill de Blasio said during a news conference that he was the NYPD was "shifting functions away from police to civilian agencies."
"We think it's the right thing to do," de Blasio said. "It will take work. It will take effort and we're going to be reforming that work in the meantime."
President Trump criticized the NYPD budget cuts. On Tuesday, Trump said Mayor de Blasio should bring back the officers who were "fired without justification."
"They were fired," Trump told reporters. "I guess that's part of 'Defund the Police' by the Democrats. They should hire New York City's finest back."