Pence Cancels Plan to Attend Fundraiser Hosted by QAnon Backers
Vice President Mike Pence has dropped out of a fundraiser for Montana Republicans after reports showed the hosts for the event were supporters of the QAnon conspiracy theory.
The event had been scheduled for Monday in Bozeman, Montana, according to the Associated Press. In addition to Pence, Montana politicians Sen. Steve Daines, Rep. Greg Gianforte and state auditor Matt Rosendale were scheduled to attend. While Daines is running to keep his Senate seat, Gianforte is running for governor and Rosendale is campaigning for a House seat.
An earlier report from the AP said that Republican Party Chair Ronna McDaniel and Republican National Committee co-chair Tommy Hicks Jr. were also expected to attend, along with Kimberly Guilfoyle, an official in the Trump campaign who is dating Donald Trump Jr.
A Wednesday report from the AP revealed that the hosts of the Bozeman event, Caryn and Michael Borland, are both supporters of QAnon, having shared a number of QAnon memes and retweets on social media. Though Pence pulling out of the event follows the AP's reporting, the Trump campaign has not given a reason for the schedule change, nor if the fundraiser itself will be rescheduled.
A spokesperson for the vice president told Newsweek that the fundraiser was not actually on Pence's schedule, and that Pence will attend a rally in Wisconsin Monday morning before the Montana rally.
Instead of the Borlands-sponsored event, Pence, Daines, Gianforte and Rosendale will appear at a rally for the Montana Republicans in Belgrade, Montana, about 11 miles from Bozeman, according to The Hill.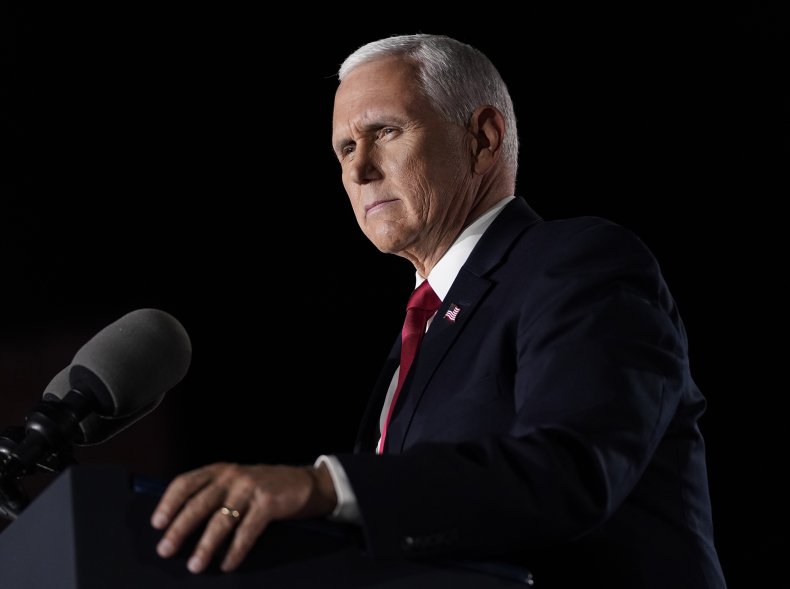 QAnon is an unfounded far-right conspiracy theory that alleges that President Donald Trump is working behind the scenes to take down an evil cabal of politicians, Hollywood elites and other high-status individuals who worship Satan and are pedophile cannibals.
Though in interviews on CNN and CBS This Morning in August, Pence said that he doesn't know anything about QAnon and "I dismiss it out of hand." Trump himself has not denounced the theory.
"I don't know much about the movement other than I understand they like me very much, which I appreciate. But I don't know much about the movement," Trump said at a press briefing last month. "I've heard these are people that love our country and they just don't like seeing it. I don't know really anything about it other than they do supposedly like me. And they also would like to see problems in these areas ... go away."
A number of Republican candidates in the 2020 election are supporters of the theory. The most famous of the QAnon-supporting candidates is Marjorie Taylor Greene, who is running for a House seat in a strongly Republican district in Georgia. In 2017, Greene called the mythical figure Q, who is allegedly behind the conspiracy theory, "a patriot."
"He is someone that very much loves his country, and he's on the same page as us, and he is very pro-Trump," she said. "Something worth listening to and paying attention to."
On Friday, her Democratic opponent dropped out of the race, citing personal reasons.