Pence's Support Gives Criminal Justice Reform Supporters Hope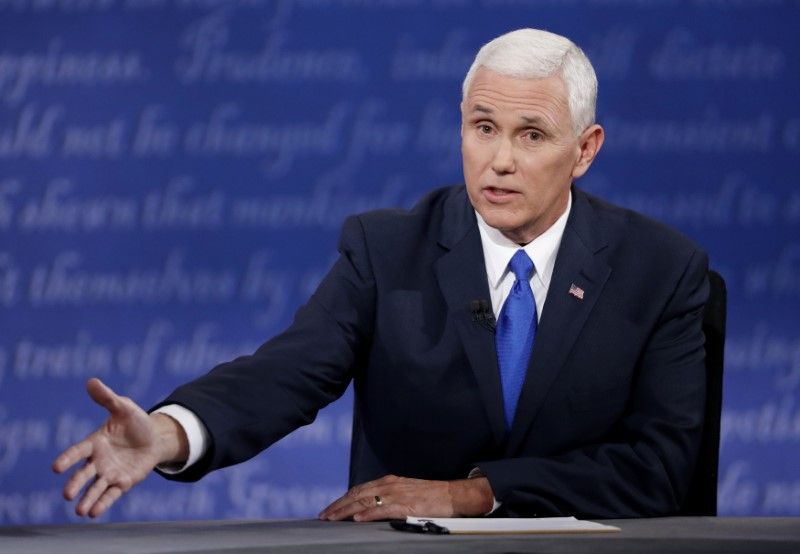 Jason Pye was on an airplane during Tuesday's vice presidential debate, but he was following the reaction via Twitter. When he heard that Republican Mike Pence had called for criminal justice reform, it made his evening.
"I was smiling from ear to ear," says the spokesman for the conservative advocacy group FreedomWorks, one of the leading voices for reform on the conservative end of the spectrum. Pye noted that not only did Pence say "we need to adopt criminal justice reform nationally" but he reinforced his support with examples of his own role in enacting changes in Indiana and Congress.
Holly Harris, executive director of the U.S. Justice Action Network, a coalition of groups from across the political spectrum that support justice reforms, called Pence's comments "an absolute bombshell" and predicted it will "breathe new life into criminal justice reform at the federal level."
Such a boost is sorely needed. After promising to bring a package of reform legislation up for a vote in the House in September, Speaker Paul Ryan changed his mind last month, and Congress went into recess without moving forward. The problem, according to members and advocates, is not that the bills wouldn't have passed but that they would have split Republican lawmakers—and GOP leaders were wary of a divisive intraparty fight just weeks before November's election.
Instead, Ryan has said he wants to hold a vote on the issue after the election, in what's known as the lame duck sessions of Congress. But that's a crapshoot at best—time will be short, the holidays will be looming, and lawmakers will have a handful of must-pass bills (including funding to keep the government open) to work through in their sprint to close out the year. If the legislation doesn't pass by year-end, supporters will have to start from scratch next year.
It hasn't helped that the party's standard-bearer and Pence's running mate, Donald Trump, has made "law and order" a key plank in his presidential platform. Over the summer, Trump intensified his warnings about rising crime and violence in America, as well as his calls to support law enforcement in the wake of two cold-blooded attacks on police in early July.
Backers of the justice reform proposals underscore that while Trump has emphasized a "tough on crime" approach, which would seem to contradict efforts to reduce criminal sentences, he has not come out and specifically opposed their legislation or even really talked about the various proposals. But Harris concedes that the emphasis on crime fighting, rather than justice, hasn't helped their efforts.
"I think it generated a bit of a hangover, sure," she says of Trump's rhetoric. Too many members are scared of being tarred as soft on crime. "I think people were just concerned about how this would be reported and what the reaction would be," she says.
For advocates of reform, there's a frustrating sense of backsliding. In recent years, they have put together an impressive left-right coalition to push for things like sentencing reform to end mandatory minimum sentences for nonviolent crimes and drug offenses; treatment rather than incarceration for drug addicts; and focusing more efforts on rehabilitation. Such policies have long had support on the left as social justice issues, and in recent years they've also built a sizable constituency on the right. In particular, a growing bloc of conservatives is embracing the idea of changing the criminal justice system as a way to cut bloated government budgets—one estimate found that the country spends roughly $80 billion a year on local, state and federal incarceration.
They also argue it prevents families from being torn apart by long prison sentences and promotes the Christian ethos of forgiveness. Republican-led reform efforts in states like Texas and Georgia, driven by a need to reduce prison overcrowding and spiraling costs, have proved effective. And they haven't led to a spike in crime or any of the other doomsday scenarios the critics predicted.
Now, not only are groups like the American Civil Liberties Union and the NAACP lined up behind criminal justice reform efforts but so are people like Charles and David Koch, the conservative industrialists and mega-donors, and Grover Norquist, leader of the fiscally conservative Americans for Tax Reform. At the beginning of 2016, momentum from the Black Lives Matter movement buoyed hopes that this powerful set of strange bedfellows, in addition to support from Barack Obama and leaders in Congress, could make justice reform one of the few newly enacted laws this year.
Then two things happened: Trump won the Republican presidential nomination, and cities across the country this summer once again erupted in protests and violence over police shootings of black men—and revenge attacks on the police. At the Republican Convention in Cleveland in late July, Trump opened his acceptance speech by painting a dark picture of crime and violence in America, declaring the country in "crisis."
"Decades of progress made in bringing down crime are now being reversed by this administration's rollback of criminal enforcement," he roared. For the record, statistics show violent crime has spiked in a handful of major American cities but is down in many other places, and the overall crime rate remains steady compared with 2015. As New York University's Brennan Center for Justice points out, that rate is "near historic lows."
The renewed focus on law and order added momentum to the efforts by opponents of criminal justice reform bills proposed in Congress and vocally supported by federal prosecutors. They've raised concerns that such reforms would release violent criminals back into the public and, most recently, that they could benefit immigrants without documentation who are jailed on drug crimes. Meanwhile, advocates for those reforms—including relaxing some sentencing guidelines for drug-related crimes; studying and improving programs to reduce recidivism; and blocking funding for states that jail juveniles as adults—argue that the measures would improve law and order, and they say there's a chance to convince Trump of that.
"I think you can be tough on crime and smart on crime," Norquist says. After Texas eliminated mandatory minimum sentences, he notes, "crime went down not up," as law enforcers were able to focus their time and resources on the worst criminals rather than low-level offenders. That, he says, gives supporters a strong argument: "You're wasting money, and you're hurting neighborhoods and people's lives for no purpose." And Harris emphasizes that they have the support of many police groups. Trump "is trying to be the voice of law enforcement, and that's why we are constantly trying to amplify the law enforcement voices who are supportive of reform," she says.
Pence appears to buy those arguments, giving advocates hope that he can help shape Trump's views, should he win the White House. As a congressman, Pence co-sponsored the Second Chance Act, which provided grants to help prisoners with re-entry into society. And as governor of Indiana, he signed into law a 2013 measure that reduced sentences for some drug crimes while toughening sentences for other crimes. It "involved keeping low-level offenders out of the state department of corrections and providing opportunities for drug treatment, mental health treatment, close supervision in the community," says Deborah Daniels, a former U.S. attorney in Indiana who worked with Pence on the reform effort. Pence highlighted it during Tuesday's debate, telling opponent Tim Kaine, "I signed criminal justice reform in the state of Indiana, senator, and we're very proud of it."
But Pence also reinstated a mandatory minimum sentence of 10 years for heroin and methamphetamine dealers who are repeat offenders. That move this spring was a response to Indiana's crushing opioid-addiction crisis. "I think it's safe to say his approach was one of being tough on serious and violent offenders but wanting to give opportunities to lower-level offenders," Daniels says.
Reform advocates plan to highlight Pence's positive statements Tuesday night as they lobby Republican members of the House to hold a vote this year. "That's valuable in terms of what we're trying to do at the federal level," says one advocate, who agreed to speak without identification in order to discuss strategy. "That's the closest thing we have right now to a voice of support from the Trump campaign."