Pence Criticizes DNC for Paying 'No Attention' to China, BLM Protests
Vice President Mike Pence criticized the Democratic National Convention and Democratic presidential nominee Joe Biden on Friday for the lack of attention he said they paid to what he described as two of the most significant issues the U.S. currently faces.
During an interview with Fox and Friends on Friday morning, Pence said neither the convention as a whole nor Biden in his nomination acceptance speech addressed the country's economic battle with China or the violence connected with the recent Black Lives Matter protests.
"There was no attention paid to two of the most important challenges that our nation faces, either during the convention or during Joe Biden's acceptance speech last night," Pence said.
"The fact that Joe Biden, in his speech last night, never mentioned China was truly remarkable," Pence said, adding that he also found it notable that Biden "never mentioned the violence that is claiming lives and destroying property in major cities across this country."
When asked why a handful of Republican former national security officials—individuals who served under the last four Republican presidents, including Trump—officially endorsed Biden on Thursday, Pence said he "can't account" for their decision to do so.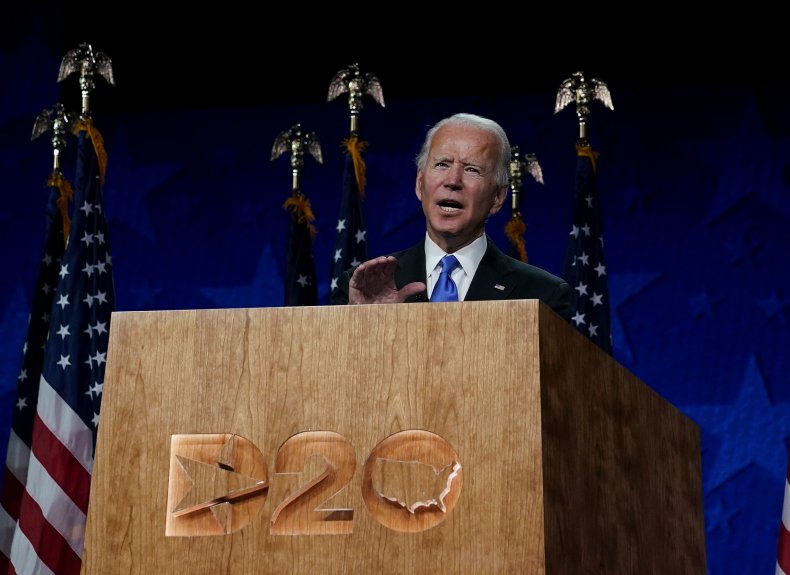 The convention concluded on Thursday night as Biden formally accepted the party's nomination for president in a speech delivered virtually from the Chase Center in Wilmington, Delaware. His speech touched upon a broad array of social, economic and policy issues and also spent time discussing the coronavirus pandemic, the partisan divide that has grown in the country under President Donald Trump and the party's goal in replacing a president whom Biden said "has failed in his most basic duty" of protecting Americans.
Biden did mention China once in his speech when explaining how he planned to stifle the pandemic in the U.S. by making medical equipment in the U.S. "so we will never again be at the mercy of China and other foreign countries in order to protect our own people."
Later in his speech, Biden recalled meeting the daughter of George Floyd, whose death while in police custody in late May led to a large number of protests calling for an end to systemic racism and reform in policing policies. He also mentioned the recent passing of civil rights icon Rep. John Lewis. "However it has come to be, America is ready to, in John's words, to lay down 'the heavy burdens of hate at last' and to do the hard work of rooting out our systemic racism," Biden said.
While Biden did not specifically mention the violence that erupted at several protests over the past few months in his speech, his campaign platform includes action points for addressing systemic racism in education, housing and in the workforce. Meanwhile, Trump did bring up the issue of recent protest violence in a campaign speech of his own delivered Thursday in Old Forge, Pennsylvania. "If you want a vision of your life under a Biden presidency, think of the smoldering ruins in Minneapolis, the violent anarchy of Portland, the blood-stained sidewalks of Chicago, and imagine the mayhem coming to your town and every single town in America," Trump said.
Pence doubled down on the president's promise of restoring law and order on Friday, which he contrasted with what he said is the "radical left" agenda to "reduce support" for law enforcement officials.
"The fact that Joe Biden didn't talk about China, didn't talk about the violence in our streets, tells you all you need to know about the liberal agenda that they're going to try and advance on the American people," Pence said.
Newsweek reached out to the Democratic National Committee for comment but did not receive a response in time for publication.