Pence Demands Apology From Reporter Who Tweeted VP's Requirement for Journalists to Wear Surgical Masks to Mayo Clinic
Vice President Mike Pence has requested an apology from a reporter for tweeting that reporters were asked to wear masks to the Mayo Clinic, even though Pence didn't wear one.
Steve Herman, White House Bureau Chief for U.S.-based media outlet Voice of America (VOA), said Thursday that Pence's office told reporters they would need to wear face coverings while covering Pence's visit to the Mayo Clinic on Tuesday. Pence, however, did not wear a face mask during the tour. After Herman tweeted that everyone was told masks were a requirement for visiting the Mayo Clinic, Pence's office allegedly requested an apology.
Pence told reporters on Tuesday that he did not wear a mask to the medical facility because he has not tested positive for coronavirus.
"As vice president of the United States, I'm tested for the coronavirus on a regular basis, and everyone around is tested for the coronavirus," Pence said. "And since I don't have the coronavirus, I thought it would be a good opportunity for me to be here, to be able to speak to these researchers, these incredible health care personnel, and look them in the eye and say thank you."
Pence's wife Karen told news program Fox & Friends Thursday that the vice president was unaware of the Mayo Clinic's requirement of a face mask until his visit was over.
"As our medical experts have told us, wearing a mask prevents you from spreading the disease," Karen Pence said, "and knowing that he doesn't have COVID-19, he didn't wear one."
"It was actually after he left Mayo Clinic that he found out that they had a policy of asking everyone to wear a mask," she added.
Herman's Thursday tweet seemed to contradict that explanation.
"All of us who traveled with [Pence] were notified by the office of @VP the day before the trip that wearing of masks was required by the @MayoClinic and to prepare accordingly," Herman wrote.
A Tuesday tweet from the Mayo Clinic said that Pence had been informed of their face mask policy before his visit. That tweet has since been deleted from the clinic's Twitter feed.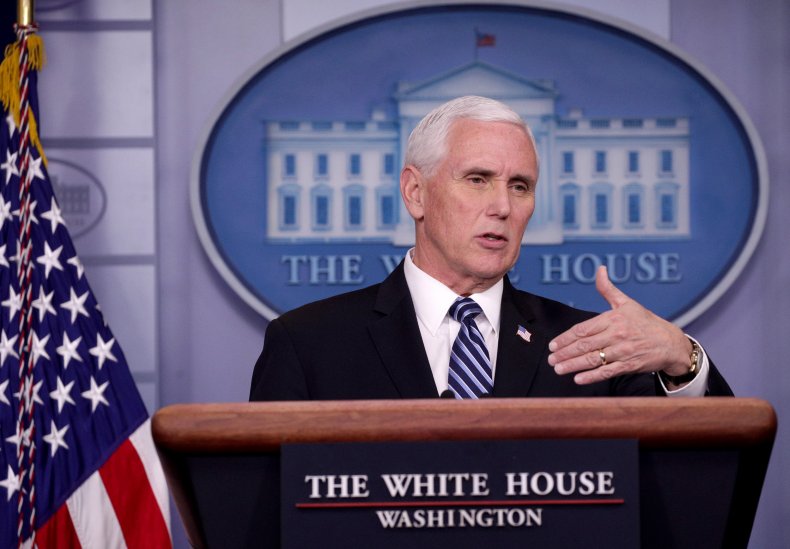 According to reporting from The Washington Post, Herman was told by the White House Correspondents' Association that he was no longer allowed on Air Force Two, the vice president's airplane. Whether more punishment would be doled out to Herman was dependent on if the vice president received an apology from either VOA or Herman himself.
However, Herman's tweet may have accidentally revealed information sent to reporters in a trip planning document that the White House had classified as off the record.
"Please note, the Mayo Clinic is requiring all individuals traveling with the VP wear masks," said the document, according to the Post. "Please bring one to wear while on the trip."
In a statement, Herman said reporters who cover the White House "always have and will strictly adhere to keeping off the record any White House communications to reporters for planning purposes involving logistics that have security implications prior to events."
"VOA adheres to the highest journalist standards," said Voice of America in a statement sent to Newsweek on Friday. "The VOA Charter, adopted by the U.S. Congress in 1976 and signed by President Gerald Ford, requires VOA news to 'be accurate, objective, and comprehensive' and that includes truthful coverage of the U.S. government and its policies. VOA's credibility relies on presenting 'a balanced and comprehensive projection of significant American thought and institutions,' as the Charter states."
Newsweek reached out to Vice President Pence's office for comment.
Wearing face masks in areas where social distancing could be difficult to maintain was recommended in April by the CDC. President Donald Trump said during a news briefing that he would not wear one during the course of his duties.
"Somehow, sitting in the Oval Office behind that beautiful resolute desk," Trump said, "the great resolute desk, I think wearing a face mask as I greet presidents, prime ministers, dictators, kings, queens, I don't know. Somehow, I just don't see it for myself. I just don't."
Updated 4:00 p.m. EST 05/01/2020: This story has been updated to include a statement from Voice of America.