The Capitol riot proved to be a turning point in former President Donald Trump's relationship with former Vice President Mike Pence and the two former staunch allies reportedly haven't spoken since the summer.
On Thursday, Pence told Fox News' Jesse Watters that January 6 was "difficult" and that he and Trump spoke in the days that followed. While they didn't see eye to eye on the events of that day, Pence told Waters he knows he did his "duty under the Constitution" and the two parted amicably.
However, the last time the two spoke was "last summer," according to Pence.
Trump pushed for Pence to insert himself into the certification of President Joe Biden's victory. Pence resisted the immense pressure, announcing on January 6 that he saw his role only as a moderator, and his decision not to send the election results back to the states meant sacrificing his relationship with the former president.
Newsweek reached out to former President Donald Trump for comment but did not receive a response in time for publication.
As president, Trump demanded loyalty from the people in his administration and Pence was long seen as one of his staunchest allies. But, the two men had significantly different views when it came to the role Pence should play in the certification of Biden's election and it's proven to be a lasting issue.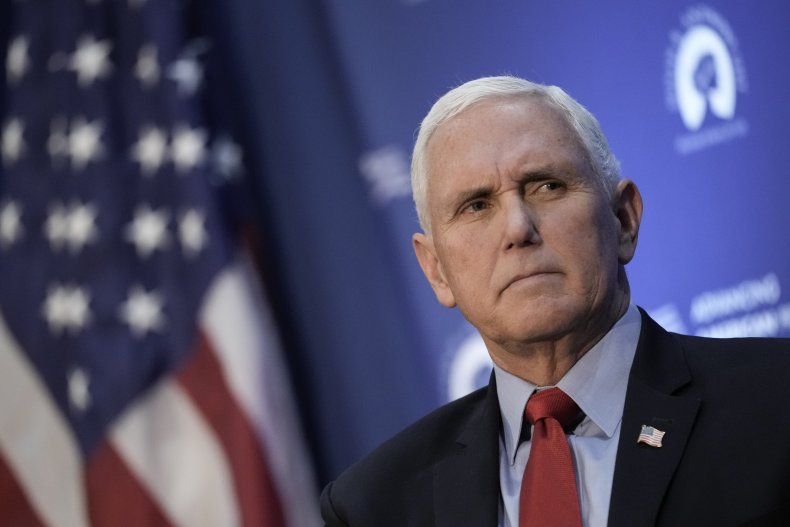 In statements since leaving office, Trump has partially blamed Pence for why Democrats are able to push through "socialistic" policies. Had he sent the election back to the states, which many experts believe Pence didn't have the legal authority to do, Trump said he would be president instead of Biden.
Although Pence has taken some flak for not following Trump's orders, including being booed at an event, he hasn't wavered on his decision-making on January 6. He's said rejecting states' votes would have been "un-American" and that the founding fathers were "very clear" that elections should be governed at the state level.
Pence has acknowledged that he and the president will never see eye-to-eye on January 6 but the former vice president hasn't leveled criticism at his former boss. Instead, Pence maintains that he's proud of the work the Trump administration did and that life was better when they were in office than since Biden took over the presidency.
Both Trump and Pence are being floated as potential contenders for the 2024 GOP nomination, although Trump has the edge, according to polls. Trump isn't confident in Pence's ability to mount a presidential election, though, and said he's "mortally wounded" inside the GOP at a December event with former Fox News host Bill O'Reilly.
Pence hasn't formally ruled out a 2024 presidential run and Trump hasn't confirmed he's running either, but both men's actions indicate they're considering making a bid for office. However, it's unlikely Trump picks Pence as his running mate if he decides to challenge Biden in 2024.