Pence Heads to Arizona, Texas, Florida as States See Post-Reopening Coronavirus Surges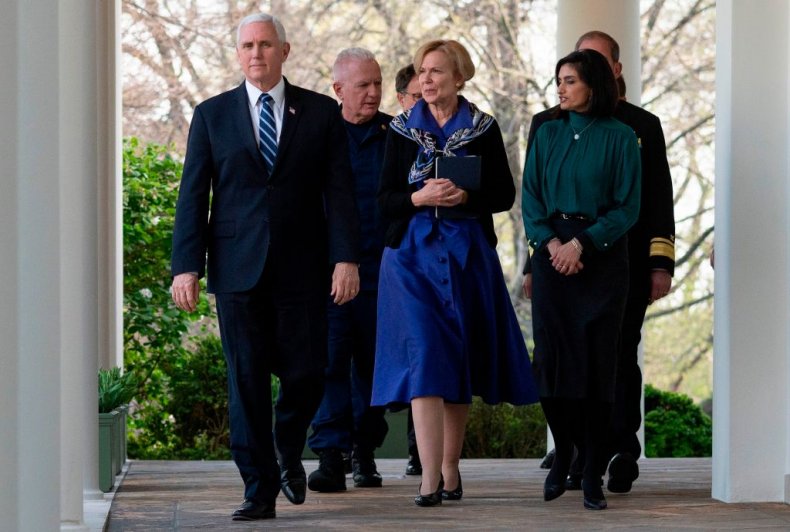 Vice President Mike Pence is heading to Arizona, Texas and Florida in the coming days, as those states see alarming spikes in coronavirus cases, but after a meeting of the Coronavirus Task Force on Friday, he also sought to tamp down concerns over the increased numbers.
The Pence-led Coronavirus Task Force held its first public briefing in nearly two months Friday—a move that Pence said was at President Donald Trump's direction because of the growing coronavirus concerns that have prompted some states to reimplement some restrictions on businesses.
"As we see new cases rising, there may be a tendency among the American people to think we are back to the place we were two months ago, that we're in a time of great losses and great hardship on the American people. The reality is we're in a much better place," Pence told reporters. "We're reminded as we see cases rising across the South that we still have work to do."
Trump abruptly canceled plans to travel to his golf club in Bedminster, New Jersey on Friday, as governors in Texas and Florida announced they were responding to post-reopening coronavirus surges.
The nation passed 2.5 million confirmed coronavirus cases this week and more than 126,000 deaths, Pence said.
At the briefing, the vice president said Texas, Florida and Arizona were identified as places of particular concern and he had been in close contact this week with governors.
"The most useful thing to know is where it's happening," he said.
Pence said he doesn't think that states should be blamed for re-opening too quickly.
"Frankly, in the case of each of these states, they reopened in some cases almost two months ago," he said. "What we're observing today, is that we're seeing more and more young people under the age of 35 who are testing positive."
Texas Gov. Greg Abbott announced Friday that bars would be shut back down, restaurants would once again be limited to 50 percent capacity and that outdoor gatherings couldn't be held for more than 100 people unless local officials approve.
"At this time, it is clear that the rise in cases is largely driven by certain types of activities, including Texans congregating in bars," Abbott said in a news release. "The actions in this executive order are essential to our mission to swiftly contain this virus and protect public health."
Meanwhile, Florida reported a single-day record 8,942 positive cases on Friday.
And Arizona Gov. Doug Ducey announced Thursday that his state is bracing for continued increases in the coming days.
Dr. Anthony Fauci, director of the National Institute of Allergy and Infectious Diseases and a member of the Coronavirus Task Force, also told reporters Friday that it's not productive to blame states for reopening too quickly.
He made a plea to people to follow guidelines meant to prevent the spread of the virus, including wearing face masks and maintaining social distancing.
"You have an individual responsibility to your self, but you also have a societal responsibility," Fauci said. "We've got to realize we are part of the process."
Dr. Deborah Birx, Task Force coordinator, told reporters that it's particularly important for people under 40 to get tested and be mindful that they could be asymptomatic carriers.
"No one is intentionally spreading the virus, but they don't know they're positive, they don't have symptoms and need to be tested," she said.