As Pence Keeps Door Open to 2024 Run, Betting Markets Have Him as a Favorite to Win
Vice President Mike Pence has not ruled out making a bid for the White House in 2024, even though betting firms have given him strong odds of winning the next presidential election in a crowded field of potential contenders.
The former Indiana governor told the Daily Caller that he hadn't "given any thought" to events beyond the 2020 presidential election when the outlet pressed him on whether he would stand as a candidate in 2024.
"I haven't given any thought to anything beyond the election in 2020 because I think this election is so important to the life of the nation," he told the Caller. "I think this could well be one of the most important elections in the long and storied history of the United States, because we're really deciding what path we will take."
Pence added that all of his energy was focused on securing a second term for President Donald Trump on November 3, when voters flock to the polls for the 2020 election.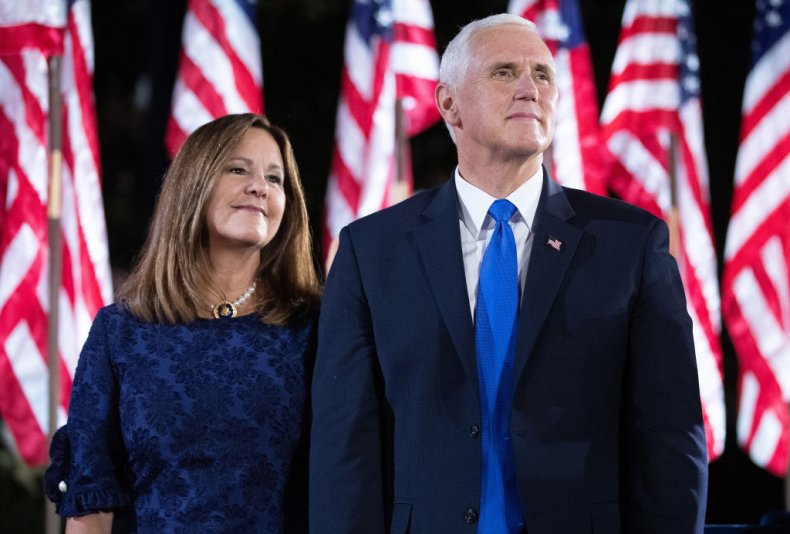 Newsweek has contacted the vice president's office for comment. This article will be updated with any response.
The British gambling company Betfred lists Pence as a joint frontrunner alongside Democratic presidential nominee Joe Biden and vice presidential nominee Kamala Harris in its 2024 election calculations.
According to the firm, the vice president's odds of winning the race are 11/2, putting him ahead of former South Carolina governor Nikki Haley, whose chances of taking control of the White House are pegged at 25/1.
The bookmaker Ladbrokes rates Pence as the frontrunner in the 2024 race with four years to go until polling day, giving him 5/1 odds of victory compared to Biden and Harris' 6/1 joint second place odds.
But Bwin favors the chances of the Democratic challengers over the vice president, offering Biden and Harris odds of 5/1 and 6/1 respectively, while putting Pence's hopes at 7/1.
The vice president's position at the top of the pack among possible Republican candidates aligns with the limited polling available on who GOP voters favor for their party's 2024 ticket.
One survey conducted by Leger in August found that Pence led Donald Trump Jr., the president's eldest son, by 14 points in the Republican 2024 primary stakes. Thirty-one percent of party voters told pollsters they'd back a run from the vice president, while 17 percent fell behind Trump Jr.
Another poll published by Axios in January found Pence had a similar 11-point lead over the president's son, as well as a 14-point lead over the ex-governor Haley.