Mike Pence Could Offer Donald Trump a Pardon to End His Presidency Now, Says Professor
Vice President Mike Pence can offer President Donald Trump a "great deal" that would include a full pardon of any alleged crimes in exchange for ending Trump's term in office, a university professor said on Wednesday.
Jonathan Zimmerman, a history of education professor at the University of Pennsylvania, argued in an op-ed published by USA Today that a potential Pence pardon of Trump could help the country "avoid what now seems like an inevitable impeachment drama." He also said Pence's ascension to president would end the "national calamity that is Donald J. Trump."
Zimmerman referenced the pardon given to former President Richard Nixon by his successor, Gerald Ford, in 1974 over the Watergate scandal, while noting the numerous excuses Trump has given for alleged campaign finance violations as well as possible collusion with Russia to win the White House in 2016.
"Even Richard Nixon—our only president to resign—never went that far. Throughout the Watergate scandal, Nixon simply claimed that he was 'not a crook.' That's very different from saying that crooks shouldn't be pressured to testify...or that everyone is a crook, anyhow, so it's no big deal," Zimmerman wrote.
He added, "So it's time to offer Trump a truly big deal, and the only thing that might save us from him: a full pardon, in exchange for his resignation."
Zimmerman noted that Democrats could claim Pence made an improper quid pro quo with Trump, but given the current party divisions within Congress, an impeachment conviction was "unlikely."
"But if Trump believed that he would face jail time once he left the White House, a pardon might persuade him to exit early. Remember, this is a guy who prides himself on the 'Art of the Deal.' He might even savor the pardon as the culminating masterstroke in a brilliant career of 'tough negotiating,' as he calls it," said Zimmerman.
Still, such a move could prove costly to Republicans. And Trump has given no indication that he plans to leave office, while Pence has fully backed Trump ever since he joined the 2016 campaign.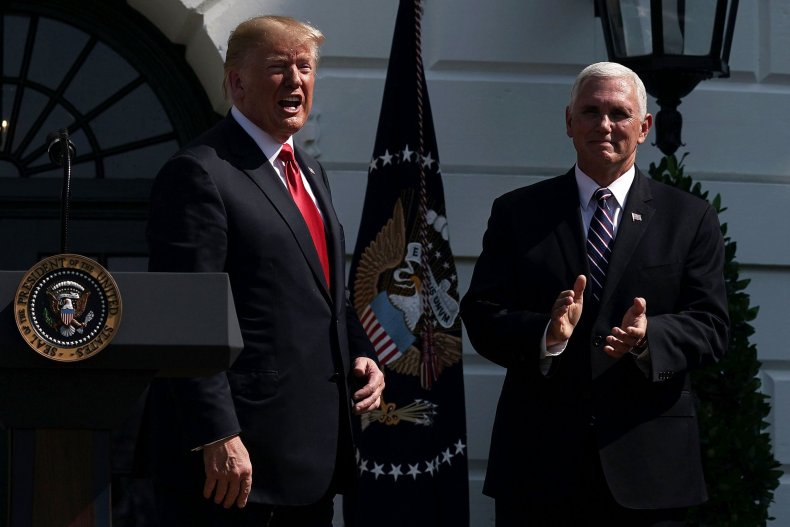 After assuming power, Ford pardoned Nixon, saying it was for the good of the country and would allow it to heal. But the 38th president received an outpouring of criticism for his decision and ultimately lost to Jimmy Carter in the 1976 election.
Pressure has increased on Trump over the past few months as members of his former campaign and inner circle have been the target of federal prosecutors. The president's former personal lawyer and "fixer" Michael Cohen pleaded guilty to federal charges in New York last week. Cohen said Trump had directed him to pay off women who claimed to have had affairs with the president before he ever hit the campaign trail.
And former Trump campaign chairman Paul Manafort was found guilty last week of tax fraud, bank fraud and hiding a foreign bank account, charges that were brought by special counsel Robert Mueller in his probe of Russian meddling in the 2016 election.