Overshadowed in the Campaign, Pence Would Be a Force in Trump's White House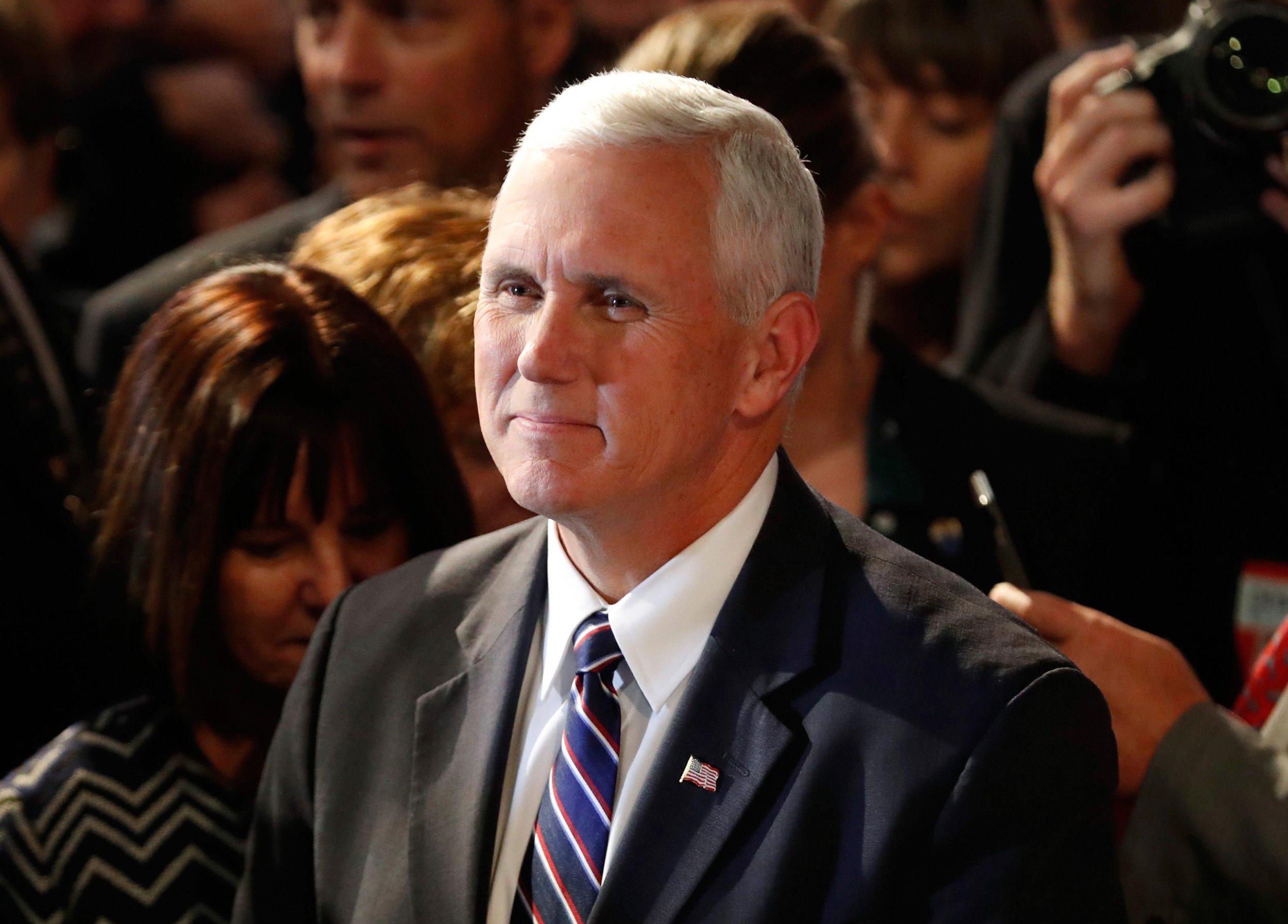 It was only about five years ago that the man who would become Donald Trump's running mate was extolling the virtues of polite political disagreement. "I've always sought to manifest civility in the public debate," then-U.S. Representative Mike Pence told an interviewer in 2011.
It's something of a calling card for Pence, who swore off negative campaigning after losing two House races in 1988 and 1990. He has largely held to that principle even in some of the most inhospitable of climates—talk radio, Capitol Hill. And it helped propel his rapid rise during the past decade in Washington, where colleagues quickly recognized his knack for putting a positive spin on even some of the most divisive of topics.
Even as Trump has raged and boasted and derided his way through the 2016 campaign, the Indiana governor has tried to maintain his even keel and upbeat tone, a polished if predictable counterpoint to one of the most volatile presidential candidates of all time. On the trail, that has made Pence mostly an afterthought (though he'll get a moment in the spotlight at Tuesday night's vice presidential debate). If he were to make it to the White House, however, it would make him an invaluable asset to an inexperienced president, a right-hand man fluent in the language of Washington, with the extensive relationships to match.
Pence is more communicator than policy wonk, having hosted a talk radio program in Indiana before going to Congress. He prefers to outline a broad vision rather than crank out detailed draft legislation. But he does have a very pronounced set of small-government, socially conservative priorities and has learned how to move the levers of power in the executive and legislative branches to achieve them. Given Trump's demonstrable lack of interest in the nuts and bolts of governing, Pence would be likely to wield sizable power, akin to Dick Cheney's in the George W. Bush administration, if Trump wins. But unlike Cheney, this Republican veep would do it with a smile. Or, as Pence put it after he was first elected in 2000, "I always used to say on my radio program that I'm a conservative, but I'm not in a bad mood about it."
At the height of the Terri Schiavo controversy in March 2005, House Speaker Tom DeLay stammered and stumbled his way through a press conference condemning efforts to remove the brain-damaged Florida woman's feeding tube. DeLay, known as "the Hammer" for his uncompromising style, decried the move as an "act of barbarism" and heaped scorn on Senate Democrats for allowing it. Pence, the newest member of the GOP leadership, spoke last. Instead of pointing fingers, the third-term House member sought to humanize. "This is a compassionate nation and…this is a compassionate Congress," he argued, hailing DeLay's "heart" in defending the Schiavo family.
Before long, Pence, who served in Congress for 12 years, was regularly in front of the news cameras, giving statements on Republican principles and speeches at an array of conservative gatherings. As the leader of the Republican Study Committee, a conservative caucus within the House, he became an influential voice for the uncompromising fiscal conservatism now associated with the Tea Party. He helped lead rebellions against Bush in the early 2000s on issues like spending and earmarks, expanding the caucus along the way.
But even when taking positions on the ultra-conservative end of the spectrum, Pence "does so in a pleasant manner," says former Indiana Senator Richard Lugar, a quality that has helped him avoid alienating his colleagues. Pence lost a 2006 bid for House minority leader, but in 2009 he was elected Republican Conference chairman, the third-highest party leadership position in the House.
"He understands the machinery and how [Congress] works, from the House leadership all the way on down," says Iowa Representative Steve King, a close friend and ally of Pence's during their years in Washington. "He knows what it takes to move a bloc of voters in the House Conference."
Indiana Senator Dan Coats also served with Pence in the House and expects him to be a very active vice president, should Trump win. "He wants to participate in our caucus," Coats says, which was also one of Cheney's customs. Senators welcomed that kind of vice presidential involvement, he says, because "we knew we had a link to the top, a very accessible link."
The question is: To what end would Pence wield that access, should he find himself in a Trump administration? A few top priorities are evident, already.
The Indiana governor is probably best known nationally for signing into law a controversial religious-freedom bill last year, which opened the door to LGBT discrimination (he later signed a second bill that toned down some of the discriminatory aspects). An evangelical Christian, Pence is vehemently anti-abortion and in the past has questioned the science of both evolution and climate change. As vice president, he would no doubt be Trump's go-to guy for managing relations with the religious right. But more significant, the one-time House Judiciary Committee member would likely have an outsized say in judicial appointments.
"I don't have a direct comment from either Mike Pence or Donald Trump, but I take it that Mike Pence is the final gatekeeper for the names that will be in front of Donald Trump to make appointments to the federal bench," says King, who speaks with the Indiana governor regularly. "And I have significant confidence in that."
In just the past couple of years, the judiciary has weighed in on abortion, gay marriage and immigration. Given the country's sharp divisions, these and related issues are likely to land in court again in the future. And the next president will have the power to shape not only the Supreme Court, which is already down a jurist, but also hundreds of federal appellate courts.
Pence has also been shaping the Trump campaign's positions on regulatory policy, part of a career-long mission to shrink government. Stephen Moore, one of Trump's leading economic advisers, says Pence has traveled and met regularly with Trump, advising him on his domestic agenda and regulatory reform, in particular. He wants to "turn functions over to states and use states as labs for democracy," says Moore.
"He's been an instrumental voice on that front," says Marilee Springer, Pence's senior policy director during his first term as governor. She recalls how, on Pence's first day in office, "literally, he got sworn in and we walked back to his office, and he signed an executive order halting new regulations." Trump is now promising to do the same thing at the federal level.
Pence's stint on the House Foreign Affairs Committee, during which he traveled to Iraq and other parts of the Middle East, gave him exposure to national security issues, although he was hardly a leading voice on that front. Though Pence's hawkish foreign-policy positions are at odds with his running mate's more isolationist approach, the two do share a strong pro-Israel stance.
It must be said that Pence boasts more experience than Trump on virtually every policy issue. Voters, however, aren't too high on career politicians these days, so Pence is likely remain in Trump's very large shadow in the public eye. In Washington's corridors of power, however, Pence's profile is bound to loom much larger.
King says that goes back to Pence's flair for communication. His takeaway from conversations he had with various attendees at the governor's rally in Des Moines, Iowa, two weeks ago: "Mike Pence appears presidential to them. Presidential."