Pence Predicts COVID-19 Vaccine Before End of 2020—But He Also Once Said Pandemic May End by Memorial Day
Vice President Mike Pence said the Trump administration's "warp speed" response to coronavirus began with vaccine work dating back to February—and he predicts U.S. COVID-19 vaccinations will be ready by "the end of this year."
Pence, who's head of the White House Coronavirus Task Force, made the vaccine prediction on Tuesday's edition of SiriusXM's Brietbart News Daily. The vice president said at least one company spearheading COVID-19 vaccine research, Moderna, headed into "Phase 3 clinical trials" on Monday.
"Now, nearly 60 million tests have been performed, virtually from a standing start four months ago on an old system," Pence told Breitbart Editor-in-Chief Alex Marlow. "In 62 days, the first clinical trials were initiated in what I've been told is an unprecedented pace. Usually, vaccines literally take years and years and years to develop."
"We're going to keep driving relentlessly to have a safe and effective vaccine," he continued. "I hope, and I believe, before the end of this year."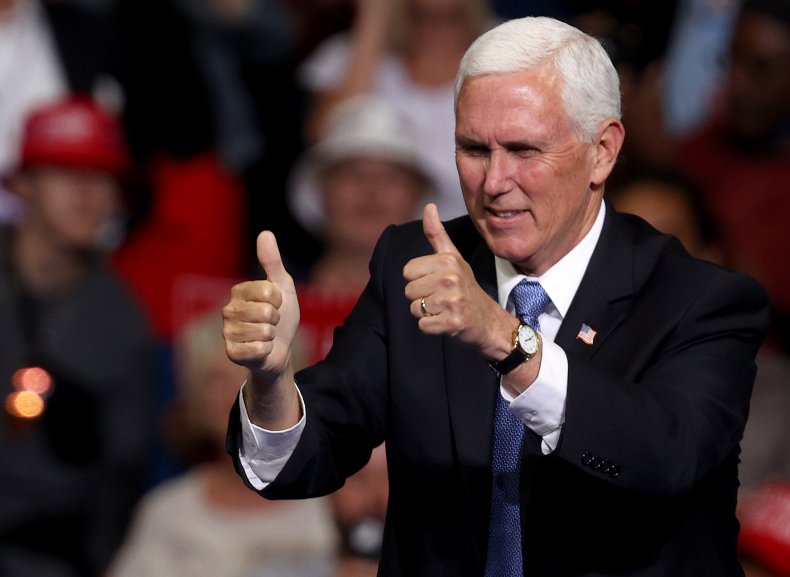 Pence's past COVID predictions have been inconsistent with statements issued by public health experts. In April, Pence said that the entire coronavirus pandemic could be "behind us" by the late May Memorial Day weekend.
On April 24, the vice president expressed his belief that the U.S. would "have this coronavirus epidemic behind us" before the start of June.
"If you look at the trends today, that I think by Memorial Day weekend we will have this coronavirus epidemic behind us," Pence told radio host Geraldo Rivera. Instead, U.S. deaths neared closer to 100,000 over the holiday weekend. And weeks later cases soared in states like Texas, Florida and Arizona, prompting their GOP governors to shut down businesses for a second time.
As a result, Pence has been accused by Democrats of downplaying the pandemic and overplaying the Trump administration's COVID response.
During a March 10 coronavirus press briefing, the vice president declared there would be "4 million more tests" available across the U.S. by the end of that week. Lawmakers from both sides of the aisle immediately disputed the claim. At the time, only 10,000 Americans had been tested for the virus. By the end of March, fewer than one million total tests were ultimately administered nationwide.
Speaking with Breitbart on Monday, Pence said Trump personally ordered immediate research into a COVID-19 vaccine "literally within days in February of when the [National Institutes of Health] first received the genetic coding for the coronavirus."
The vice president touted how Trump moved to restrict entry into the U.S. from China at the end of January. He also reiterated how Trump has "never hesitated to move swiftly and decisively to put the health of Americans first" and to increase the availability of ventilators and other personal protective equipment (PPEs), which were in short supply at the start of the pandemic.
Despite the "warp speed" pace of clinical trials, Pence said half a dozen companies are currently working on a vaccine and they are not cutting any corners.
"[T]he very moment that a vaccine proves to be safe and effective—no corners cut, we're going to do it exactly by the book through the FDA — we'll literally have tens of millions of doses available for the American people," he said. "And that's the speed and the urgency the president has put behind this."
Newsweek reached out to the White House for comment but did not receive a response in time for publication.