Pence for President? Rumors Likely to Grow as Vice President Heads to Latin America With Huge Advance Party
Updated | Speculation about Vice President Mike Pence's political aspirations will likely get another jolt next week as he heads off for a high-profile trip to Latin America.
The State Department requested "nearly 700" visas for the security and protocol teams traveling in advance to one Latin American country alone to prepare for Pence's arrival, said a diplomatic source. (Like most others who spoke to Newsweek on the matter, the person asked for anonymity because such details are normally very closely held.)
He and others with long experience in preparing for diplomatic trips say they have never seen numbers like that and couldn't understand the unprecedented visa requests. The diplomatic source called it a "curious" number that dwarfed even the advance teams for President Barack Obama's trip to Brazil, Chile and El Salvador combined in 2011.
Related: Is Pence trying to replace Trump in 2020?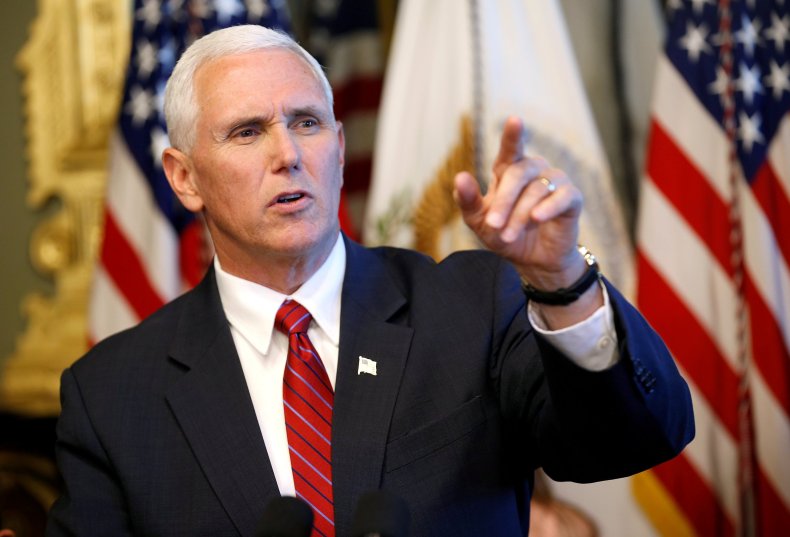 Juan Gonzalez, a former aide to Vice President Joe Biden as well as a senior Latin America official in the Obama State Department, says that "Biden's largest advance team for Latin America was 120 people for one stop, the vast majority of which were security.
"Even on multicountry stops," he adds, "we made a big effort to minimize the cost to American taxpayers by managing the size of both the advance team and the traveling party." Typically, he added, "Our traveling party usually topped the size of a C130, which was 30 to 40 max. That takes a full traveling party, including advance, to under 200."
The nearly 700 visas the State Department requested for Pence's advance team does not include his own aides, or top-ranking U.S. diplomats with responsibilities for the region, or businesspeople he might want to bring along, said the diplomatic source, who has firsthand knowledge of the visa requests.
"These people are not in the delegation of the vice president," he says. "These people are [just] on the protocol, security or logistics teams."
"Seven hundred advancers?" exclaimed a former Obama White House official. "That's insane."
A State Department spokesperson initially referred questions about arrangements for the trip to the vice president's office. Pence's spokesperson, Marc Lotter, contested the "nearly 700" advance-teams figure, but did not offer his own "for security reasons." He said the vice president's traveling party on Air Force Two, which typically includes aides and family, would be supplemented by "a small number of additional support on a separate aircraft." Other agencies such as the Secret Service and Defense Department may send "additional resources" he added, based on their own mission requirements, but they "fall outside the Office of the Vice President."
A day after this story was first published, State Department spokesperson Heather Nauert said the "final number for visa applications will likely be lower than past trips." She then compared the vice president's upcoming tour to "previous presidential trips to Argentina," when "about 1,000 visas were requested." For the Chile leg of Pence's trip she said, "the State Department assisted with approximately 30 visa applications for travelers from the White House and State Department." That number does not include teams from the Secret Service and Pentagon agencies, which customarily do not talk about their preparations for security reasons.
It was "possible," the diplomatic source said, that the State Department had requested the same number of visas from each country on Pence's trip, meaning that most of the same people would travel ahead and prepare for each stop on the vice president's five-day itinerary. Starting on August 13, Pence is scheduled to visit Cartagena and Bogota in Colombia; Buenos Aires, Argentina; Santiago, Chile; and Panama City, Panama.
Even then, it would be "highly unusual," a veteran U.S. diplomatic security official tells Newsweek.
"Even if it includes...spouses, regular staff," or people in Pence's traveling party or other U.S. citizens that the vice president asked to travel separately and meet him at his destinations, "I can't figure out why the number would be so high," the official said.
A spokesperson for the White House National Security Council did not immediately respond to a Newsweek inquiry about the comparative size of President Donald Trump's advance team to Germany in July. A government source says "about a thousand people" were involved in Obama's 2016 Cuba trip, but that number included not just the president's own advance teams and traveling party but also several Cabinet officials and their staffs and spouses, plus hundreds more people in their retinues.
The numbers cited for Pence's diplomatic foray are bound to raise questions about the purpose of his trip. In late July, the vice president made a widely televised trip to Estonia, Georgia and Montenegro, three countries on Russia's perimeter, where he voiced strong support for NATO—a marked departure from his boss's reluctance to praise the Western alliance.
Some observers thought Pence, a former Indiana governor and congressman, was auditioning for a presidential role. The trip to Latin America will likely intensify the speculation as his boss's tenure is muddied by multiple Russia investigations, a lack of legislative accomplishments and declining popularity as measured by recent polls.
Pence's spokesperson rejected the idea that the vice president was taking the Latin America trip to burnish how own political standing at Trump's expense.
"The Vice President will be visiting four countries in Latin America on behalf of President Trump," he said.
Pence strongly denied an August 5 story in The New York Times speculating that he is angling to succeed Trump if the president appears too weak to win a second term or decides not to run.
"Mike Pence's schedule is so full of political events that Republicans joke that he is acting more like a second-term vice president hoping to clear the field than a No. 2 sworn in a little over six months ago," the paper said. It noted he had a typically "full political calendar" for a vice president, but "he has gone a step further, creating an independent power base, cementing his status as Mr. Trump's heir apparent and promoting himself as the main conduit between the Republican donor class and the administration."
The paper also noted that Pence has created "his own fundraising arm, the Great America Committee," and hired a political gun as his chief of staff, rather than an experienced government hand.
"Most significant," said the paper, "multiple advisers to Mr. Pence have already intimated to party donors that he would plan to run if Mr. Trump did not."
Pence called the allegations "categorically false" and "disgraceful and offensive to me, my family, and our entire team."
Washington Post media critic Erik Wemple wondered why Pence was so bothered by the Times story. Jonathan Martin, one of its co-authors, told Wemple that "the vice president seemed to be sensitive to how the president would receive this story."
Asked for his analysis of the vice president's Latin America trip, Republican political strategist and acerbic Trump critic Rick Wilson gibed, "Either he's burnishing his foreign policy cred or seeking asylum. I'm not sure which is more disturbing."
Correction: A previous version of this story quoted Juan Gonzalez saying a typical Biden foreign trip involved "around 400-500" people, including the advance teams and traveling party. He corrected his numbers to "under 200." This story has also been updated to include comments by Pence's spokesperson on the vice president's Latin America trip. It has also been updated with remarks from State Department spokesperson Heather Nauert.