Pence Pushes Return to School, Football, Normalcy in State With Coronavirus Spike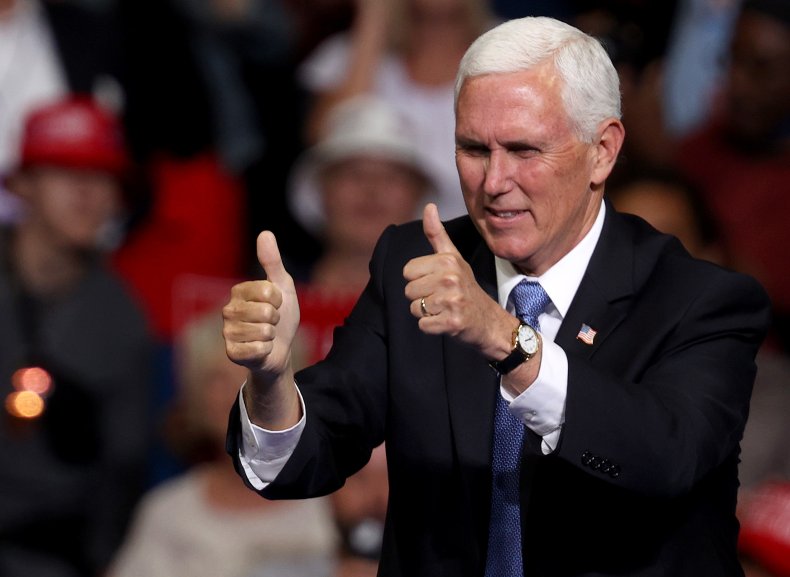 The Trump administration wants schools to reopen this fall—a push for a return to some semblance of normalcy even as the coronavirus pandemic continues. And that includes a return to football and other student athletic programs, despite safety concerns that have been raised.
"We really do believe that to open up America again, we need to open up our schools," Vice President Mike Pence told reporters in Louisiana on Tuesday.
Pence appeared alongside Gov. John Bel Edwards, LSU football coach Ed Orgeron and other education leaders at LSU's Tiger Stadium—home of the reigning national championship football team.
Orgeron told the gathering that he supports a return to the field in the fall and his team hasn't had a positive COVID-19 test linked to resuming practices. Some LSU players tested positive earlier in the summer after attending an off-campus party.
"We need football," Orgeron said. "Football is the lifeblood of our country."
Pence said he is "confident" that the season can happen but he declined to describe in specifics how he thinks things should look, instead deferring to each school to tailor individual plans.
"I'm very confident that our universities can develop plans to safely reopen campuses and restart sports programs," Pence told reporters. "It's important—not just for student athletes and schools like LSU, but it's important for America."
Pence has spent recent weeks traveling—including to several coronavirus hotspots where they've seen spikes in cases like Louisiana—to push for schools to reopen this fall and ahead of the November 3 election.
"We are in a much better position today to confront this epidemic," he said.
Louisiana leaders, who told reporters they expect to reopen schools on time in the fall, welcomed Pence to their state with open arms—albeit socially distanced ones.
Edwards, a rare Deep South Democrat in statewide office, lauded the White House's response to the virus and partnership with the state. Edwards is also married to a former school teacher.
"I know we have a lot of work to do here ahead of us," Edwards told reporters. "I know it's not gonna be easy and, frankly, it won't be without controversy."
With a crucial election period looming, the Trump campaign has been stressing its commitment to sending kids back to schools as soon as possible.
Trump last week threatened on Twitter that he would be talking to the head of the Centers for Disease Control and Prevention about a series of guidelines that the president says would put too much of a burden on schools, forcing them to remain closed.
Pence told reporters hours after the July 8 tweet that it was meant to stress a fine-tuning of guidelines.
The CDC is expected to update its earlier guidance to address concerns.
As Pence, Edwards and others touted the effort to reopen schools, the state of Louisiana has recently seen another spike in cases, forcing it to hold off on advancing its reopening guidelines. After 3,337 deaths, the state also now requires face coverings be worn in public.
Louisiana has expanded testing, opening up several "surge" sites in Baton Rouge, including across from Tiger Stadium at LSU's Alex Box baseball stadium. During Pence's visit, he drove past a drive-through testing facility.
U.S. Sen. John Kennedy, R-Louisiana, said he thinks universities can become a key resource for building up testing capacity and that will aid the reopening of K-12 schools.
"If we use our heads then we can open our schools," Kennedy told reporters. "For many of our children, school is the most stable things in their lives."
Louisiana has had more than 82,000 confirmed covid-19 cases since the pandemic began.
The CDC's guidelines for schools urge distance learning when possible to lessen contact between students, who Pence and others have noted are at lower risk of dire health outcomes if they contract the virus, and teachers and support staff at a higher risk.
But Pence Tuesday doubled down on stressing that the CDC guidelines shouldn't halt efforts to return to school in the fall.
"We don't want CDC guidance to be a reason why people don't reopen their schools," he said.