Pence Says U.S. in 'Much Better Place to Respond' to Coronavirus Despite Surge in Cases
Vice President Mike Pence said that the U.S. is in "a much better place to respond" to the novel coronavirus, even as the country has seen new cases surge to record daily highs over the past week.
Pence made the remarks in an interview with CBS News' Face the Nation, which aired on Sunday. The vice president dismissed criticism of the administration's handling of the ongoing pandemic, saying that the White House was working closely with local officials to address growing outbreaks.
"But what the American people should know is that because of the leadership that President Trump has provided, because of the extraordinary innovation that we have brought to this task, we're in a much better place to respond to these outbreaks than we were four months ago," Pence said.
"I mean, today we are now testing 500,000 Americans a day. We're able to do a great deal more surveillance and community testing than ever before. We've also expanded our health care capacity across the country, literally seeing delivered billions in personal protective equipment, ventilators," the vice president explained. "And most importantly in this moment is we've seen the development and distribution of therapeutics that have literally been saving lives around the country. And we believe by the end of this year, it's likely we'll have a vaccine."
Newsweek subscription offers >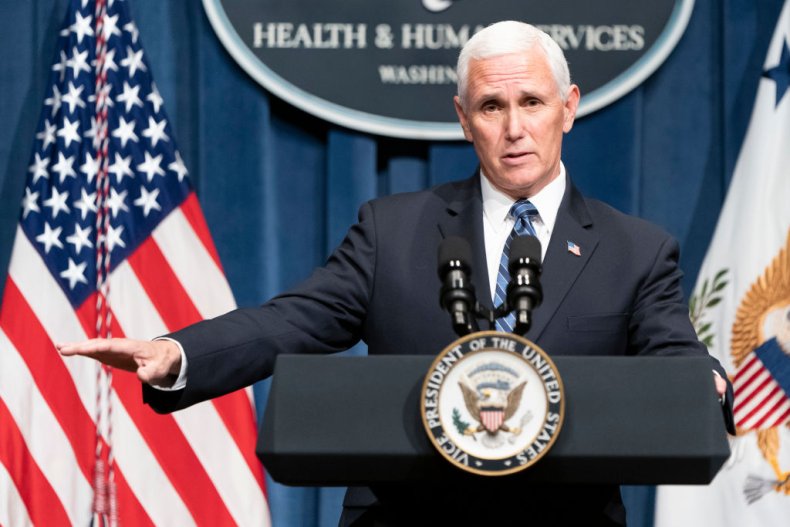 Pence's remarks came as the U.S. has recorded its highest-ever, single-day increases in confirmed infections multiple times over the past week. While new confirmed daily infections had peaked at north of 36,000 in late April, the country now recorded more than 40,000 new cases on Thursday, Friday and Saturday.
Newsweek subscription offers >
As of Sunday morning, the U.S. continues to have the highest number of infections and deaths due to the virus of any country in the world. More than 2.5 million cases of the novel virus have been confirmed and over 125,000 deaths have been reported nationwide. That's roughly one-quarter of the total number of cases and deaths confirmed around the world.
Newsweek reached out to the White House, the CDC and the Department of Health and Human Services for comment on the administration's response to the pandemic, but they had not responded by the time of publication.
In a Sunday morning interview with NBC News' Meet the Press, Secretary of Health and Human Services Alex Azar warned that the "window is closing" to halt the spread of the novel coronavirus. However, he made similar remarks to that of Pence, suggesting that the country is more prepared to handle growing outbreaks.
"We've got hospital capacity in all of these areas [where infections are spreading], we have personal protective equipment, and we're going to be there to back them up. We now have treatments, we've got steroids, Remdesivir, convalescent plasma.... So we've got the tools to do this ... but the window is closing. We have to act, and people as individuals have to act responsibly," Azar said.
"We need to social distance. We need to wear our face-coverings if we're in settings where we can't social distance, particularly in these hot zones," the Trump administration official advised.
While many countries across Europe and around the world have successfully flattened their curves and curbed the spread of new infections, the U.S. has continued to see a surge in new cases and a steady stream of deaths. As the U.S. continues to be a global hot spot for the novel virus, the European Union is planning to ban most travelers from the country, even as it reopens its economy and allows tourists from other countries to enter.
Pence Says U.S. in 'Much Better Place to Respond' to Coronavirus Despite Surge in Cases | U.S.