Pence Says Voters 'Won't Be Safe in Joe Biden's America' As Trump Wins Arizona Police Endorsement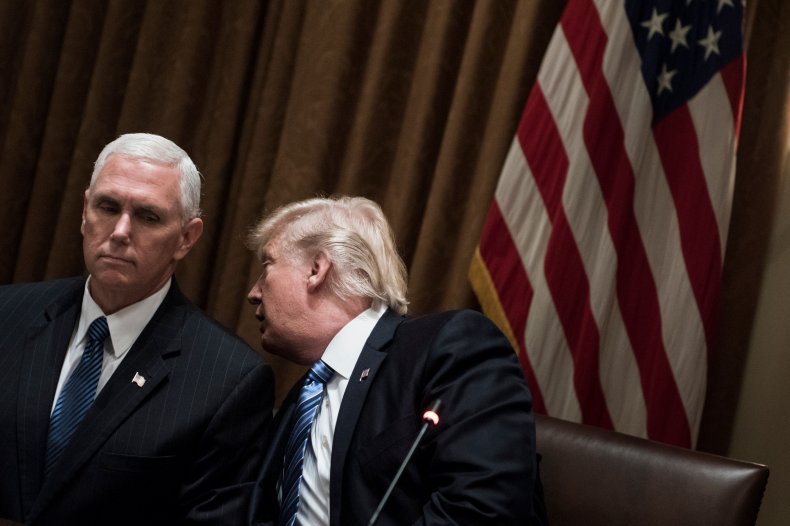 The Trump campaign accepted the endorsement of a major law enforcement group in a key battleground state on Tuesday—the latest in an effort to paint President Donald Trump as the "law and order" candidate as cops face pushback from more liberal leaders around the country.
"We stand without apology for the men and women who serve in the uniform of law enforcement," Vice President Mike Pence said during an event in Tucson to announce the Arizona Police Association. "You are literally what separates order from chaos."
The news came just about an hour before Democratic rival Joe Biden announced that he had picked former prosecutor Kamala Harris, a U.S. Senator from California, to be his running mate in the November 3 election.
Sensing a tight race in swing states won four years ago, the Trump campaign has been increasingly accusing Biden of being a candidate who would be soft on crime and willing to accept progressive policies that many in law enforcement oppose, including the liberal "Defund the Police" movement.
"The truth is, you won't be safe in Joe Biden's America," Pence told a room full of law enforcement offers and supporters. "Joe Biden has said well-armed police become, in his words, the enemy when confronting lawlessness in the streets."
Pence's efforts in Arizona come 10 weeks after officers in Tucson were reportedly pelted with water bottles and rocks during a demonstration about police brutality and racism following the death of George Floyd, a Minnesota man who died after Minneapolis police physically restrained him with a knee on his neck for nearly nine minutes in May. Pence said he wants justice for Floyd and said there was no excuse for the man's death.
"But there is also no excuse for rioting and looting and the arson that took place in the days that followed," Pence said Tuesday. "Tearing down statues is not free speech. Throwing bottles and rocks at police officers here in Tucson is not a peaceful protest."
Trump is polling several points below Biden in recent polls of Arizona that are tracked by RealClearPolitics, prompting his campaign to put extra effort into appealing to voters there. Trump won Arizona in 2016 with 48 percent of the vote to Democrat Hillary Clinton's 44.5 percent.
At the police event Tuesday, Republican Gov. Doug Ducey accused Biden and the "radical left" of trying to "defund and defame" the police.
"It's time somebody start defending our police," he said. "The choice this November is crystal clear. There is only one ticket on the ballot that believes in law and order."
Justin Harris, president of the Arizona Police Association, said that law enforcement applications have dropped drastically amid public altercations with police.
"There's an unrealistic expectation of absolute perfection," he said. "It's impossible to be perfect every time because we hire from the human race."
As Pence accepted the nomination, a small group of Black Lives Matter gathered outside the Westin La Paloma Resort among the cacti and palms in the desert.
One of the protestors made it into the ballroom and began yelling expletives as Pence was taking the stage to accept the endorsement.
"F--- Pence! Black lives matter," he screamed, drawing loud boos from the pro-Trump crowd before being escorted out of the event.
Pence appeared unfazed by the outburst and continued with his remarks.
"It's great to be back in the Grand Canyon State," Pence said upon taking the stage. "I'm here for one reason and one reason only, Arizona and America need four more years of President Trump."